Dio
De Effenaar, Eindhoven October 6th, 2005
more photos:
click here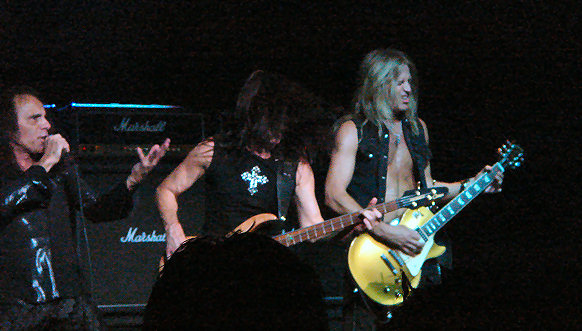 Tonight Ronnie James Dio did the first show of the second part of the European Tour in Eindhoven (The Netherlands). The first part lead Ronnie and his band through Eastern Europe including shows in Russia, Ukraine, Belarus and Poland. The last few shows had some weird reviews telling Craig Goldie was drunk on stage and playing pretty badly. Finally it was cleared up that Craig was suffering from Carpal Tunnel Syndrome, which gave him so much pain in the end that he couldn't finish the tour.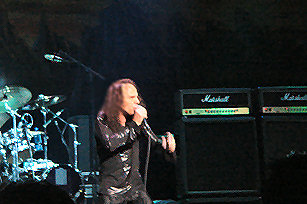 So Ronnie James Dio brought Doug Aldrich back to finish the tour and tonight was his kick off. Doug was already in the band early 2002 till the first few months of 2003. Then he left for Whitesnake. When Dio was in trouble because of Craig Goldie's injury, Doug was asked to finish the tour which he agreed.

At 20.45 the houselights goes out and the intro started. The band (minus Ronnie) enters the stage and Doug kicks off the awesome riff to "Tarot Woman". What a way to start a concert.

The rest of the band joins in and then the small singer with the huge voice walks the stage. The crowd goes wild right from the start. Simon Wright is hitting his drums very powerfull, just like Cozy Powell did in the old days.

Rudy Sarzo shows his reputation of wild man of rock'n'roll. Scott Warren plays pretty well with an angry look on his face. Doug Aldrich shows right away that he is one of the new guitarheroes.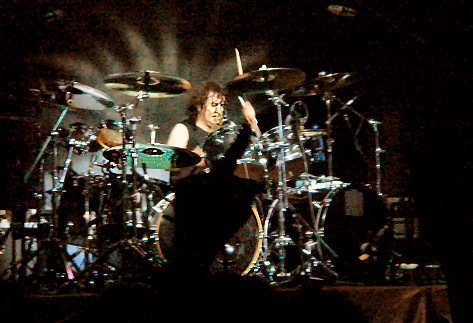 And then there is this voice, the first ever singer in Rainbow, and he still has a marvellous voice and he knows how to use it.

The audience gets a splendid version of "Tarot Woman", that is followed by "The Sign Of The Southern Cross" and "One Night In The City".

After these 3 songs it has become time for the full "Holy Diver" album. First there is a 5 minute movie projected, then the band plays the complete first Dio album. They kick off with "Stand Up And Shout".

After "Holy Diver" and "Gypsy" it is time for Simon Wright to do his solo. Simon already made in a very good impression in the first few songs.

A very good powerfull heavy drummer. He shows his skills in his solo, that ends with Simon drumming backed by orchestral music.

More from the "Holy Diver" album follows with the poppy "Caught In The Middle", the very good "Don't Talk To Strangers", the rockin' "Straight To The Heart" and the surprising "Invisible". "Rainbow In The Dark" makes the crowd even wilder.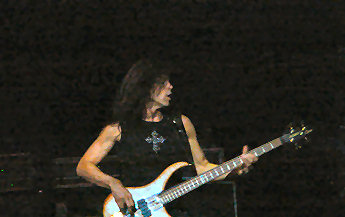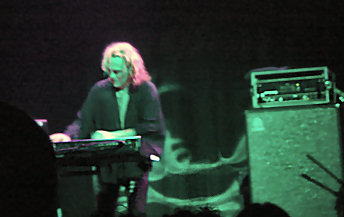 After the fine "Shame On The Night" it's time for some more solo's. First off is Doug Aldrich. Although I think Craig Goldie is still the best guitarplayer for Dio, Doug did a marvellous job this evening. He's really one of the upcoming guitarists of today.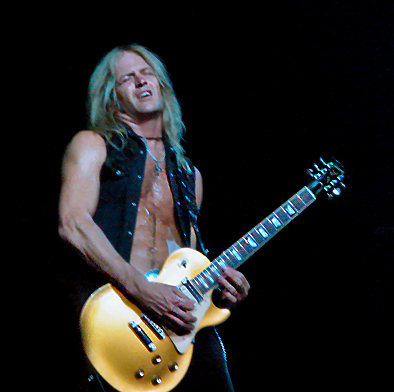 He's very good and has not trouble at all with all of the DIO material. After his solo it is time for Scott Warren, who had to look unemployed from the side during some of the "Holy Diver" tracks because there's hardly any keyboardwork in it. He does a nice short solo, that goes over in a jam together with Doug, Rudy and Simon.

Then Ronnie returns also back on stage for a reprise of "Shame On The Night". To end the complete "Holy Diver" album, there's also a reprise of the titletrack.

They continue the show with some real killer tracks. First there's one of Rainbow's Long Live Rock'n'Roll album, "Gates Of Babylon". Ronnie sings like a God again. Rudy Sarzo seems to have the time of his life, going totally crazy. And Doug plays a splendid solo.

There's one more in the set, Black Sabbath's "Heaven And Hell". Again we get a great version of a true classic metal song. The band is top class and then it's all over.

But not for long. The band returns with a steaming version of "Man On The Silver Mountain". And there's another Rainbow song with "Long Live Rock'n'Roll". The crowd's totally wild and singing along.

The first encore ends with "The Last In Line". The band thanks the audience and leave the stage. But once more they return. With a rockin' version of "We Rock", the band gives it all one more time and then it's over. Ronnie trips over the mikestand, Rudy laughs his head off and after the bands thanks the audience once again the houselights goes on and the party is over.

Setlist:
Intro
Tarot Woman
The Sign Of The Southern Cross
One Night In The City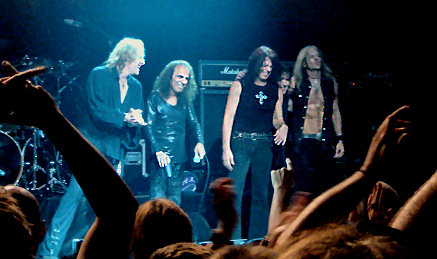 Introduction to Holy Diver (on screen)
Stand Up And Shout
Holy Diver
Gypsy
Drums Solo
Caught In The Middle
Don't Talk To Strangers
Straight Through The Heart
Invisible
Rainbow In The Dark
Shame Of The Night
Guitar Solo - Keyboard Solo -
Instrumental Jam
Shame On The Night (reprise)
Holy Diver (reprise)
Gates Of Babylon
Heaven And Hell

1st encore:
Man On The Silver Mountain
Long Live Rock N Roll
Last In Line

2nd encore:
We Rock




all photos: © Rainbow Fanclan Legacy - more photos:

click here