Great Gransden Blues and Soul Charity Event, Cambridge


Charity show July 12, 2003 featuring
Don Airey, Graham Bonnet & Doogie White





This year's 10th Anniversary Gransden Blues & Soul Charity gig was a sell-out with 800 tickets being snapped up pretty quickly and was a fantastic night for all fans of quality music.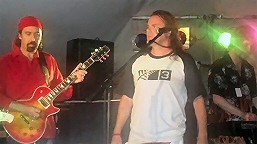 Highlights of the night had to be the set from Graham and friends, but the whole evening was just pure entertainment. No Harry James this year but his Thunder bass player Chris Childs put in a great evening's work and was onstage all night and even supplied a few backing vocals, great bass player too.

Never realised until last night just how good a guitarist Keith Airey is, Don's brother and a top session player, the guy can really play and his singing was okay too. You name it he can play it. Keith and Rob Harris were part of the Ratbags which included ex-Rainbow man Doogie White and they tore into a blistering set which included Redhouse, Green Onions, Superstition, Gimme some lovin', Parisienne Walkways, Hard to Handle and Black Night.

Next up were the Whitesnake legends Bernie Marsden and Mickey Moody. Some great Blues and guitar playing before dragging Doogie back on to do Fool for your loving and Here I go again, then after a short break...........

Put your hands together, all the way from LA please give it up for Mr Graham Bonnet.......!!!!!!!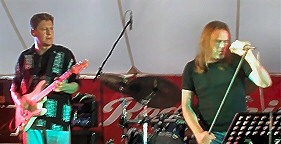 The place erupted and the band kicked into Sweet Soul Music, Graham seemed to be really enjoying himself and was soon working the crowd, it was so bloody hot in there and a girl in front of me handed him a much needed bottle of water. Soul Man, Midnight Hour and Day Tripper all followed and the place was jumping.

This stuff just seems so natural to Graham and he's obviously enjoying working with Don again, in fact all through the show it's Don who all the performers look to and are happy to let him dictate the pace of the gig and if anyone plays a bum note who gives a shit?

It's a fun night and these guys are having a great time,there's nothing better than seeing top class musicians at the top of their game, I've been to the last five of these gigs but this was the best of the lot.

By now Graham's sweating buckets but there's no drop in the level of performance from anyone (apart from the twat next to me who keeps shoving his elbow in my shoulder.. until I give him a slight dig, there you go mate have a bit back!), anyway, we get Try A Little Tenderness (not sure, but I thought Graham had a tear or two in his eyes after that song ), Hold on I'm Coming, Knock on Wood, When A Man Loves A Woman, then Since You Been Gone with Bernie Marsden on guitar and backing vocals, All Night Long and then Stay With Me Baby which saw a first for Rainbow fans with Doogie coming back on to help Graham on backing vocals. They both exchanged a look and embrace at the end and I wondered just for a minute if they'd share some Blackmore stories after the gig! (I asked Doogie this and he replied: "So sorry to disappoint but Ritchie's name was never mentioned", Ed.)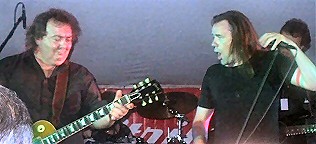 So finally......... a fantastic night's entertainment with some of my musical heroes at touching distance, although I left my damn camera back in the car, managed to get a quick word with Keith and Doogie afterwards, just really down to earth, normal blokes.

Just think that Graham should work more with Don, although I guess that's impossible with Don now being in Purple and Graham still based in LA. I prefer to hear him away from all the Malmsteen - style guitar wank that he tends to get lumped in with, particularly over in the States, and get back to singing some decent songs with some great musicians again. The guy is still a legend, let's get him back over to the UK again soon, eh?

Cheers,
Andy B





Doogie White has this to say about the event



"The most fun is had when things turn up unexpectedly. Don Airey has been running this "Charity Bash" for several years now. He was a singer short and I offered my services. He had 4 songs in mind for me to sing. 25 or 6 to 4 by Chicago, Gimmie all your Lovin, Superstition and Dazed and Confused.

We got together at Don's place with his brother Keith on guitar, Thunder's Chris Childs on bass and the splendid John Tonks on Drums. We never got to Dazed..because we replaced it with Black Night and Hard to Handle.

On the day during the soundcheck Graham Bonnet came in to the marquee as we were finishing up. We managed to grab a few words.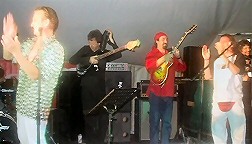 The gig was great, about 1000 people enjoying a night of quality music in temperatures normally associated with the Gobi desert. As I was finishing up my vocals on the last song I could see Bernie Marsden just of stage. He asked me after I came off if I fancied singing a couiple of Whitesnake tunes with him and Mickey Moody. What was a boy to do?

Fool for your Loving and Here I go Again are two songs I had never sung before, but hey in for a penny right?? Also I had never sung with Moody/Marsden either. Still it was great fun and maybe something to repeat at a later date, eh lads?? To top my evening off I joined the full ensemble and did BV's for Graham.

The smile on my face lasted several days
A top night for me and hopefully everyone else."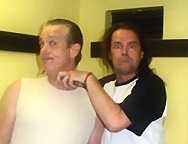 Graham Bonnet & Doogie White enjoying themselves
Thanks to Doogie who gave permission to use the report & photos, which were shot by Ainhoa Prieto