Rainbow
Europe 1997 Only Concert
---
Esbjerg, Denmark 31 May 1997


The Rainbow show was a winner. There was no introtape, no "we must be over the Rainbow, Rainbow, Rainbow..." instead they went straight into the Somewhere Over The Rainbow chords and then into Spotlight Kid. Whether it's the truth when one tabloid the next day claimed this was to be Rainbow's last ever show, according to their tourmanager, remains to be seen, but it was definitely a good one.

It had been a very hot day, but now the sun had gone down and it was getting cold. Ritchie kept blowing on his hands to keep them warm and this might account for the type of solo he did in Mistreated. It went on forever (Don't they all? Well, not in the way this one did!) and consisted mostly of long drawn out notes that he'd bend up and down with his left hand, not using the right hand very much. It was truly incredible and even Jerry said he'd not heard anything like it before.

Dougie sang wonderfully - especially during The Temple Of The King, which was one of the better versions I've heard vocally. And he was obviously doing his pump-up-the-audience routine, but not too much effect though. It had been a long two days by this time for most of the audience. A few songs acquired lengthy intro jams and the whole thing ended with Burn as the sole encore. That is, until Ritchie reappeared and did the most delicate, quiet, gentle version of Maybe Next Time.

New drummer John Micelli excelled on this one, more by what he didn't play than by what he did play. He was almost inaudible, just holding it all together nicely. I'm convinced Chuck Bürgi could never have played this song so gently and tastefully. And talking about taste, Paul Morris did another one of his completely useless solos during the show. He truly is the Yngwie Malmsteen of keyboards!

Now that we don't have to endure Chuck Bürgi overdoing everything through every song at every show, why not also get someone more mature in on the keyboards? Paul Morris loses control over his fingers and they skid aimlessly around the keys, putting in as many notes as possible in the shortest timespan possible. Crap! If only he could learn to relax and play with taste rather than with speed. Go listen to some of Tony Carey's work on Blues off Onstage for instance. We later learned how Ritchie had asked Cozy to come onstage and play SOTW with him as the last encore and they were all set to do it, when the promoter put his foot down saying he couldn't allow it because of the curfew. Idiot! He should how some of us have sleepless nights over the prospect of Ritchie and Cozy playing together again - says the drummer writing this!

Rasmus





Esbjerg, Denmark 31 May 1997

Okay, Ama'er or Ritchie's day out with the boys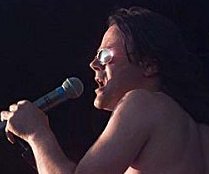 Okay, so we all went out to Copenhagen to see what Ritchie's done since I saw him in Stockholm last year. When I saw Rainbow in Stockholm it was the second concert ever with this particular line-up. I got home and wrote a review that was everything but positive. I have been listening to tapes and seen videos of Rainbow since then but I must say that this Copenhagen show was one of the greatest DP-related shows I've seen. I would rank this as high as DP, day 2 in Brixton in March. It sure is evident that Ritchie and the boys have been playing a lot together by now. Ritchie was in a great mood and played around *a lot* on stage.

He made fun of the fact that Paul Morris had a patch over his right eye (anybody know what happened?), he kicked Dougie in the ass, he shouted lyrics to Dougie in LLR'n'R and he went down on his knees in front of the audience to take requests. The set list was just about the same as on the Oslo gig but with the order of the songs shuffled around a bit and without the Over The Rainbow intro.

Just before SOTW he started playing Child In Time but when Dougie started singing it Ritchie looked around and launched the SOTW riff instead. I think the new set list is good but kind of strange. He starts out with a very long version of LLR'n'R with lots of noodling and featuring parts of Hey Joe and Black Night. Then they play a very long version of Mistreated. I would say that this line-up has more in common with the 70's Rainbow than the 80's Rainbow. Lots of soloing and noodling and playing around.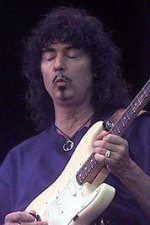 I also think it's strange that they play so few tracks from SIUA. Not even HOTMK which Ritchie once claimed was his favorite off of SIUA. And who said that Ritchie refused to change the set list? He has changed more in his set list this year than DP has so far. Fans of smashing guitars can note that TMIB didn't smash anything but near the end of Ariel Dougie destroyed his mike stand. Well, at the end of the show they said it was their last show (for a while, I guess) so maybe Dougie thought he could afford to thrash a mike stand... :^) Dougie said "maybe we'll see you again". I guess he knows that life as a member of Rainbow is kind of uncertain... :^)

But tell me one thing; What the hey is Candice doing on stage? She plays a tambourine although she don't seem to have any sense of rhythm at all. Fortunately she waved her tambourine off mike. Her singing parts in Ariel and LLR'n'R didn't impress me so I don't get the Candice thing at all. But I guess Candice is there mostly to add some female beauty to the show.

Ritchie sneaked up to her and cuddled a bit during the drum solo and Dougie kept flirting with her throughout the show. If Ritchie ever looks up and notice that I guess Mr. White can go out and look for a new job. ;^) And just for the record: Paul Morris should leave the band right away. He doesn't have anything to do in this great band.

Statistics

Number of known amd-p'ers in attendance: 5
Number of Swedish amd-p'ers missing the boat home: 1 (me)
Number of audience members peeing on other audience members: 1 (not me)
Number of beers passed out to the audience by Ricardo: 3
Number of Yngwie t-shirts in the audience: 3
Number of original Rainbow 1980 tour t-shirts in the audience: 1

I'd like to thank Danish amd-p'er Thomas for keeping me company for two hours while I waited for the next boat. Next time we'll take a cab... :^)

[Just a note about my subject line. Okay, Ama'er! was what the singer in Pretty Maids shouted a couple of times in their show. I though it was hilarious to hear a hardrock singer shouting hardrock cliches in Danish between the songs. Pretty Maids and a cover band called Led Zeppelin Jam played before Rainbow as well as Merciful Fate that replaced Babylon Zoo originally scheduled to go on before Rainbow. I only saw Pretty Maids. I didn't like them at all. I would have loved to see Merciful Fate though. Did anyone look at this line-up of bands and said the 80's!?:^)]

Cheers, Svante.

Svante Pettersson