Rainbow
European Tour 1995
---




House Of Culture - Helsinki, Finland September 30, 1995




I had the priviledge to enjoy the very first gig of Mr. Ritchie Blackmore since he left - and buried - Deep Purple after the DP gig in Helsinki in 17.11.1993. I was just next to the band in 2 meters from the edge of the stage.

Ritchie has a familiar name for the band: Ritchie Blackmore's Rainbow, but any of the other guys haven't played with RB until the new Rainbow album Stranger In Us All. The line-up in Helsinki was the same as on the album, except the drummer. The old drummer is to return to band as soon he gets his hand healed, said Ritchie in an interview. The substitute did well in Helsinki anyway... even the solo was short enough :)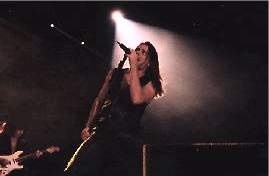 Spotlight Kid was the one to open the Rainbow's return on stages and it really smashed the audience. The 2nd song was Too Late For Tears from the new album. The 3rd, Long Live Rock'n Roll blew the concert hall and was one of the greatest parts of the gig. The band played lots of new material, which was ok. The new album includes many great songs and they sounded good in live, too. Especially Black Masquerade, Ariel and Wolf To The Moon deserve an extra mention here. Though, the old songs were the best ones, but the band did new material well with enthusiasm and energy. IMHO the best part of the gig was the first encore, a classic DP track Burn. The last song before encores was Hall Of The Mountain King.

The vocalist Doogie White was great, better than Turner ever. The beautiful vocal harmonies with the bass player (what was his name again) were very nice.

Maybe the worst part of the gig were the cracky and distorting keyboard sounds. Perfect Strangers didn't sound even close as magnificent as it did by Lord. Keyboard solos were ok, but the sounds were, me thinks, just horrible. When not soloing, keyboards did just the thing they are supposed to do in Rainbow, which differs significantly from Deep Purple in the role of keyboards.

Rainbow played some two hours. The best parts of the gig were the beginning, 4-5 first songs, and the the last 20 mins. Doogie had the audience singing big time during Long Live Rock'n Roll. Ritchie did also some fine improvising only drums backing him up. He played - and the audience sung :) - Black Night -theme. Doogie and Ritchie went for "Gillan-Blackmore conversation" with R in guitar and D repeating the notes, but Ritchie seemed to got pissed off and they stopped pretty soon.

What about the Master himself then? Ritchie was outstanding, better than in Helsinki with Deep Purple two years ago. The opening with Spotlight Kid proved that the master hasn't lost his touch. Temple Of The King showed Helsinki how guitar can be played with extremely richness without crowding every bar with one milion tapped notes. He played great, improvised solos and didn't look bored at all. Actually I personally saw him smiling half a dozen teeth visible at least 5 times during the gig. Yes, he's back!

The songs of the Helsinki gig
(NOT in actual order of appearance in the gig, but as close as I can remember)

Over The Rainbow -theme
Spotlight Kid
Too Late for Tears
Long Live Rock'n Roll
Wolf To The Moon
Blues (short, Ritchie goes solo)
Hunting Humans
Perfect Strangers
Difficult to Cure
Temple Of The King
Black Masquerade
Still I'm Sad
Man On The Silver Mountain
Ariel
Stand And Fight
Hall Of The Mountain King

Encores:
Burn
Smoke On The Water

Miika Peltonen









Phillipshalle - Düsseldorf, Germany October 9, 1995




Johan and I had a little accident on the way to Düsseldorf: someone drove into the back of my car. It was not very bad, but the costs would be DM 3500. We had to park a long way from the Phillipshalle, it was quite a march. After we bought, as usual a t-shirt we were just in time to hear the last song of Thunder; it had a good guitar and bass solo in it. Immediately after the song the lights switched on and people did not even bother shouting for encores. After a short pee-break I followed some huge guys to the front of the hall. I got stranded at about 5 meter from stage, because all the tall guys were already over there. They all were standing at the right hand side of the stage; hmmm, I wonder why. There were quite a few TV-cameras in the hall, and some billboards "WDR-Rockpalast is back".

At 21:30 the lights went down and we heard those familiar notes of "Pump And Circumstances" followed by Judy Garlands infamous words. The hall went nuts! "SPOTLIGHT KID" was a great great start. Except that now the really big guys came storming to the front and were crushing everybody. And there I was - with my 1.73 meter and 75 kg when wet - catapulted a few meter behind my original standing place. (I am copying this from The Austrian Deep Purple Fan Mag, because I lost my original copy; now in 2008 I am weighing - when I am dry - 90 kg.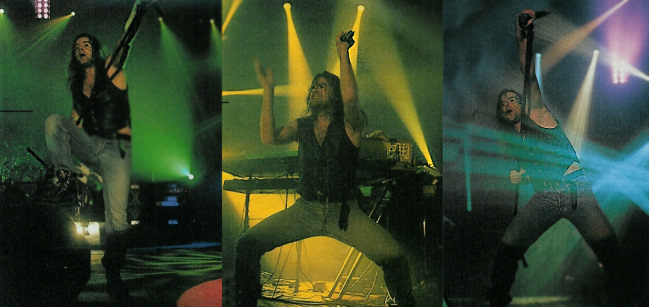 "TOO LATE FOR TEARS" I liked it much more than the CD version; or was it because I had heard it more than often by now? The hall went nuts during "LONG LIVE R'n'R" interpolating "BLACK NIGHT" and it had a very small guitar-singing duel; Doogie started it, but Ritchie did not feel much like it. Yet a bit later he started it himself. And although I did not expect it, they played "HUNTING HUMANS" and they even did it brilliant.

Both "WOLF TO THE MOON" and "DIFFICULT TO CURE" were amazing as well. But then came the first down point of the evening: directly after Ritchie's part, Paul Morris played something 'Chopin-ish' and the great spirit in the hall went down immediately. I even was getting bored. Then he played something 'the Claus Schulze way'; that was more like it, but not in the style of the rest of the concert. There was very little applause for Paul. He is obviously the weak link in Rainbow. Will he be the first one on Ritchie's Black List? I've read that they already changed drummers... Johan told me after the show that one cannot compare a small amateur with Jon Lord.

Somewhere between the songs, Doogie was singing a well known song "Falderie Faldera", like Gillan did 'Mother Brown,...". An another occasion he told us "that everybody had to wave at their Muttis, because this is for TV. And somewhere else he did an almost a-cappella version of "Ich bin ein Alkoholiker" on the tune of "Greensleeves". I guess this had to be a sing-a-long, but the reaction of the crowd was very half-hearted, which was the reason why Doogie pulled a long face. "STILL I'M SAD" without prelude was played without soul, fast, straight forward. I began to fear for the worst, especially after the failed sing-a-long. The drum solo was rather good.

Only from "MAN ON THE SILVER MOUNTAIN" on, I could see Ritchie and his playing well enough. To the surprise of mainly 'we oldsters' "TEMPLE OF THE KING" followed by "BLACK MASQUERADE" The next song Doogie introduced as 'everybody is dreaming about her'. An intro à la "Anya" followed, but it appeared to be "ARIEL" which can become -with some decent airplay- a big hit. It was a pity that the part Candice normally does, was a tape (afterwards, I could see on the video, that she actually was doing the show, but I could not see her from where I was standing). Sad was the whistling done by some simpletons during the quiet passages Ritchie was playing. He then said something to Doogie and started shaking hands with the front row. 'Oh, no, it is not true, he's stopping the show.' I sadly thought. But it only was a gimmick to introduce the next song: "SINCE YOU'VE BEEN GONE"

The crowd really went into overdrive for the next song: "PERFECT STRANGERS". We still love Deep Purple! We then had a piece of "Greensleeves" and the one everybody has been waiting for: "THE HALL OF THE MOUNTAIN KING" It was played a little disordered, but it was getting much faster than on the CD. Doogie was fast-dancing in circles. Before the show I told Johan that this song would be great with some ballet girls on stage. White is something like a "poseur", he reminds me a little of JLT. This was the last song. We did not have to wait long for the encores, it started very huricane-wise: "BURN" including some duo-singing à la Hughes. Awesome!

Then the well-known pre-intro to "SMOKE ON THE WATER". By the real chords of the song, the mob turned into an insane crowd, yet the hall already was very hot. Again a duo-singing with the bass player. I was very happy that it did not turn out to be a copy of Glenn's 'shoe-shine-music-singing'. The keyboard player also sang 1 line, we all seemed glad it only happened once. After this, at 23:15, happy hour was over and the long outro of Judy Garland's "Over The Rainbow" was heard through the speakers. It remained dark in the hall for a long time and everybody was shouting for "Zugabe!" But the reason it stayed dark for such a long time was only they could film the backdrop so they later could ad the subtitles.

I've seen by now Deep Purple (only) 6 times; but I can safely say that this is one of the best gigs I have seen so far (despite my whining on little details). This also was the first time I have seen Rainbow play, although I am a Deep Purple fan since I am 14 years (now I am 37). Ritchie feels clearly more at home than he did in Purple. There was no bass solo. I've seen a lot of Deep Purple t-shirts, a lot of which I never had seen before and some older ones of Rainbow, like Johan was wearing. Doogie was impressive; a mixture of Dio and Joe Lynn Turner; he could easily manage the Gillan-esque screams. Ritchie used a stick to hand over drinks to the audience. It was a pity they did not do 'Lazy" but one can't always get what one wants, where does it ends? I would have loved hearing 'Mistreated".

At one moment Doogie asked if we had any requests, but I can't remember which song followed. In an interview with Ritchie, I had been reading that Deep Purple did not want to play 'Hall Of The Mountain King". What about Paris 19.10.1993 then? I have this fabulous gig on tape and they play if for quite a few minutes. There was no guitar demolition, but that would not have been very credible with the camera's being there. All the troubles we had to stay at the right hand side of the stage to get a clear view of Ritchie: he stayed most of the time in front of the drums. After a beer or 2, to avoid the traffic of course, we left the building and headed home where we arrived at 03:00. I would have loved being at the next show in Rotterdam, but as I am married... The one in Brussels I sure will attend. Johan has 10 more shows to see, I envy him!

Michael DePourcq









Alsterdorfer Sporthalle - Hamburg, Germany October 18, 1995




After 80 minutes, both sides had had enough of each other. The Rainbow hardrockers did not give an encore, and the audience in the poorly attended Sporthall had also no great desire for more.

Because what the combo around old rocker Ritchie Blackmore offered was honest craftsmanship. The songs of the moderate new CD "Stranger In Us All" didn't have a spark live either. And when singer Doogie White tried old Rainbow standards like "Kill The King" or "Long Live Rock 'n' Roll", you quickly noticed the vocal overload. White did not come close to predecessors like Ronnie James Dio. Guitarist Blackmore also had one of his "I do not feel like it" days. So in the future you just should not go to Rainbow concerts anymore.

It's just a shame that the audience deprived themselves with some fun. Because they showed the exquisite retro rock of the opening act "Milky" very little patience and scraed away the talented foursome off the stage with beer showers after half an hour.

Mas, Hamburger Abendblatt - October 20, 1995









Forest National - Brussels, Belgium November 1, 1995




The tour bus arrived at 17:00. Doogie shouted "good morning" at us (Johan Van Ryckeghem -who else?- and I).

At 21:00 the concert started. The support act, Milky, was -as usual- nothing: after a few moments everybody returned to the bar. This time I had a much better place than in Düsseldorf: at the fifth row, in front of the organ, I could see Ritchie very well.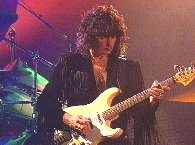 After the known intro: "Spotlight Kid" the crowd went mad. But after a few seconds, Ritchie changed guitars (why?) and shook hands with the public (wow, he is in a good mood!) and they continued the song.

Doogie announced a song, but Ritchie interrupted him, on which the singer said "so soon?!" and then "because Paul Morris bought a new, ugly jacket: "Too Late For Tears" Ritchie played some 'strange' notes.

During Long Live R'n'R the not-so-numerous-crowd (4000) went wild. Ritchie started a short duet with Doogie, he even kindly gesticulated at him, when it was his turn to sing. Blackmore was in amazing form.

A short "Blues" and then "Black Night". White is an ass in working up the public. Some friends told me he is a bit like Bruce Dickinson. Blackers started playing "Falderie" and stretched it; he was sometimes on his knees. Doogie was improvising around the Brussels-theme, he did that a few times more that evening.

"Hunting Humans." Awesome leading part for Ritchie. The bassist reminds me some how of Kiss. On the tune of "Sad Alcoholic", which was "Greensleeves" in disguise, the Man In Black distributed beers with his stick. (On the way back home, in the car, we listened to a tape of Rockpalast 1977, he even played it then, though without words)

We thought he wanted to start Lazy, but only a few (2 or 3) notes of it, and on another occasion 2 notes of "Hava Nagila..."

Wolf To The Moon" was followed by "Difficult To Cure" with a better organ solo than in Düsseldorf: it was shorter!

"Still I'm Sad". Doogie stood on the speakers, which he did a few more times later on. The drumsolo was astonishing.

"Man On The Silver Mountain" started with some improvisation from Ritchie, and a blinder-solo; started again a short duet with Doogie.

"Temple Of The King". One word: jaw-dropping-good! Followed by "Black Masquerade.

Doogie started explaining about using horses in a videoclip for the new single. BUT!! Mister Blackmore had to spoil the game! NO Ariel!! A short "Since You Been Gone" followed instead, again he played "Blues". Greg Smith did not know what was happening, which you could easily see on his face.

"Perfect Strangers". Ritchie bended his knees to play with his "pedal-machine-stuff" (I am almost as technical as Simon Robinson) and to work up the raving crowd.

Suddenly... the first notes of "Ariel"? No, but a sing-a-long: "Rainbow came to Brussels" à la "Waltzing Matilda, again brilliant stretched out by Ritchie, who looked like he was having a ball himself (at least I thought so, and others did so with me). "Hall Of The Mountain King", after this phenomenal song, Ritchie hurled away, off stage.

And yes, happy hour was over, the rest is history: no encores! The shouting for extra songs, by the public was not so heavy, until they found out that there were non to come. I was so disappointed that I forgot to look at what time it was finished. (it lasted only 95 minutes).

It was a good concert! Though Master Blackmore had to prove his imago. He played better and with more enthusiasm than the time I've seen him with Deep Purple (only 3 times I'm afraid). So, here is the prove that you have to see more than 1 Blackmore-concert; to be on the save side.

And then: for the first time I had an "after show pass".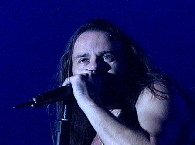 (Marc Brans did not get one at first, because he is the chairman of the Belgian Deep Purple fanclub, and not the Rainbow fanclub!). We were 12 people who had a pass, and were waiting extra-long. The security led us further and further from stage. After the time that Marc (who did not get a photo-pass neither) and some others got bored with it and left; someone from the road crew told us the reason why Ritchie did not do an encore: "he did not have a good time". Though most of the people I talked to said it was a good concert, with a good Blackmore. We then were also told that Elvis the band had left the building. Johan and I did not believe that and "went looking for a toilet". Vorst Nationaal is build in a circle, so you always can come backstage. Some others (2 Germans - one of them will go to Japan to see Rainbow - an 18 year young very, very beautiful girl (a real piece of eye-candy) with her boyfriend (grrr) and her father) spotted our intensions and followed us. In the corridors we met Paul Morris, I did a mini interview (1 question), while he was signing our CD booklets:

Why no encore? "Ritchie thought it was a bad audience, the front rows were OK, but the rest was just standing there and watching." (like he did not like Jon Lord doing that when he was solo-ing). We asked Paul if we could see Doogie, and with the help of young Natalie (by just being there) he came to see us. I asked him:

Why was there no Ariel? "Candice wasn't there and this song can't be done without her" (so Ritchie was love-sick?)

During the concert Johan took some pictures, but had no film in his camera, and now he had borrowed a film from Marc (who didn't need one, anyway) and now he just forget to take some pictures!! Doogie was very friendly, especially to Natalie, I was doing the translation English-French for her; I must admit I had more eyes for her than for Doogie, and yes, she was prettier! Then the security moved us friendly away. So, no chance to ask Ritchie for one of my dreams (a signed guitar).

The concert reviews in the newspaper were unanimous: the concert was very good, Ritchie played very well, but what a bastard he is!

Michael DePourcq