Rainbow
USA Tour 1982





Civic Center, Lansing MI, USA - May 13, 1982

Rock-n-rollers had a fine time



True rock fans are a special breed of beings. They can stand all night on wobbly chairs in a room stuffed tighter than a band aide box filled with life rafts. Rock and rollers can cope with heat which could melt bumpers off of old Buicks. Most of all, true rockers love their music loud.

Thursday night, in the Lansing Civic Center, a sell-out crowd of such creatures were made happy. They stood on their feet as three bands performed almost four hours. Iron Maiden, 38 Special and Rainbow blew the blemishes off the faces of a mostly young audience with some speaker shakin' rock.

Richie Blackmore led Rainbow through some thunderous music that kept the crowd wet with sweat. It was warm enough inside the Civic Center to fry a sidewalk sunny-side up. Rainbow was able to keep the temperature high with high volume music.

38 Special played with so much punch, it sounded like they had two drummers. Come to think of it, there were two guys beating drum kits above the screaming guitarists. Two ladies occasionally added some vocal brawn behind the southern boys. Lead singer Donnie Van Zant shouted out the same phrase he used the last time 38 Special were in town. It still fit Thursday night when he yelled, "We've got some rock and roll maniacs in the house tonight!"

David Winkelstern
Lansing State Journal - May 14, 1982









Richfield Coliseum, Cleveland OH, USA - May 22, 1982



Iron Maiden and Rainbow or Eddie and Ritchie in Cleveland Ohio. Iron Maiden were opening for Rainbow, at this show a man in the front row gave Ritchie his false teeth and Ritchie played slide with them.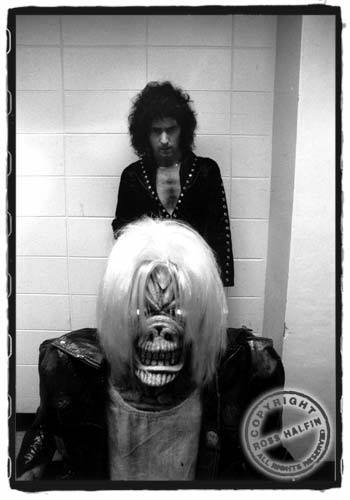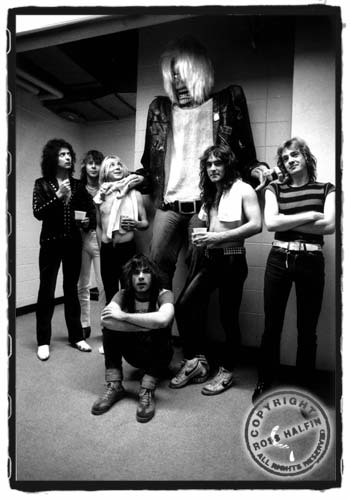 Ross Halfin
www.rosshalfin.com






Convention Center, Indianapolis IN, USA - May 23, 1982



The last time Rainbow played Indy, they shared the bill with .38 Special and the crowd was abysmal. The show was on graduation night, right before the 500. Just the kind of show you'd spell disaster at, as far as Ritchie was concerned.

So Ritch comes out and his amps all blow up and he has no power. While the rest of the band keeps playing, Ritchie goes behind his stack, and I thought, "Oh crap, that's it!" Out comes Ritchie, laughing his ass off, and the roadies got his new amp heads up and running in record time [in the time it took for the two solos from Death Alley Driver, about two minutes tops], with Ritchie then soloing over the top of everyone for the rest of the song.

Ritchie, being in rare form, played guitar with his rump, played slide with a girl's lighter and picked guitar with Wild Bill's teeth! I'm not making this up. Bill popped them out and Ritchie played guitar with them. Then he took a hit off of Bill's joint. Wild Bill was a fixture for years on the Indianapolis concert circuit. There just weren't many shows this cat missed. Every band that came through knew him, and he always sat down front. I mean, the crowd would part when this guy walked in.

Of any Purple-related shows, this one was the best. He even demolished a Strat.

Chris Parsons









Convention Center, Indianapolis IN, USA - May 23, 1982



I'll never understand why 38 Special was part of this bill... another in the series of mismatched bands. Iron Maiden campaigned heavily in the Midwest and it worked, because they developed a loyal fanbase. I never quite got the Iron Maiden scene. I think I bought only one of their albums and it just wasn't my thing. I was there to hear Ritchie Blackmore.

For as much talent as was part of Rainbow, it struck me that most of their studio albums only had a few moments, but none were stellar, must-have albums. Maybe this could be attributed to the instability of the band's roster. Nevermind all that, this concert was a "best of" their stronger material and Joe Lynn Turner was an ample singer to handle anything from the Dio and Coverdale eras. At least in the United States, Rainbow probably enjoyed their greatest popularity during the Turner era.

Other Peoples Music









Brown County Veterans Memorial Arena, Green Bay WI, USA - June 4, 1982



I was watching a video of Rainbow...Live Between The Eyes... I know you know it well, and I remembered that they were supposed to play Green Bay in early June of 1982. I see you have the date of 6-4-82 as the scheduled and completed date. This concert was cancelled, and did not take place.

I remember it was a 3 band bill, but could not place the 2 other bands. UFO and Riot...damn. I remember being extremely bummed about the cancellation. It may have been because of low ticket sales. The Brown County Arena (place of scheduled concert), has a capacity of 7,044. I see Richie had a bad night, the next night at Alpine Valley Music Theater which had at the time, I believe a capacity of 30,000. And he walked after 30 minutes? Hmmmmmm. Anyway, I respect what you guys have done, and know you are sticklers for the facts. So am I. Take Care and Be Well....

Mel in Green Bay









Alpine Valley Music Theatre, East Troy WI, USA - June 5, 1982



Alpine Valley is an outdoor venue, usually a good place to see a summer concert. However, evenings in June can get quite cool and the temperature probably was in the 40s [fahrenheit] that night. Poor Richie Blackmore: his fingers got cold, so he walked off stage after a half hour. He just walked off stage after a song and didn't come back. We knew the show was over when we heard his helicopter leave.

Steve Phillips









London Gardens Arena, London ON, Canada - June 7, 1982



The Scorpions came on around 9pm and did a good show, then there was a long intermission while roadies etc changed sets. I must say there were a lot of Scorpions fans there but I think Rainbow did a better job. I scuttled off to the far right aisle for an excellent view of the stage. After the Garland intro, some drums and keyboards, the lights went on and they went into Death Alley Driver.

Turner looked like your typical HM singer but Glover surprised me decked out in a white suit and hat, like a southern yankie gentleman. He looked rather silly! Blackmore [in black!] looked extremely bored during the first song, hung around the drums and didn't take his eyes off the floor, though he perked up during the next number and looked a little more with it. Behind the band was a canvas sheet with eyes painted on and lights flashing on it. In all honesty it looked pretty terrible. I can recall they also did Stone Cold - very popular here, Long Live, and I Surrender. They did nothing off the first album - a disappointment.

Janis Soper
[published in the Stargazer Magazine]









Fairgrounds, Allentown PA, USA - June 15, 1982

Scorpions win 'terrific' rating; headliner Rainbow no match



At the Allentown Fairgrounds last night, there was ample proof that subtlety doesn't count for much in the vast venues of America. In other words, heavy metal bands once again had come to town. That meant big sounds, big concession sales, a big crowd, and a joyous, festive atmosphere that tapped its energy from Woodstock-era pop culture. Much of the estimated crowd of 6,500 arrived too late to hear New York band Riot, which had the distinction of opening up this, the first large-scale outdoor concert of the year.

But as it turned out, the absentees didn't miss all that much, save for perhaps the early evening's warm, sunny weather. While Riot's recorded work reveals a possible American answer to so-called New Wave of British Heavy Metal groups like Saxon, last night's set proved otherwise. The Scorpions. on the other hand, were terrific. This West German quintet is on the brink of a commercial breakthrough — their current Mercury LP "Blackout" has just gone gold — and it's not hard to understand why after seeing last night's 13-song show.

True, the band often lapsed into the most hackneyed of poses (tossed-and-caught guitars, aerial gymnastics), and singer Klaus Meine's Tarzan-goes-to-the-opera vocalizing got on one's nerves after awhile. And the band too often readily showed their influences, as on the Led Zeppelin-style droner "Animal Magnetism" (Meine's Robert Plant-like crooning, the near-Indian strains of Rudolf Schenker's guitar work), and on a lengthy instrumental halfway through the show which resembled Black Sabbath at its worst.

But for the most part, the Scorps confidently strutted past their limitations, turning cliches like "Another Piece of Meat," "Lovedrive" and "Can't Live Without You" into pieces of amplified power. The real killer, though, was "The Zoo," one of two well-deserved encores that showcased lead guitarist Matthias Jabs' adept use of a voice box.

After the Scorpions left the stage, it became apparent that most of the crowd had come to see headline act Rainbow. Lit matches and high-pitched screams greeted guitarist Ritchie Blackmore and his ensemble while pseudo fog filled the stage and a tape of classical music blasted from a mountain of speakers. Despite the opening fanfare, Rainbow proved to be no match for the Scorpions.

Blackmore showed he could still construct a neck-breaking riff or two, just like he did while playing with Deep Purple. But when considering that other rockers like Eddie Van Hales and Rush's Alex Lifeson are redefining the guitar-hero role, Blackmore's blues-based riffing and overly long soloing sounded hopelessly old hat.

Enthused, one longhaired teen in an Iron Maiden "Killer Tour" T-shirt: "Man, these guys are great." The older, wiser guy next to him rolled his eyes and asked: "Where's Motorhead when you need 'em?" The concert was a Makoul Production.

Rich Harry
The Morning Call - June 16, 1982









Fairgrounds, Allentown PA, USA - June 15, 1982



Rainbow did a smallish (12/15 thousand) outdoor festival at the Allentown Fairgrounds on June 15th, supported by The Scorpions plus Riot.

They played well but not brilliantly, solos kept very short. Tracks were Spotlight Kid, Miss Mistreated, I Surrender, Can't Happen Here, Stone Cold, Tearin' Out My Heart, Beethoven's 9th, All Night Long, Power, Long Live and Smoke On The Water for an encore with all guitars kept intact.

Lori Galloway
[published in the Stargazer Magazine]









Madison Square Garden, New York City NY, USA - June 19, 1982

Rainbow Blows 'Em All Away



Ritchie Blackmore has been rocking for quite a long time, but to judge by the wild-eyed show he put on in the Garden, he shows no sign of whatsoever of slowing down. While many of his contemporaries are greying and sound ready for the old rockers' home, Blackmore has proven himself to be a master rock guitarist still in his musical prime.

Younger guitarists can learn a lot by watching him work, though it's often difficult to pay attention on that level because of his showmanship. He knows all the tricks - palming the guitar backwards, throwing his arm up in the air and pointing during a solo, of creating a bomb-blast effects. He was a hotshot with the tremelo bar long before people like Eddie Van Halen ever came along, and was doing that muted lead effect long before Al DiMeola.

After a searing set by the suddenly hot Scorpions, Rainbow made their entrance in a cloud of smoke, and as soon as they broke into their first number, a huge pair of spotlight eyes modeled after the eyes that appear on their current Right Between The Eyes album decended from the ceiling and lit up, shining white columns of light into the audience.

Though he has no need to trade on his past for justification, Blackmore continually played to the audience, teasing them with a number of introductions to various Deep Purple songs, such as "Lazy" and "Child in Time." The anticipation of his pulling out some oldies was further heightened by the presence of former Deep Purple bassist Roger Glover. When you really think about it though, isn't Rainbow the concept of Deep Purple carried into the eighties? Roger looked fit, much the same as he did during the Fireball and Machine Head days.

Performing much of the new album, as well as some older songs, singer Joe Lynn Turner was in great form, jumping about the stage with lots of urgency. Drummer Bobby Rondinelli also got his moment in the spotlight with an excellent drumsolo, keeping the crowd interested with lots of tricks, such as throwing sticks at the cymbals. One has to wonder, however, why the backing vocalists - especially such pretty ones - were kept hidden behind the speakers.

The finale of the show was one of those magic moments; one of those shows that all rockers dream about, with the sold-out Garden crowd screaming and roaring its approval. Equal to the task, Blackmore paid them back with the self-assurance that comes only with being an old pro. When he came back for the first encore and played "Smoke on the Water," the crowd went beserk, and actually outshouted the 52,000-watt sound system during the introduction.

The second encore was, amazingly, even better. First, Blackmore started doing some mindblowing sound effects and panning them between speakers set up way back in the rear of the arena. Then he furiously tortured his guitar ramming it into a speaker cabinet, which then exploded. He picked up the guitar and smashed it on the stage, pieces flying in all directions, until it was completely wrecked.

Then he pulled out another guitar, and slammed it down in front of his amplifiers, with feedback screaming from the speakers. He left it there, ran to the front of the stage, heaved the carcass of the mutilated guitar into the audience, and walked off. It was an awesome, manic show; a magic moment in rock & roll for those who were lucky enough to witness it.

George Gelish









Civic Center, Providence RI, USA - June 25, 1982



The Civic Centre was packed. Over 10,000 screaming white middle class kids with Riot and The Scorpions to warm them up. Finally the PA was blasting out Pomp and Circumstance, then the Oz intro. The lights came on and Rainbow plowed into Spotlight Kid. Amidst dry ice is a dapper looking Glover in white. A huge pair of [bloodshot] eyeballs - no kidding! - are lowered from the lighting rig and hover above the band, gazing left and right with lights shining out through the pupils. Hmmm. Solo is different, he did the Difficult To Cure one for some reason.

Exit huge eyes thankfully, they were pretty funny really. Miss Mistreated and I Surrender next, unexceptional. Band played well and the new keyboard guy fits in well. Turner then dedicated the next song to "the British Navy" - you guessed it - Can't Happen Here; fast version slowing down into a very nice quiet bit, before becoming Tearin' Out My Heart which came together much better live with more feeling. The end was different too and Ritchie finished with a great rave-up solo. Up until then I felt he was just going through the motions.

Next; All Night Long, one I've never been fond of. The backdrop's eyes light up and Ritchie is using his old bass pedals, before they do a boring audience-participation thing in the middle followed by a brief keyboard break featuring Child In Time then into Stone Cold. Out pop those eyes again for Power which again is much improved live, with another excellent solo from Ritchie that really got the crowd going. The pace now slowed as Glover and the keyboard guy do some riffing together before keyboard solo time; actually quite imaginative and better than his predecessor.

Drums next and, tho' I hate to admit it, really better than anything I'd seen by Cozy. I think Blackmore really has got a good band now; maybe room for Turner to improve but even he wasn't too bad! The band return to start up Long Live Rock 'n' Roll which the crowd take up, as the stage goes very dark for some minutes. We wonder what's going on when it suddenly explodes with light, fireworks, sparklers etc., and the end of song. Band leaves, crowd go wild, encore!

Blackmore is in complete control, frantic soloing to Kill The King, turns around hurls his guitar into his amp and it explodes! He then plays it with his feet, tiring of that he smashes the crap out of it and climbs the speaker stack to finish it off up top. He's soon back on the stage for a burst of Stargazer and a short Smoke On The Water - very rousing I might add! End of show. Well paced throughout, not the best Ritchie I've seen but one of the best shows overall since the Rising tour.

Steve Wunrow
[published in the Stargazer Magazine]









Civic Center, Providence RI, USA - June 25, 1982



What inspired me to drive 300 miles there I dunno, but the show was better than Allentown although the crowd was young and uneducated and Ritchie must have known he didn't have to try too hard to please them. Two huge swivelling eyes with spotlights that shone out of them onto the audience came down during the opener Spotlight Kid, and there was also a backdrop of the sleeve with eyes glowing during Stone Cold. They used a fair number of fireworks up too, and Ritchie left out Beethoven. Ritchie attempted to bust his guitar but after the neck came off he couldn't dent the body.

After the show I booked into a hotel nearby which turned out to be the one the band had chosen. I saw Ritchie later in the bar looking bored. I thought he'd fallen asleep at one point until I saw he was after a bowl of peanuts which he lined up on the edge of the table and proceeded to flick at passers by!

Lori Galloway
[published in the Stargazer Magazine]









Spectrum, Philadelphia PA, USA - June 27, 1982



There was a wildly enthusiastic crowd, all familiar with Rainbow's work and it was the best show of them all. Ritchie responded by playing like a wildman - he was absolutely brilliant. They dropped I Surrender [no loss] and reinstated Beethoven. Ritchie and Bobby did a nice jam and then a surprise as they resurrected the blues bit off On Stage, only a hundred times better with lots more bluesy guitar from Ritchie. It was just one of those nights - he couldn't be stopped. Awesome.

Come encore time he burst on amidst a flurry of notes and then began Jealous Lover. They did the whole song and ripped into Smoke On The Water. After that they returned again while Ritchie sacrificed another guitar, flinging the bits at his amp which burst into flames and sticking the rest into the cabinet. He brought on a replacement and proceeded to play this with the butt end of the broken one, it was the best destruction since Purple days.

Lori Galloway
[published in the Stargazer Magazine]









Stanley Theatre, Pittsburgh, PA, USA - June 29, 1982

Rainbow's Concert Vanishes After Only 9 Numbers



Bands do change their names. For instance, the Quarrymen became the Beatles, the High Numbers became The Who, the Golliwogs became Credence Clearwater Revival and Mother McCree's Uptown Jug Champions became the Grateful Dead. Rainbow, based on last night's date in the uncomfortably muggy Stanley Theater, has a perfect substitute in the wings — "Ripoff."

Nine songs — that's right, only nine, and no "I Surrender" or "Man on the Silver Mountain," two of their better-known ones — and one crummy, two-song medley encore in just 75 minutes onstage. And what composed the medley? One verse and the final chorus of "Since You've Been Gone," one of Pittsburgh's most popular songs, and two verses and choruses of Deep Purple's classic "Smoke on the Water" (for the uninitiated, guitarist Ritchie Blackmore and bassist Roger Glover were Purple members).

That's a rotten way to treat people who paid good money to hear, presumably, one of their favorite bands and certainly their favorite songs by that band. No wonder the booing was almost as deafening as the music had been when the stage went dark after "Smoke." A few slow guitar lines were heard and then the house lights came on — the fans thought they'd be getting more, and it was tape, not Blackmore. What they'd gotten to that point was exactly what Rhett Forrester, lead singer for the opening act, Riot, called his band's music: "a heavy metal alternative."

There's no denying songs like "Spotlight Kid," MISS Mistreated," "All Night Long," "Power" and "Long Live Rock 'n' Roll" are hard and heavy, and there's also no denying Rainbow plays that style as well as anyone. Yet there were plenty of more musical touches: the slower, bluesy duet between Blackmore and singer Joe Lynn Turner on "All Night Long"; David Rosenthal's "haunted castle" organ opening to the Foreigner-sounding "Stone Cold'', several highlights on the long "Difficult to Cure."

Those included Blackmore's making his electric guitar sound like an acoustic one, stick-tossing Bobby Rondinelli's drum solo on which he used his hands in lieu of sticks at one point and Rosenthal's keyboard solo, which ended with the "Looney Tunes" opening.

Blackmore, of course, added most of the spice He plays effortlessly, standing like a statue with only fingers moving (flying, actually) and an occasional wig-wag of his head. He comes to bodily life only after or before his part is over. There was plenty to see as well: dry ice fog, flash pots, scads of colored lights, spotlights in a frame around a large gong behind Rondinelli and, to celebrate the holiday a few days early, five jets of sparklers at the edge of the stage and some firecrackers in the audience to boot).

The most striking of all was a huge pair if bloodshot eyes with green irises (the quintet's current album is called "Straight Between the Eyes") suspended on a truss and lowered over the band to beam searchlights over the crowd. This was a terrific visual effect.

Riot couldn't compete with that, such is the lot of opening acts. So this quintet had to make do with its music, and just looking at the huge banks of speakers at stage left and stage right told you what was coming. Sort of. Just like Rainbow, Riot plays it hard and loud yet offers just enough seasoning here and there to avoid the "mindless" tag.

There was the voice of Forrester, who looked like a young Robert Plant with his blond, curly, shoulder-length hair flopping and his bare chest sweat-soaked under a blue vest after only three songs. His voice has a surprising amount of quality for a heavy metal singer. There was Sandy Slavin's solo on "Loanshark" in particular. This guy's one of the best new drummers in some time. "Outlaw" had more melody, "Warrior" sported melody under the thunder and a Southern-style guitar duet between Mark Reale and Rick Ventura (so Forrester, appropriately, donned a cowboy hat, And "Loved by You," a seven-minute showpiece, featured some good harmonica licks by Forrester which turned into a "wailing" contest between him and Ventura.

All that's very much by design, they said in their dressing room. "We just write songs and play 'em loud," Forrester said 'They actually are songs." Added Reale, "It's so hard to get airplay with heavy metal, playing three chords and going crazy. When this heavy metal revival started about two years ago, a lot of bands came out playing three chords," said bassist Kip Lemming. "That's why they burned out. We think we're gonna be around for a long time." That's what the disappointed fans thought Rainbow would do, too.

Pete Bishop
The Pittsburgh Press - June 30, 1982




Capitol Center, Largo MD, USA - July 20, 1982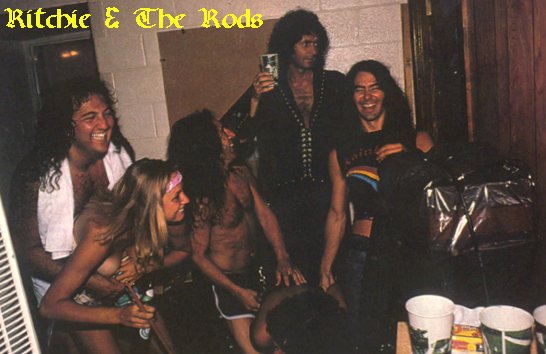 RITCHIE WINS BY A MILE


At 7.30 the houselights go down in Washington's giant Capital Centre auditorium to those in attendance prepare to enjoy a feast of metal mayhem. And a fine evening's entertainment it promises to be too.....

First to hit the stage are those lovable letchers The Rods, who deliver half an hour of powerhouse rock'n'roll, airing numbers from the current "Wild Dogs" LP as well as cuts from their classic debut. It's a brief set but nevertheless Feinstein and the lads give it their all and elicit well-earned response from the audience. They finish with the glorious 'Power Love' and could well have returned for an encore. However, with three bands on the bill, time is limited.

Next on are Krokus, who've been out on the road in America since March. The Swiss rockers are clearly building up a strong following in the US. The opening tune is the ballsy 'Long Stick Goes Boom' and for the next 50 minutes Krokus sustain solid impact. Vocalist Marc Storace is undeniably the star of the band - the man posesses an incredible throat. Prior to their departure, lead guitarist Fernando Von Arb mutilates his guitar with a giant axe. The kids love it but one senses that Ritchie ain't gonna be too pleased!

Finally, Rainbow hit the stage, kicking off with 'Spotlight Kid'. This is the first proper date on the second leg of their 'Straight Between The Eyes' tour and what an absolute killer it turns out to be. The man in black is in brilliant form and plays some of the best lead breaks I've yet to witness him deliver in concert. Aside from the omission of the riotous 'Death Alley Driver' and the solo in 'Stone Cold', there are no complaints. New keyboard player David Rosenthal appears to slotted into the position well enough and the band are airing one of the strongest Rainbow sets to date.

The limelight is totally stolen by Ritchie though and at the end of the show he looks all set to smash his axe. Obviously the antics of Von Arb are still in his mind and when he's just about to hurl his guitar against his amps he suddenly stops and tosses the complete instrument into the audience. It's a killer punch and one can't help but smile. Even Blackmore seems to be grinning as he takes hold of another Strat and proceeds to remove the strings one by one - he simply can't be outdone in the showmanship stakes. Definitely, a night of top-notch metallic fun and games. Give me more!

Steve Gett
Melody Maker 1982









Municipal Auditorium, Lubbock TX, USA - August 7, 1982



On the night of August 7, three bands were scheduled to appear at the Municipal Auditorium: Rainbow, Saxon and Riot. Only Rainbow and Saxon came on stage. Riot did not appear because of differences between the band and the promoter. They were scheduled to appear at 7:30 p.m., but decided to wait until 8:00 in order to get more exposure by those who got to the concert late, thus, the promoter asked them to leave.

Saxon then took the stage and "put on a pretty good show" according to Dottie Townsend, Coliseum Auditorium Manager. Rainbow then came on, a half hour late, then went off after playing only three numbers without an encore. Townsend said that the band was in bad playing form, and eventually walked off because a few "fans" were throwing cups at them. Many fans were expecting to see a supposed great show, but ended up paying $9.00 for a very short and somewhat disappointing concert.

Westerner World (Lubbock, Tex.) Vol. 49 - September 30, 1982










Arrowhead Stadium, Kansas City MO, USA - August 15, 1982



"Summer Rock 1982" with R.E.O. Speedwagon/Ted Nugent/John Cougar/Rainbow/707 Ticket price: $17.50 Richie Blackmore's Rainbow followed with a somewhat-abbreviated set, as I recall. Rainbow was now on their third singer, with Joe Lynn Turner having replaced Graham Bonnet ("All Night Long", "Since You've Been Gone"), who replaced Ronnie James Dio ("Man On The Silver Mountain", "Long Live Rock 'N' Roll") when he replaced Ozzy in Black Sabbath. Confused yet?

Anyway, "Stone Cold" was their big hit at the time. Their set was plagued by sound problems throughout, which led Blackmore, in a fit of frustration, to inadvertently gouge a huge hole with his guitar neck in the big decorative canvas screen in front of the speaker stacks at stage left.

Brian Holland
Holland's Comet Blogspot