RAINBOW

Monsters of Rock - Castle Donington

Storming The Castle: Castle Donington 16 August 1980



A watershed in festival history? Undoubtedly. Seven acts appealing to the same kind of audience and Number One finally finding the switch that turns on the endless light. The promoters had done their homework, too. Apart from the sound being as near perfect as dammit on this great wilderness of a race-track, vision was enhanced by a gradual incline towards the stage.

Of course, they weren't to know that He'd be taking a long and leisure shower for several days beforehand. So not only was there mud, there was a great deal of mud, particularly upfront, courtesy of the slope. So the more you wanted to see the bands, and the closer you got to the stage, the muddier you got!!

I got well muddy and not just on the ground around my knees. See, there were those that might have wanted to see but preferred not to stand up to avail themselves of the opportunity. They delighted in bunging large clods of stinking earth at those unsociable enough not to bask in it themselves.

A water-bed in festival history? Indubitably, and one from which Touch were unable to rouse the silent majority. Sharing the same manager as Rainbow obviously assisted their UK debut, but apart from some plodding pomp pieces were generally worth the opening slot. Marshalled by singer / song-writer / guitarist / keyboard player Mark Mangold, they knocked out 30 minutes' worth of restrained metallic grandeur notwithstanding a surfeit of castrato vocals.

Due to the somewhat unorthodox Press arrangements, these ears were denied the pleasure (?) of Riot. All, er, facilities were situated half a mile from the site with a shuttle service promised back and forth between acts. Indeed, there was a six - seater van laid on for the 200 - odd members of the ligging fraternity, but more pertinently. ALL THE GROUPS WENT ON ON TIME!!!

Now since when has sticking the schedules had anything to do with rock festivals, eh? Actually Blackmore, not unpredictably, broke this short-lived tradition by an hour but if it's of any consolation to Riot fans, they got an encore, which is more than can be said for the third and fortunately last of tyhe Transatlantic participants, April Wine.

Their hopelessly unoriginal catalogue of hard rock cliches climaxed - with a drum solo which put a whole new complexion on the wortd "dull". As if they weren't bad enough in their own right, the accumulating crowd suffered the indignity of watching them follow local boys (give or take the odd 30 miles) Saxon, the first band of the day to generate an appreciable amount of headbanging.

A late addition to the bill, they still secured what they deserved. Igniting with 'Motorcycle Man' and the usual roar of engines, they blitzkrieged their way through the truncated support set which until recently they've been obliged to play.

'Somewhere To Boogie' featured a champion solo from Graham Oliver whose box of tricks included some dervish axe rotation and engaging in some bizarre stage antics with Biff, the purpose of which was to show he could play just as well blindfold. He's barely let down by the rest of the gang, each of who do their deed ruthlessly. Drummer Pete Gill provides an aural blueprint for how soloes ought to sound while Biff has got the range to match his gargantuan appetite for volume.

Though you'd expect hit single 'Wheels of Steel' to be saved for dessert, there are enough strong songs where that came from for it to be despatched early on, leaving t'other guitarist, Paul Quinn, plenty of scope to demonstrate his skills. His Flying 'V' was the first of many to appear, a fashion -for-the-day pioneered jointly with that of the stage -managed encore- leaving stage 10 minutes before their allotted time so the kids could get the "more" they'd inevitably demand.

So following the enticing '747 (Strangers in the Night)' and the groans that accompanied the announcement that 'Stallions of the Highway' would be the last, back they came for a mighty "Machine Gun' which emphasised more than anything that however much the term heavy metal is disliked, to deny that this is what Saxon play is missing the point entirely.

Hard as they tried to eclipse all memory of the Wakefield wonders, The Scorpions damn near scuppered themselves with their ineffectual prancing and ludicrous guidebook shape throwing that was enough to put anyone off their beer, let alone the music. The latter began with the rasping 'Don't Make No Promises', Klause's vocals booming loud and clear and Rudolf Schenker - possessor of two Flying Vs - showing that what he lacks in technique is made up for in ostentation. 'The Zoo' is another rocker, highlighting the thump as opposed to metallically OTT side of the Germans' style, whilst the repertoire also includes some almost tasteful ballads.

During the latter stages they were unable to resist the temptation to play some extraordinaryly drab boogie and resorting to stock HM cliches, some of which, to be fair, they probably invented themselves, since they have been around since '71.

Between acts the surrogate Peel tones of guru Neal Kaye patronised us with gems like "uh - if there's one thing today proves it's that rock people stick together." To be honest it was the mud which did most of the sticking, though by the time Judas Priest took the boards, much of it had been champed down until there was none left to throw.

Whatever, it was a good distraction to be without since the arch fetishists were bang on form. Halford's discarding of biker accoutrements following the swift exit of the machine itself illustrated that however infamous Priest are for the image, it takes a strict back seat to the music.

Rob is too nervous an individual to indulge in excessive showmanship but his voice and blood - curdling screams are magnifique. The set will have been familiar to fans, combining favourites like 'The Ripper', 'The Sinner', 'Running Wild' and their stage-managed encore, 'Tyrant', with most of the 'British Steel'album.

Though the set faltered before the end, as a band they were the best of the day, not to mention the perfect foil for the headliners. Whereas Priest manage to fuse each of their skills into impressive team-work, Rainbow are very much an amalgam of seperate soloists with scarcely any common sensibility either musically of visually.

True, the band is essentially a vehicle for Blackmore's ego, but since this extends to him laying on a sensurround PA and simultaneous split - screen live footage, a certain amount of acceptability does attach itself to this factor. The ugly side of it is the haphazard self-indulgence of much of his guitar-work.

Always one to rely on his tremelo arm, its a wonder the bloody thing didn't drop off. This particular grievance was most manifest on 'Lost in Hollywood', the 20 minute version of which also took in Cozy Powell's much-published last drum solo plus individual bouts of tedium from the others. Don Airey proved he has the same undisciplined affinity for classical music as Blackmore and out of all of them, Graham Bonnet alone showed that he can be trusted to let rip.

There are those who consider him to have rock's best-ever voice and if quality and soulfulness are the criteria, I'm inclined to agree. Simply, he held much of the set together, both in the early stages - 'Love's No Friend Of Mine', a brilliant 'Since You've Been Gone' and 'Catch The Rainbow' - and later when he graciously met Ritchie's request for an unaccompanied version of Golfin - King's 'Will You Love Me Tomorrow'.

Apart from his total vocal control, his humour and personality counterpoint Blackmore's terminal moroseness. Its odd how this quality should delfy the guitarist even more in the eyes of his fans, but at least the devotion is mutual. How else can one account for the bewildering firework extravaganza that accompanied the, gasp, second encore. 'Long Live Rock 'n'Roll' where Blackmore finally got round to immolating his guitar.

Incidentally, the "Long Live Rainbow" announcement at the end had a definite air of "Rainbow - Are - Dead - Long - Live - Rainbow" about it which fanned a;ready flaming rumours that it's not just Cozy who's leaving the group.

Bearing in mind the guitarist's speculated future plans, it would be fair to say that if this gig was Rainbow's final curtain, the band wouldn't be missed as much as the unlikely non-appearance of this festival next year. It would take more than a stick-in-the-mud to deny it's success.

Mike Nicholls, Record Mirror - August 23, 1980





RAINBOW

Monsters of Rock - Castle Donington

Rainbow steal the show.....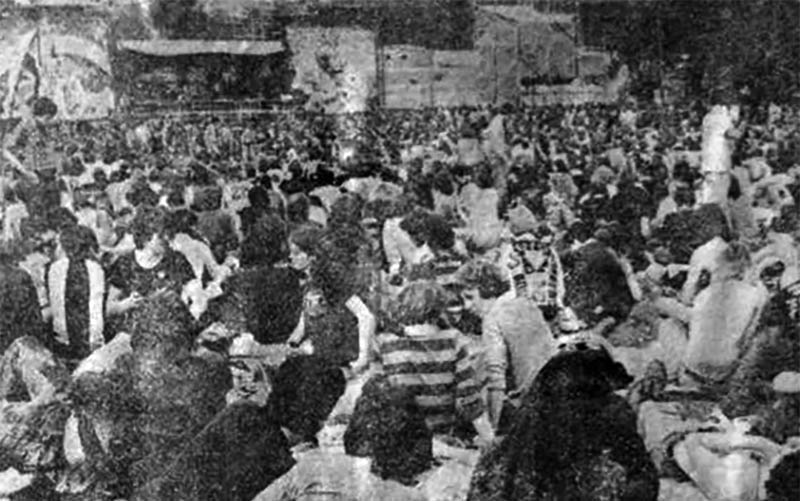 Musically, the Monsters of Rock Festival didn't happen. Still, when Rainbow finally appeared, there can be no argument that they had not been worth waiting for. Guitarist Ritchie Blackmore, who plays very much according to his mood, was right at the top of his form and was as lively and as spectacular as the fireworks that were to end the set.

Drummer Cozy Powell was doimng his best to make his last show with Rainbow something to remember and his solo, culminating in the 1812 Overture, gave a new meaning to going out with a bang. It would be no doubt whose stage it was; flanked by enormeous representations of the cover design of the first two Rainbow albums and with a huge banner bearing the band's name flying high above it, nobody could forget that whoever they were watching was only an aperitif to the main course.

On top of brilliant individual performances all round, the band chose to play Stargazer, a song that is regarded as the finest heavy rock track to emerge from the second half of the 70s but is a piece they have not performed live since their debut tour four years ago. But they could not have chosen a better place than Donington to resurrect it.

This leviathan of a work coupled with the spectacle of Rainbow under a cloudless summer night sky and with 55,000 fans at the focus of 80,000 watts of quadrophonic sound is something that nobody who experienced it will ever forget.

UK Press - August 1980










RAINBOW

The Birth of a Monster: Donington 1980

Malcolm Dome remembers the first Donington festival: £7.50 a ticket, one stage, and lots of mud



It's muddy. Really muddy. That was the initial impression on arrival at Donington Park for the first Monsters Of Rock Festival in 1980. Actually, as this was a one-off event at the time, it wasn't really a festival. More a Rainbow outdoor gig.

Earlier in the year, the band had done a UK tour, and bassist Roger Glover had hinted to me during an interview in Newcastle (on the day that Bon Scott had died) that the band were planning something for the summer.

"It won't be the usual sort of gig," he said, after Rainbow had played at the City Hall that night. "But a special event. The sort of thing that you'll remember for years."

It was to be some time later that the announcement was made. Rainbow were playing at somewhere called Castle Donington in the midlands. Apparently, it was renowned for staging motor racing events. But had never had any major musical performance before. And, while there was an annual festival in Reading, plus similar shenanigans at Knebworth Park, us Brits weren't used to standing in a field listening to a load of hard rock and metal bands.

Still, this was the era when NWOBHM was in the ascendancy, as the Reading Festival would reflect when they confirmed their bill for 1980. Rainbow had the sort of cachet (as in Cachet The Rainbow?) to attract a very impressive support cast: Judas Priest, Scorpions, April Wine, Saxon, Riot and Touch.

Now, here's an interesting fact: the first two bands to play on the hallowed stage of the iconic British rock festival were American! Not a Brit in sight, until Saxon steamed on to add some Yorkshire yelp to the hazy sunshine. Mind you, if we are gonna be pedantic, then the man who had the honour of being the first to 'perform' on that stage was actually Neal Kay, DJ guru of the famed Soundhouse in London, and the day's compere. Closely associated with NWOBHM, especially Maiden, he did a sterling job not only in announcing the bands, with typically biblical hyperbole and vigour, but also spun suitable sonics on the death decks. But all this gets ahead of the game...

I had no clue how to get up to Donington. Train stations seemed distant from the site, so I managed to con a lift from someone I knew who was going up there. At the time I was writing for Record Mirror, their titular heavy metal writer, but someone else from the magazine had been asked to review the gig. Drat! Still, it did mean I was there with no commitments. And could just enjoy the day.

Getting there early enough to ensure we saw all of the bands, the first thing that struck home (apart from the mud. Well, it seeped rather than struck) was that the guest area was so far from the arena that it took ages to get there and back – ulp! But at least it wasn't raining. In fact, it was sunny.

Tramping out to see openers Touch was something of a dual between mud-soaked boots and determined leg muscles. Still, the struggle was worth it. Up to a point. Now, Touch had made their impact earlier in the year with their quality, self-titled debut album. It's since become acknowledged as a melodic rock masterclass, and got significant attention in 1980. But onstage in the open, things did not work out for them. The subtlety of their sound was lost in the swirl of the conditions. They needed a more enclosed environment to get across the songs, and a lot of the depth and layers to the music simply got swamped in a sound that was hardly pristine. They clearly played well, but this didn't cut through.

Of course, now their set is recalled for the fact that bassist Doug Howard swallowed a bee onstage. This still gets guffaws all round, but it did have a serious side, as Howard explained years later.

"I had an open bottle of beer on the side of the stage, and a bee somehow got in. I took a gulp of beer without realising the bee was there, and it was still alive and stung me. I had a bad allergic reaction."

Touch got on the bill because they shared the same management as Rainbow, but this performance did them no favours. Is it any wonder the band never returned to the UK? Well, they did split up a couple of years later, anyway, but the point is valid!

Riot were a much better fit for the day. The New Yorkers had almost been adopted as a NWOBHM band, and had a growing reputation over here. And they delivered. Livewire frontman Guy Speranza was a total tranche of energy, and they got a much better reaction than Touch. Maybe because the band's more in-your-face attitude more easily overcame the persistent sound problems, But it was strange staring at a very sparse stage area. There was no covering at the back, and that meant you could see right through it, which was almost surreal. And the giant painted canopies covering the PA stacks on either side were spartan, to say the least. But Riot got on with the job, and won over a of of new fans that day. Speranza felt this was a highlight of the band's career. But they never truly capitalised on the good will, mostly because of record label disagreements.

Saxon were already big news by the time they got to Donington. The Wheels Of Steel album earlier that year had made them standard bearers for NWOBHM, and as the first British band onstage here they were revved up and ready to burn. And the five were excellent. Biff and the barnstormers crashed through their 10-song set, with Wheels Of Steel and 747 (Strangers In The Night) picking up the crowd. But Stallions Of The Highway was arguably even better. Dressed against a backdrop of swaying trees behind the stage, which were cunningly lurking behind them in the distance, it had an oddly surreal appeal.

Saxon's strength was put into even more perspective by a rather lame appearance from Canada's April Wine. They really weren't suited to the braggadocio of the beer bravado brigade out front. What was needed was a little more power and punch than the Winos could deliver. It wasn't that their performance lacked sparkle... no, actually, it was exactly that. Their cover of King Crimson's _21st Century Schizoid Ma_n was decent, but when Myles Goodwin fashioned the crowd into shouting out "I like to rock", and then tried to pretend the band would play the song of the same title due to demand, it was embarrassing.

April Wine simply didn't look or play as if they cared about being here. Thankfully, they were better early in 1981 when they toured Britain with Angel Witch as their support. However, that was as much of a mismatch as having April in August.

Scorpions were almost the band of the day (just pipped by Priest). They were really in the ascendancy thanks to the Lovedrive album, and this set really sealed their position as a major power. Of course, we got all the Scorps classic poses, such as the human pyramid, and Klaus Meine twirling his microphone cord in a Roger Daltrey fashion, plus the Rudolph Schenker olympic pace sprints across the stage, mouth suitably agape.

They opened with Lovedrive itself, before steaming into Don't Make No Promises (Your Body Can't Keep) and Loving You Sunday Morning. But while a lot of the set came from Lovedrive and then current album Animal Magnetism, with The Zoo a real pleaser, they also stared into the past with a quite brilliant version of We'll Burn The Sky and the rather cartoonish silliness of Robot Man. It was a glorious portent of things to come from the band in the next several years.

"Ah, 1980. It as very wet, wasn't it?" laughed Meine a couple of years later, when we talked about this set. Strange how memory can play tricks on you. The rain held off. But there were plenty of umbrellas in the guest area. Actually, one of the funniest sights was to see rather attractive young ladies decked out in their rock finery trying to deal with the mud. Didn't anyone tell them that stilettos and British festival conditions aren't a sensible combination?

Judas Priest were a killer name to have second on the bill. The British Steel album was flying high, and the Priest's stock had never been stronger NWOBHM had brought them right into focus, and they weren't about to pass up the chance to pound the world – well, Donington – like a battering ram. They began with an overwrought version of Hell Bent For Leather, before sliding into The Ripper and Running Wild. It was a stunning affirmation of Priest's pre-eminence, and when Rob Halford rode a Harley onstage, it got everyone roaring with delight.

Incredibly, while the band played Living After Midnight, they didn't do Breaking The Law from the British Steel record. But nobody cared. We got Sinner, Grinder, Victim Of Changes and Tyrant. This was hardcore Judas Priest style heavy metal!

"I was very nervous beforehand," K.K. Downing admitted a few months later. "I was terrified I might break a string! But after the first song, my nerves went. The fans were so clearly with us. A great day."

There was a swell of growing expectation as the time seemed to slowly slip towards the arrival of Rainbow. This was what everyone had been waiting for. Of course, it would have been better had Ronnie James Dio still been fronting the band, but Graham Bonnet had shown what he could do on the aforementioned UK tour earlier in the year. He might have been dressed like a fish & chip vendor going on a jolly to Torremolinos, but his voice was never in question. The usual Wizard Of Oz intro segued neatly into Eyes Of The World, and we were off.

The set was similar to the one Rainbow had played throughout 1980. But they did add in Stargazer, an unfortunate choice because it simply did not suit Bonnet. He gasped and croaked his way through, and never got even close to rivalling Dio in this divination. But in general he did the job of fronting the band admirably. And he shrewdly knew that Blackmore was the focus of attention. Dressed in his usual black attire, the guitarist prowled with the customary combination of theatrical gestures and virtuoso introspection. His solo began during Difficult To Cure and was simply mesmerising. But it was the advent of a tumble of solos, as Don Airey unleashed a keyboard platter than played on classical passages and old pub style fry-up. Then Cozy Powell crashed into action on a solo that climaxed with a pyro pummelled 1812 Overture; the previous day a lot of damage had been done to the PA system when trying out the pyros for this part of the Powell spot. Sensibly, the amount of explosive was toned down for the real thing. It was also to be notable, because the Monsters Of Rock was Powell's final gig with Rainbow.

After this seemingly endless regime of solos led back into a reprise of Lost In Hollywood, the song that preceded this part of the set (and one most of us had forgotten they'd been playing at the time!), we got a lengthy encore, starting with Deep Purple's Lazy. Before hit single All Night Long gave Bonnet the chance to show of his Percy Thrower style bird impressions, as he tried to get everyone whistling. Well, he does have an interestingly developed sense of humour. There was also a cover of The Shirelles' Will You Still Love Me Tomorrow, before Long Live Rock 'N' Roll and an instrumental version of Kill The King ended the day, as a huge fireworks display was launched into the night sky.

There was a Monsters Of Rock album released later in the year, with tracks from all the bands on the bill bar Priest (record company politics prevented their appearance on this Polydor compilation). But that only told a little of story of the day that marked the birth of an annual legend. And do you know how much a ticket cost for the day? It was £7.50. Seven bands. Good times. Good price.

And little did any of us know that this was the beginning of a yearly event. It was supposed to be a one-off. However, despite losing money, the promoters were confident enough to go for it again the following year with AC/DC headlining. Who'd have thought that the huge Dunlop Tyre, which dominated the skyline at Donington, would become one of the most recognisable images in rock?

No phone cameras. No huge screens allowing you to watch the bands in action. Just the one stage. No camping. No vast array of different activities and food stalls. It was a very different world in 1980!

Malcolm Dome, Classic Rock Magazine - August 16, 2014