Rainbow
US Tour 1978
---




The Checkerdome Arena, St. Louis MO, USA - May 11, 1978



The concert opened with Richie Blackmore's Rainbow, and a set that was as satisfying as that of REO's except for one bit of stupidity. Ronnie James Dio has a clear, loud voice that is exceptionally effective without music, and on occasion would give the four instrumentalists a short rest as he carried the song all alone. When he did, the crowd had plenty to cheer about.

The band had all 14,000 going strong by the time it entered into the complex, rapidly changing and sometimes cerebral "Man on the Silver Mountain." They achieved it with back-to-back heavy rockers, "L.A. Connection" and "Long Live Rock 'n' Roll." Everything was a buildup to the finale — "Still I'm Sad," a song almost 20 minutes long. Drummer Cozy Powell had an involved solo highlighted by lots of special effects, including drumstand spotlights, a spot of fire and strobe lights that seemed to flash in time with his pounding.

It was during this number that Blackmore, for reasons best known to him, smashed his guitar. It's his guitar. But then he threw the pieces into the audience. At least one person nearly was whipped across the head by the guitar cord. Stupid.

Dick Richmond, St. Louis Post-Dispatch - May 12, 1978









Kemper Arena, Kansas City Missouri - May 12, 1978



I knew REO was coming for a month or two in advance but couldn't care less. They were only scheduled to play one show, on a Saturday night. I heard the show had sold out. I was helping my sister clean out her garage and, while moving a stack of newspapers, I saw an ad for the show which stated, "Special guests Ritchie Blackmore's Rainbow". I almost had a stroke! I tried for two days to get tickets but to no avail, REO was really popular in the Midwest in those days.

Then, about two weeks prior to the gig, they added a Friday night show. I called in sick, drove down and got tickets. Blackmore tore the place up on Friday, including smashing the guitar. I understand from friends who saw the Saturday gig he was good, but no guitar smash and he seemed more restrained the second night. So all in all a great and lucky turn of events.

Jim Collins









Kemper Arena, Kansas City Missouri - May 12, 1978



Kemper Arena, Kansas City, MO - May 12, 1978 (opening act for REO Speedwagon). Deep Purple's "Made In Japan" was one of my favorite air-guitar albums, so I already had an appreciation for Ritchie Blackmore. Ronnie James Dio was also impressive as a singer. In this show, Blackmore was on fire and broke up his guitar on stage. We had moved close to the stage for Rainbow's set. We were young and very impressed :-).

mhollisco









Shrine Auditorium, Los Angeles CA - May 18, 1978

Kevin Cronin, REO in High Gear



It's hard to imagine singer-guitarist Kevin Cronin at rest. He gets revved up so high that it probably takes him a day to settle down after a show. The REO Speedwagon leader is a hyperactive and frenzied as any rock performer around. At the Shrine Auditorium Thursday night he was at his maniacal best.

Cronin is not a great showman and doesn't rank among the finest rock singers and guitarists. However, he works so hard on stage that he impresses you with his zeal, and REO thrives on his energy. The other four musicians made solid contributions but were definitely overshadowed by Cronin.

REO's material is straightforward, guitar-dominated, hard rock that isn't based on any obvious influences. The Pieces, all tautly structured and simply arranged, moved at a furious pace, reflecting Cronin's incredible drive.

Ritchie Blackmore's Rainbow opened the show with an intermittently but numbingly loud set. Apparently Blackmore's plan was to bludgeon the audience with sheer volume. The amps were turned up so high that the floor often vibrated. When the volume dropped to a sensible level it was possible to enjoy the show, which included some swelling, grandiose numbers that sounded like rock renditions of a Wagner opera.

Like any good guitarist, Blackmore is a showoff. Because of this his talent surfaced only occasionally. More often than not his lightning-fast guitar runs were more show biz flash than serious artistry.

Blackmore, a former Deep Purple guitarist, hasn't been able to approach the commercial success of Purple with the new band. However, Rainbow's work is far superior to the one-dimensional din that Purple was passing off as music.

Dennis Hunt, L.A. Times - May 1978

[Thanks to: Tonny Steenhagen for the scan]




Shrine Auditorium, Los Angeles CA - May 18, 1978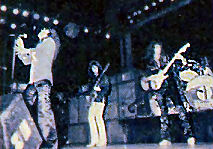 Ritchie Blackmore, completely in black with new hair-style (page model, in the prince iron hair style), stands apart at the edge of the stage. He, the star of Rainbow is illuminated by nobody. If one doesn't come to listen to his first-class guitar work, which he offers usually in rainless float, one wouldn't notice him.

Not a rainbow stretches itself anymore over the stage, nor the used lightshow flashes. Ritchie Blackmore with his Rainbow is now only the music on its months-long America tour set. Ritchie, superstar in Europe and Japan, has to warm-up for "Reo Speedwagon" and not to steal the show. "That I'm not the main group have its reason.

With this tour I want to conquer America, city for city. This is the only possibility.

Our music is hard, and America stands more on Fleetwood Mac and the Eagles and if they already like Rock'n'Roll, then it's Led zeppelin. So we step now in the USA with the attitude "Here we are. What do you think? After a few months we will see..."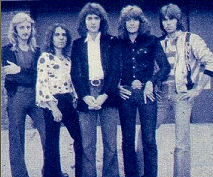 In Shrine Auditorium, Los Angeles the fans show with their enthusiasm that Ritchie don't need that. Before his appearance, they cried for him in choir: Rainbow, Rainbow - Ritchie Blackmore! With their first number Kill the King (special written as opener for concerts) they heated the kids in such a way, that the Boys in my row took their T-Shirts off and sweating with naked, torso in their seats and jumped up and off. One was in such a state that he cried with full throat: Jimmy Page (Leadgitarist of Led zeppelin), get buried!"

Ritchie, who speaks not a word with anyone during a concerts ever, brought numbers of its new and fourth Rainbow album "Long Live Rock and Roll", also an old Deep Purple Song, "Mistreated", also "L.A. Connection" and "Lady of the Lake" got enormous applause. With Cozy Powell's Drumsolo exploded on the left and on the right of the stage fire bombs. But the fans went in ecstasy as Ritchie trampled during "Still I'm Sad" his guitar first and then to small pieces smashed and threw in the crowd. Ritchie remained also here in the dark - no spotlights.

Although he makes the wood-show at nearly every of his American concerts, it works impulsively and not planned, what ofcourse nevertheless it is. Before each smashing-act, he changes his genuine Fender guitar - for the public not visibly - for a cheap Japanese imitation.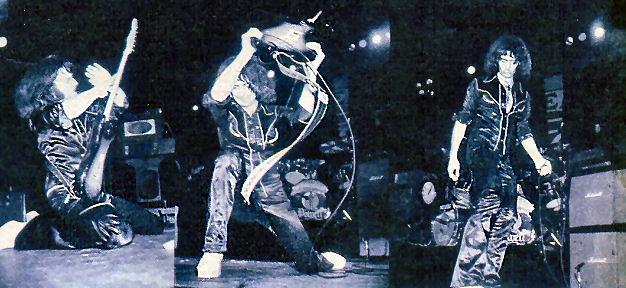 How is it with his plans to establish himself in Germany?

"I want a house in Hamburg to live but could not find one at a reasonable price" Ritchie answers. "That was six months ago. The houses cost there three times as much as here in Los Angeles, I like Germany, there I feel comfortable and at home. You probably know, I believe in reincarnation. I know I lived in one of my earlier lives already in Germany. With Selfhypnose I want to go back there. I try to build the reference points up, to find out who I was in former times. Crank or not - on the guitar he is still a witchmaster.


Frances Schoenberger, Bravo Germany 1978 [translated from German]
photos by N. Zlozower




Shrine Auditorium, Los Angeles CA - May 18, 1978

REO rattled by rampant Rainbow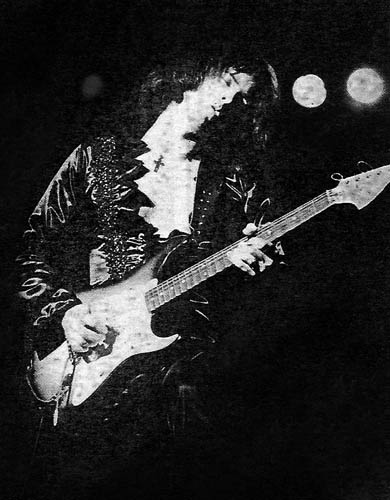 By the first interval my mood wasn't at its sweetest. No Dice had been given a slamming after what could have been a good set. They had made the most of the large stage and audience at their disposal and had pulled quickly out of the tortuously muddy sound they had to open with.

But all in all it looked like a display of PCP-ed petulance from a crowd of several heavy metal thousands who'd expected Rainbow to come on first, and had cheered and waved banners accordingly.

And when I got back from the lobby for part two, some sicko had lived up to his calling and been ill over my seat.

So i made my way to an empty space at the side of the hall where the stage was virtually obliterated by speakers and started to tear and roll my ticket and curse the audience in disgust. Then a mountain of a bouncer grabbed my arm and said, "Hey hon, don't you start rolling up in here. There's two cops right behind you". And there were. Two beefy US cops with fat guns, real heavy metal, looking for joints and having a tough time tonight because of the no smoking rule. Rock, American-style.

By now everyone except your reporter was on their feet clapping while the spotlights bopped round the stage curtain. When the band arrived mayhem broke loose. What you'd call an easy one. Rainbow had the audience under their thumbs and kept it there. The title track from their latest album offering, 'Long Live Rock And Roll' had everyone singing and clapping along. ("Only Los Angeles could sing like that," said singer Ronnie Dio. Substitute Houston, Boston, or where-ever they're playing...). The kids down the front waved their giant Rainbow banners and it was just like a Rollers concert. I'm forced out of my mood and into the action.

Rainbow are -euphemistically- 'co-headlining', though it's REO's name on the tickets and the bill. It appears that Rainbow are not big enough draw to headline all over the States, hence the compromise; but by all accounts they have a loyal following here. So for their allotted 60 minutes (no encore) they concentrated on pulling out all the stops and driving the people wild.

First it should be pointed out that Rainbow did this show virtually prop- and effects-less, one of the trials of being a 'support-band'. A bit of a shame, but at least you can concentrate on the music, which is something I'm sure Mr Blackmore and co don't object to at all.

Each member, including the two news guys David Stone and Bob Daisley, is a first-rate musician. Ronnie Dio has a fine voice, Cozy Powell plays like his life depends on it and Blackmore is league above other guitarists of his ilk.

Much of the set is taken up with his long, intense solos - sounds coaxed or bashed from his guitar from purrs to pneumatic drills to church organs to baroque notes, waltzes back to sheer frenzy - you've just got to admire his precision, variation and control.

My only critism - and it always has been with Blackmore - is that at times he seems to go out of control and lose the flow of the music, also the medieval fetishes often just go over my head. But the audience loved it, the louder and heavier the better. Blackmore is above all a star.

And Cozy's drumming is sometimes nothing short of brilliant. His accompaniment to the taped final segment of the '1812 Overture' (the bit with the cannon blasts) is incredible - now this is pomp rock - and closing as it does with the only effects of this evening, dry ice and exploding dustbins on either side of the drumkit. The audience goes crazy and rushes past the security men to the front to watch Blackmore end the show by smashing a guitar and kicking the pieces into the crowd.

REO Speedwagon I'm not so sure about. Something's missing, though I don't know quite what. They're musically competent, sure, and seem very confident. They just lack, to my ears, a certain sparkle and innovation that would rescue them from the realms of OK and make them worthy of the adulation they've been getting here.

But the crowd, other than the pocket of loyal Rainbow fans who left after their favourites had gone, seemed very fond of them, cheering everything, even the mirrorball, so I must count myself in the uncertain minority.

At least they started their set with a full hall, no-one-wandering in late, together with the best sound so far. They are another brand without much in the way of visuals (unless they abandoned them on this tour, but I think not). Their set was very much straight-down-the-line rock - helped by a good rhythm section and some rocking piano - with a few searching licks thrown in for screams.

But there were a few notable numbers, all from their latest album 'You Can Tune A Piano But You Can't Tuna Fish' - 'Roll With The Changes', their latest single, not bad at all, 'Say You Love Me Or Say Goodnight', a foot-stamping clapalong song, and a guitar solo worth mentioning by the name of the 'Unidentified Flying Tuna Trot'.

As headliners, REO were called back for, and happily obliged with, encores. Personally I'd have preferred 10 more minutes of Rainbow or even No Dice.

Sylvie Simmons, Sounds UK - June 10, 1978
photo by Chris Walter









Swing Auditorium, San Bernardino CA, USA - May 19, 1978



The sacred shrine of the electric guitar was pulled out, dusted off, and worshiped again Friday night at Swing Auditorium. The two veteran axe holders on the bill, Ritchie Blackmore and Ronnie Montrose, are musicians who have fed on the meat of hard rock guitar in the past, but who now take succinctly different approaches to but who now take succinctly different approaches to the idiom. The concert was a satisfying showcase of dynamic rock and roll that spotlighted the guitar player as showman (Blackmore) and artist (Montrose). First, the showman.

Headliner Ritchie Blackmore and his band, "Rainbow," continued to keep the aging dinosaur of heavy metal alive with a set that sledged-out enough powerful riffs, and flashed enough showbiz tricks to enrapture the good-sized crowd on hand. It was good entertainment, but exclusively for the hardcore fan. When he wants to pump it out, Blackmore can mount an awesome attack on the guitar. When he pulled out some mighty fuzz-tone bass notes from his guitar, the Swing walls began to shake. Should he point his six-string towards China, the Great Wall would surely crumble. Aim it towards Detroit, Blackmore's guitar could make Ted Nugent retreat straight into a plate of vegetables.

At times Blackmore showed that he could be a subtle musician, proficient on the fretboard and sensitive to dynamics. His extended version of "Man on the Silver Mountain" featured a funky instrumental midsection, and his icon of heavy metal blues, "Mistreated", demonstrated some taste and restraint. Too often, though, Blackmore was content to dazzle the audience with a handful of cute, but shallow tricks left over from his days with "Deep Purple."

Not satisfied with just picking the guitar, he would rub the entire instrument with his hands, arms, elbows, and feet. And at the set's climax, Blackmore even indulged in some quaint guitar smashing antics. And his hand got into the act. Would you believe a drum solo set to Tchaikovsky's 1812 Overture? Too much. Blackmore's "Rainbow" band, featuring Ronnie James Dio on screaching vocals and Cozy Powell on drums, set down a competent hard rock foundation, but still did not match the range and dynamics of "Deep Purple's" best days.

Mark Lundahl, The San Bernardino County Sun - May 22, 1978









Winterland Ballroom, San Francisco CA, USA - May 20, 1978



I'm showing my age but the following is true: saw Blackmore's Rainbow in 1978 at the venerable Winterland in San Francisco. They opened, yes I said OPENED, for REO Speedwagon!

Suffice to say, Rainbow blew REO off the stage. It was no contest! I actually felt sorry for REO. The crowd turned on them. I still remember the audio for "Somewhere Over The Rainbow" and just killing it with Man on the Silver Mountain. Good times!

Steve Paulson









Louisville Gardens, Louisville KY, USA - May 27, 1978

Rainbow, Henry Gros move crowd but it's No Dice that may endure



Rock bands are in business to make money. No great revelation there, but how can performers like Rainbow. Henry Gross and No Dice make money at concerts like last night's $ 1.02 affair at Louisville Gardens? Even with last night's sold-out crowd, $ 1.02 isn't going to make a millionaire out of anybody. The money comes if people rush out and buy albums after they hear the groups live. But even tough all bands contributed to an enjoyable evening, only one — No Dice - deserves additional listening on vinyl.

It would seem that the job of selling albums is easy enough for a heavy metal group like Rainbow. In the early 1970s, many thought that heavy metal would be the salvation for increasingly anemic rock 'n' roll. After all, the loud, repetitious beat just has to get people moving. Heck, last night's audience applauded when the synthesizer's volume was being adjusted between sets.

And Rainbow certainly had people moving. Guitarist Ritchie Blackmore had enough years of experience with Deep Purple to know how to put on a polished rock show, down to the recorded introduction of Dorothy saying "Toto, I think we're over the Rainbow."

The only problem with heavy metal songs is that they tend to become boring with repeated play. A fast, loud beat does not in itself make rock 'n' roll. The reason why so many heavy metal album are sold. I think, is not that they're so good, but that people tire of them quickly and buy more to replace them.

Albums by the very best of groups, Led Zeppelin and Blue Oyster Cult for instance, endure. But what about those of the rest? In 1971 and 1972. Deep Purple's "In Rock" and "Fireball" sold well, but who listens to them now? It will be the same people who listen to Rainbow's "Long Live Rock 'n' Roll" five years from now: practically nobody.

Rainbow's songs seem powerful at first. But there is nothing to make them endure. There are no real melodies. Singer Ronnie Dio's vocal style is interesting, but not that uncommon, and the subject matter of the songs is usually out of the realm of the performers or audience's experience.

The Henry Gross Band's music contains the melodies and experience, but they're all bland. The songs are coldly calculated — a riff here, harmonies there — to reach the largest possible audience. The songs were good enough to keep those close to the stage interested, but many others, including myself were bored to tears. Even if Gross had been able to sing in key during "Shannon" and "She's an Angel," nothing about the group merits a second listen. On top of this. the band's members act like God's gift to music. They perform with a smugness that says. "We know that we're playing the best rock these poor souls will ever hear, but we won't let it go to our heads too much." (I would be remiss not to mention that the second guitarist and keyboard player was by far the most obnoxious in this regard.) The kicker, as mentioned above, is that they're simply not that good.

That leaves the opening act, No Dice. Image-wise. the quartet (accompanied last night by a keyboard player) is on dangerous ground. The group is being touted as the first mainstream band to be accepted by New Wave fans. Greedily, the group wants to appeal to both types of fans. The group's album cover, for instance, shows the group in two poses, one as cute as the Bay City Rollers, and the other as convicts mugging for the camera. Their plan for wide acceptance could backfire. Most music consumers could be turned off by the punk reference, while New Wavers might eschew the band for selling out.

Hopefully, this won't happen. On stage, these guys don't let the music get in their way of having a good time, and vice versa. Although the stage act needs work, it is reminiscent of Rod Stewart's days with the Faces. Roger Ferris sings, and bounces around like Stewart, too. Musically, the group approaches Humble Pie, with melodies compliments of the Move. In other words, the band is derivative of everybody. But, although they're not very original. songs from the new album, such as "Happy in the Skoolyard" and "Why Sugar," show that the members are good at what they do. What they do is play rock 'n' roll. And, hopefully, kids will listen to that anytime.

Mark Zakem, The Courier-Journal - May 28, 1978









Fairgrounds, Allentown PA, USA - May 28, 1978

12,000 concert fans hear three groups



More than 12,000 rock music enthusiasts jammed into the grandstand and overflowed onto the race track at the Allentown Fairgrounds Sunday night to sample a three course musical meal. An appetizer of Hounds, entree of Blackmores Rainbow and main course of Foghat seemed to please even the most ardent aural addicts who spent much of the evening slapping their hands together and screaming. "More, more!"

The audience seemed relieved and excited when Hounds took the stage and began to unleash volleys of ribcage-vibrating musical thunderstorms. However, the closeness of the stage to the grandstand created an unpleasant pocket of echoing noise which rendered any precision guitar work indistinguishable.

Consequently, anyone not well-versed in the group's music could not easily tell what song was being played, nor what the lyrics were. After Hounds had sufficiently warmed up the crowd and stepped down. the stage was set for Blackmore's Rainbow. Ritchie Blackmore was apparently none the worse for having destroyed his favorite guitar during a concert the day before, causing him to search for a replacement unit Sunday.

Rainbow appeared more suited to using the mountain of speakers that filled the stage front, and the music was a bit more concise. The crowd couldn't get enough, it seemed, and continued to beg for more even after the group gave way to the main feature, Foghat.

Foghat was the real crowd-pleaser of the night, with its characteristic high-power rock 'n' roll carrying above the grandstand and to the open windows of Allentown Hospital, which apparently also contained some concert fans. Most of those attending the concert seemed to he enjoying themselves. but it was not known if it was because of the music the companionship or their obvious use of drugs and alcohol. And when the music had died and the stands were empty, the crowd's legacy was left behind — piles of trash and empty bottles.

Karl Neddenien, The Morning Call - May 30, 1978









Fairgrounds, Allentown PA, USA - May 28, 1978



Rainbow were not the headliners, they were 2nd on the bill, with The Hounds opening up and Foghat headlining. While it's unusual for any opening act to play an encore, Rainbow did, coming back to play "Stargazer", very sadly its missing from this.

Also in the reprise to "Still I'm Sad" you'll notice about 1/2 way thru the guitar suddenly disappears. This is cause Blackmore in an aspired moment threw his strat 30+ feet in the air and it got stuck in the light rigging, a few seconds after its disappearance you will hear a popping sound, this is Blackmore trying to free the strat from the rigging by yanking out the cord (yeah no wireless those days) causing part of the light rigging to swing down and crash haha, a roadie handed him a new strat and you can hear him plug it in and continue playing as if nothing happened, of course throughout the whole episode the audience gets quite loud:)

Anonymous - The Clock Went Backwards (bootleg site)









Civic Arena, Springfield MA, USA - May 29, 1978



Since Rainbow has crept in here somehow: I saw them twice in '78. The first time, at the Springfield Civic Center in Mass., Rainbow was warming up for Foghat – a great boogie band at their peak, but really more suited to bars.

It was really weird that they opened to the strains of the end of Stravinsky's Firebird, suitable atmosphere wise for Yes but... for Foghat?! I remember a wild guitar bash for Ritchie that night, ripping the guitar apart, somehow emerging with the disembodied electronics still plugged in, and plopping them down on top of the Marshalls. Possibly the worst feedback squeal I've ever heard!

Jamie Williamson - Darker Than Blue, February 2012









Civic Arena, Springfield MA, USA - May 29, 1978



Next weekend marks the 32nd anniversary of one of the most sacred events in Dipdom, the fabled MEMORIAL DAY JAM, featuring Foghat, Rainbow, and the Hounds. The event was held at Allentown Fairgrounds back when they used to have regular outdoor gigs there.

The jam was a great way to celebrate the drafting of the concept of Dip, and Foghat and Rainbow were both at the top of their game and kicking major ass at the time. We arrived early to catch the opening band, the Hounds, who we'd never heard of. They surprisingly kicked butt and prompted us to seek out their debut album when we got back.

Rainbow were next, and they stole the show. Blackmore was on fire, destroying his Strat and the whole stage at the end. Dio, RIP. They opened with Kill the King, a suitably smoking opening tune.

Foghat were last on the bill, touring on their massively successful and smoking Live album. They had sound problems which hindered the total enjoyment. Lonesome Dave and the drummer had an extended jam with Lonesome Dave on his Les Paul Junior.

DIP, Blog of Lose - May 2010









Passaic Capitol Theater, NJ - June 2, 1978



This was the first time seeing the band since the 1976 World Tour. So you can imagine how excited I was. It wasn't exactly what I had seen back in 1976, but anytime Blackmore, Dio and Powell take the stage, you are in for something magical.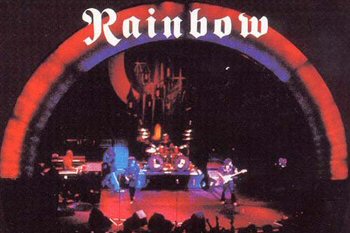 First I would like to mention that supporting act Uriah Heep were terrific. Just to see the great Ken Hensley was a delight The act before them, No Dice were entertaining. Entertaining because the crowd had a lot of fun booing them off stage.

Rainbow came on with the Over the Rainbow intro and the now familiar "Kill the King". Ritchie seemed very excited on the opener as he hopped around the stage. It was very very loud in this small theater. The song blew us off the seats. It was nice to have them back after a long wait since the Rainbow Rising Tour.

Then on to now what seemed like a Rainbow song "Mistreated". Ritchie's intro gave us all a new sound to enjoy. It was the first time we seen him use the bass pedals. The place was shaking while the bass notes blared out through the place and he was playing amazing runs over them. I think it was that sound, that gave us the most enjoyment of the night. It was something we had never heard before.

Now here's where the rest of the night gets a little foggy for me. The next few tracks, the order escapes me a little. I know they did "Long Live Rock and Roll" with Ronnie chanting with the crowd, ROCK ROCK ROCK and ROLL YEAH!! I remember Ronnie taking someone in the crowds flask and asking what's in it? He was told Southern Comfort. Ronnie replied, "Southern comfort, That's good shit" then he took a sip, only to reply... "that's good STRONG shit".

Then I had the joy of seeing them do "L.A. Connection", a track off the new LP titled Long Live Rock n Roll. Till this day I don't know of any other person that has seen them doing this track. It really rocked the place. I was lucky to witness it.

Then it was "Man on the Silver Mountain" another great version as usual. I wish I had a tape of that now, because Ronnie singing solo was amazing.

The last Track of the night was "Still I'm Sad" I don't remember if this was an encore or if they didn't do an encore. I remember loving it that night. Again, all the solo's were featured in this song. Newest member David Stone on the keyboards proved to be a real talent. As for the smashing the guitar, I am 99% positive he did it during "Still I'm Sad".

It was another great Rainbow performance.

After the show I waited for the band to come out and leave the theater, it would be the first time I met Ritchie Blackmore. Okay, it was for 5 seconds until a big body guard threw me aside and got in the car and drove off.

I would see Ritchie and Ronnie together one more time in August of 1978, and as history now knows... it would be the last tour for these two amazing performers together.

Frank Aziza









Civic Center, Providence, RI - June 4, 1978



I remember missing my first college graduation to attend a multi-act concert at the Providence Civic Center on June 4, 1978. The line-up was a blockbuster: Sweet, Atlanta Rhythm Section, Richie Blackmore's Rainbow and Foghat (in that order of performance). I don't recall anything significant about the first two band, except Sweet killed with Ballroom Blitz and Atlanta Rhythm Section might have been better placed between the top 2 bands for crowd control reasons. Blackmore and company hypnotized me through Man On The Silver Mountain and some incredible playing & singing.

However, when Foghat hit the stage, it was a manic, boogie infested riot. The stage itself created some sort of illusion where Lonesome Dave "disappeared and emerged" at various times throughout the night. The show was timed at the upswing or their popularity so it was rife with hits. From Stone Blue, Night Shift, Driving Wheel, Slow Ride and my faves, Fool For The City and My Babe. Even the old Chicago blues numbers seemed like hits to the adolescent crowd. But that was what it was all about - a schooling of sorts. It was a perfect reason to miss my graduation. My schooling had only begun.

I saw Foghat for the last time in Albany NY in 1998 with Lonesome Dave as strong as ever in the front. It reminded me of that day in 1978. And I miss him and his music today as much as I did between opportunities to see them.

Bruce Whitney - The Transcript









Rochester War Memorial Auditorium - NY June 9, 1978



REO Speedwagon: They're a mid-west adequate rock band - they sound like a dozen others, so I really couldn't believe Rainbow were supporting when I found out. The last time I saw Blackmore and company was July 4th 1976 when they were headlining over Gentle Giant and Angel. They played over two hours. Back to now. The Rochester War Memorial Auditorium was sold out. Rainbow played to the largest crowd ever there, something like over 12,000 general admission tickets were sold (about a 1,000 over capacity). The place was electric in anticipation of the two bands. I had gotten there about 2 hours before and was about 10 feet from the stage - and when the famous clip from Wizard Of Oz was piped through the sound system, and Blackmore sauntered on stage and started bashing at the opening chords to Kill The King, all hell broke loose; sheer pandemonium.


After standing awestruck for five minutes, I finally came back to earth and started taking pictures. Right from the start he seemed to be having problems with his guitar - feedback, going out of tune etc, but he was in fine form, his stage presence was incredible. I caught his eye once, but rarely did he acknowledge the audience. He also seemed to be in a somewhat sardonic/pissed off mood.

Daisley was having a good time up there, and fitted in better than Bain I think, but Stone didn't do anything. He looked sort of distant-oblivious most of tine time. Cozy was incredibly tight and played flawlessly. Dio was his usual amiable self, sung his freaking lungs out, and, aside from some inane patter between songs, he was excellent. Dio was about to announce one number when Blackmore strode over and whispered something - in his ear. Dio smiled and said "this is going out to all the fucking DJ's in the audience" and he went on really slagging them about how they wouldn't play their music.

So they went into Mistreated - more feedback problems, but he pulled off an incredibly good solo. More "let's pick on DJ's" stuff, then into Long Live Rock'n'Roll which sounded very muddled and distorted. Man On The Silver Mountain was superb. The band actually sounded like a band, with some blues in there too.

Blackmore, then subtly opened up 16th Century Greensleeves with some very nice classical doodling, before pounce, on the bass pedals and headbanging time again. The feedback messes up what could've been a classic solo, Blackmore is pissed off.

During their last number, Still I'm Sad, the feedback is blitzing everyone out, and he starts throwing his guitar around and leaves while Cozy takes his solo (no hydraulic lift - in fact no rainbow either this time around; not even a backdrop-how boring!). After the explosion they return to finish the number off, Blackmore giving everyone frustrated looks. The song's over, but Ritchie's not done yet. He whips off his guitar, looks at it, and just tosses it into the crowd not more than 15 feet away from me. I lunged over there and actually touched it! I had like a religious experience right there. Well, ahem, that was it. Curtain came down.

All in all a very weird show. I think Ritchie only did about 60% of what he was capable of. Also it is so idiotic to have them open for anybody. REO would only allow them an hour, no encore.

Steve Wunrow









Suffolk Forum, Commack NY, USA - June 10, 1978



I was very young when I went to this show and it was pretty crazy. My mom drove my friends and me to the Suffolk Forum in Commack, Long Island, NY. We got there early and waited in line since it was general admission. I was with two of my friends: Tommy and Schnook. We went in and found seats in the stands for the first act, The Godz.

The Godz may be the archetype for bad 70's hard rock. Years later, when I saw the film "This is Spinal Tap," the mock metal band featured in the film reminded me of The Godz. They were so bad and so cheesy that they were actually good, if that makes any sense. I still have a vinyl copy of The Godz's album, if you can believe that.

Next up was Ritchie Blackmore's Rainbow. This was actually the band I was interested in seeing and the reason I went to this concert. At a young age, I was a big Deep Purple fan, so seeing the legendary guitarist's new band was huge for me. At this time, Ronnie James Dio was the lead singer for Rainbow. Dio later went on to sing with Black Sabbath and after that he had a successful solo career.

My friends and I decided to go down onto the floor for Rainbow. It was insane, but we managed to get fairly close to the stage. Toward the middle of the set, Ritchie Blackmore took hold of the body of his Stratocaster and started smashing the neck of the guitar against the edge of the amplifier stacks. Soon pieces of guitar neck were sailing out into the crowd. Then, a piece flew toward us. I watched as the piece of guitar travelled through the air in slow motion and landed right in Schnook's outstretched hand. He looked at me with a huge smile on his face, which lasted just a moment. Immediately, a fist came out of nowhere and punched Schnook in the face, and his rock and roll prize was snatched from his hand. We went back to the stands and Tommy and I watched as Schnook's eye blackened and swelled shut. He told me that he actually saw stars when the guy punched him. I felt bad for him.

REO Speedwagon played next. I can't tell you much about them other than they were OK. But I kept wondering why Ritchie Blackmore was opening for this band, which I had never heard of before. Of course, a few years later, REO would become super popular.

I learned an important lesson that day—concert's were dangerous and if something sails into the audience from the stage, best to move out of the way.

Jeff Japp









Suffolk Forum, Commack NY, USA - June 10, 1978



I saw them on that tour at the Commack Arena on Long Island NY. First act was called the Godz (typical hard rock band). Rainbow opened for REO Speedwagon (shame).

They played an amazing set finishing with "Do You Close Your Eyes" and Ritchie smashing his Strat to pieces after a wicked guitar solo. When the lights went on, more than half the venue left. Poor REO had to play to less than a half house.

Peter John Selgrad









Civic Center, Dothan AL - June 22, 1978 [cancelled]



My friends and I drove to Dothan Alabama to see them perform with REO Speedwagon just days before this concert in Atlanta GA and REO had cancelled. We drove up to an empty arena. Oh well what a great band. They were white hot with the release of their new album LLRock&Roll. Rainbow was the opposite of the music indusrty. In one year disco would be in full swing and Ritchie appauled it.

Man oh man looking back on it I should have done everything I could have to see this concert (in Atalanta GA) two days before my 18th birthday. The concert before this in Dothan, Alabama was cancelled. They were performing with REO Speedwagon. Now that is STRANGE lineup. Anyway it sounds like they Slugwagom out.

erickhatesu









Freedom Hall, Johnson City TN, USA - June 23, 1978

REO Speedwagon boasts polished stage act



Ten years of touring have left REO Speedwagon with one of the most polished stage acts on the rock circuit. Three previous appearances at Freedom Hall had left area fans ready for the group's return as a headlining act, and June 23 REO finally came back for one more show here. The 6.000 or to fans at Freedom Hall got their money's worth with what was definitely REO's best show here. A 100-minute set featuring cuts from the latest LP made such an impression that hundreds of fans waited to cheer the group after the show as they left for their hotel, a scene which is rare for Johnson City.

REO opened with two favorites from earlier releases. Son of a Poor Man and Like You On, to warm up the crowd for three successive somngs from the album which has them back into the rock mainstream. You Can Tune a Piano but You Can't Tuna Fish. Despite the title, it is REO's finest effort to date, one of which lead singer Kevin Cronin says, "The music speaks for itself, just like it does when we give a concert. Lucky for You, Say You Love Me or Say Goodnight and the new single, Roll with the Changes, each provided ample explanation why the response of Johnson City fans was so exuberant.

Cronin is singing at his best, and the guitars of Cronin and leader Gary Richrath seem to mix especially well. As Richrath put it, "The band is cooking now. Everybody's up for the shows and were hotter now than anytime in the last six years," Predictably, REO finished with their biggest hit, Ridin' the Storm Out and followed with a strong encore version of Golden Country. Despite some electrical problems toward the end of the show which detracted from Richrath's solos, REO had left their mark once again on East Tennessee.

"People around here know us. Constant touring is the key," said Cronin "I'd rather have a strong concert following than a hit record." Cronin is one of the more energetic lead singers around, another attribute of REO's live show. "Our music excites us as well as the audience," he said. "I think that's part of what got us where we are."

It was a good evening of music all around with REO being supported on the bill by Rainbow and Nantucket. Nantucket shows promise as a new group based on their debut album. They did three songs from that disc, featuring fine three-man vocal harmonies. All the group needs is some time un the road to overcome the usual lack of stage confidence and tightness.

Rainbow, with lead guitarist Ritchie Rlackmore, formerly of Deep Purple. is the heir apparent to Black Sabbath's role as the kings of heavy metal. According to Blackmore, "If hard rock isn't dying, it certainly is well disguised. Were doing our best to keep heavy metal alive." In their first Johnson City appearance, Rainbow rocked hard, perhaps too much at times, drowning out the usually impressive vocals of Ronnie James Dio. The crowd favorite proved to be the title track from their latest album, Long Live Rock and Roll, the only song in which Dio and Blackmore did not seem to be competing. Perhaps that was because Dio invoked the audience's aid on the chorus.

REO's Cronin is a strong Blackmore supporter however "Our best dates on this tour have been the ones with Rainbow. The crowds are there to see good guitarists." If that's the case, area fans got what they came to see from RE0 and Rainbow.

Bill Gupton, Kingsport Times-News - July 1, 1978










Omni, Atlanta Georgia - June 24, 1978

Ritchie Blackmore's Rainbow Punch



ATLANTA - Most people, fan or foe, would concede that Ritchie Blackmore is one guitarist who packs a durable punch. But at a recent Atlanta date, Blackmore proved his temperament is as feral offstage as it is on. According to TRIAD correspondent James Riordan, Blackmore set about smashing his guitar and then left the stage as the crowd cheered wildly Ten seconds later, it seems Blackmore returned to the stage and planted a punch on the face of Andy Green, a stage manager for billmates REO Speedwagon. Blackmore and Green scuffled to the stage floor until they rolled under the curtain, where roadies reportedly broke up the fight.

Said Blackmore to Riordan: "I punched Green because he put the house lights on ten seconds after we came off the stage. We like to keep the lights off until the 'Over The Rainbow' theme is finished playing. REO is a great band, and we get on with them very well, but that one certain-person we don't get on with and he turned on the lights too soon."

Green, refuting Blackmore's allegations, told TRIAD that "Blackmore had been a prima donna all along, and something was bound to happen sooner or later. He smashes up his equipment and that causes problems. If it didn't happen when it did, it probably would have happened the next night. He blindsighted me so I fought back."

As for his typing as a prima donna, Blackmore said, "There's a difference between being a prima donna and demanding a little respect. The problem's not over by any means, but I love aggravation. I can't play unless I am aggravated. I hate to go on feeling totally complacent and happy. I'm a rebel against the whole system. I spoke with someone yesterday who's got two weeks to live, and here someone's worried about trivial things like getting the house lights up, and that to me is just rotten."

The two groups were slated to play 29 additional dates together on the tour.


James Riordan, Triad USA - August 1978










Omni, Atlanta Georgia - June 24, 1978



In the other week's feature on Rainbow, it was hinted that they had a few problems supporting REO Speedwagon. Now we can tell at least part of the story. Ten seconds after Rainbow took the stage in Atlanta, all the houselights went on. Our Ritchie was not pleased standing there listening to the strains of Rainbow's introtape 'Somewhere Over The Rainbow' while the audience was bathed in light.

Finding the culprit, REO Speedwagon's roadmanager Andy Green, he took the only possible course for a man of his stature…. He thumped Green. Eventually, the roadies separated the brawling pair. At least it shows Ritchie still cares enough to dispel the incessant rumours of a Rainbow split.

Sounds UK - June 26, 1978










Carolina Coliseum, Columbia SC, USA - June 29, 1978

Rocker Alice Cooper Just Isn't The Same



Alice Cooper's performance last night in Carolina-Coliseum. While Cooper still sported the ghoulish make-up that became a trademark in his early days and still performed visceral rock and roll something has changed. Shock has been supplanted for show business. Aside from the times which make the Sixties anthem "Cm IB" seem less desperate in the rooled-down Seventies. Cooper has moved from a kind of skin-of -his-teeth presentation to a more choreographed production. Some might still long (or the time when this precursor of punk represented a gleeful perversion of a middle-class sensibility).

However his musical judgment remains sound and the well-produced show generated both a number of good tunes and some comic touches. He is a less threatening figure but is still an entertaining one. The show "King Of The Silver Screen" was a $400.000 production complete with giant spiders, a Cyclops monster and a huge television screen. Cooper would jump in and out of Tongue-in-cheek commercials about shows like "Police Gynecologist" would give Cooper a chance to change costumes for his next number. He seemed tireless as he went through a variety of routines and demanding vocal numbers with abandon. A personal favorite involved a parody of onscreen tough guys like Bogart. Cooper ended up doing battle with four giant machinegun-toting rhickens while singing about being a tough guy from Detroit with a girl's name.

The result of all the impressive staging was to introduce humor and irony into an art that included a live healthy boa constrictor whips and a guillotine. Much of the show was a reprise of earlier material like "I'm 18" and the encore "School's Out". He sang with full force and intensity backed by a solid rock and roll band. Former Elton John band members Dee Murray on bass and Davey Johnstone on lead were joined by keyboard player Freddie Mandel, guitarist Jefferson Gilay and drummer Dennis Conway. Unlike many other rock bands with flashy shows Cooper and his cohorts also possessed talent. Songs like "You And Me" and "Only Women Bleed" demonstrated Cooper's skill as a balladeer.

Rob Crosby a Columbia musician opened the concert with a pleasant set of original rock-country tunes. His well-received set was followed by a band called Rainbow which sounded more like a cloudy day. The heavy metal power rock assaulted the senses and although their musicianship was fair the volume was just too loud. The high point of their set was a tape of Judy Garland singing "Over The Rainbow"

Pat Berman, The Columbia Record - June 30, 1978










Chicago International Amphitheatre Illinois - July 2, 1978



So there I was, gasping for air in the midst of the press of bodies, all trying to get in the one door they opened at the Chicago Amphitheatre. Several times I was lifted off my feet, glided down again, up, down, around - holy cats, I'm looking the other way now! - when some poor, under-four-foot person appears in front of me, gasping much more desperately.


For two more minutes I was worried sick she was going to die right there, then a big surge to the left got us within a fairly good range of the door, I gave her as much of a shove as I could manage and she squirmed her way through somehow. Nearly five minutes later I got through the door myself. These were the days of "festival" - non-reserved - seating, my friends. But our parents made it through the Depression, so we survived lazy seating schemes.

We were on the main floor but pretty far back, even though we'd got there at six in the morning and were originally only about twenty feet back in line - the one-open-door gravity well handily erased that advantage. Then, while we were trying to figure out if this Max Webster band was any good or not, it started raining firecrackers from the cloud of ignorant savages on the upper balconies.

If I remember correctly, this kept happening for a while, even into Rainbow's set. We'd be standing on our seats getting pummeled by the cannonshot of wriggling air molecules from the amps but somehow a lit fuse flitting past the ear cuts through the din with very little problem.

It was one of the big ones and it went off right under the seat in front of me. That cut through even better. From that point on the sound - never good in the Amphitheater in the first place - was almost complete mud. When Rainbow came on, it was all I could do to figure out which songs were being played by the rhythms and key changes.

I couldn't make out any guitar lines or solos, which was the whole reason to be there! Long Live Rock'n'Roll, the song, was easy enough 'cuz of the singalong part, but everything else was a guess.

And, believe it or not, Cheap Trick was the headliner that night. Everyone remained standing but it was an endurance test for me; I couldn't stand Cheap Trick. I sat down and waited it out. My hearing was back to normal about three days later.

Out in the parking lot we were all trapped - there was one car parked in just such a way that nobody in that small lot could get out and the owner never showed up. A bunch of us gathered together, picked it up and moved it out of the way. Thankfully we were the first ones out of there. On top of all this, the Long Live Rock'n'Roll album cover image on the cheapo t-shirt cracked and was unrecognizable after the first washing.

John Hopkins










Convention Center Arena, Dallas TX, USA - July 14, 1978



I went to this show at the convention center! He smashed a guitar and I got a sweet chunk of it upside my head! and a few springs from the tremolo too! Remember KMOD's "Long Live Rock Brigade"? I think they were worried about the Disco Movement for some reason!

Marcos










Riverside Centroplex, Baton Rouge, Louisiana USA - July 20, 1978



I got turned on to Ronnie because I'm a Blackmore fanatic. from the first time I listened to RISING, I was hooked. For the Rainbow concert, I could NOT believe they OPENED for REO, but they still did about an hour and 20 min. And totally blew the roof off. I was in awe. Finally getting to see my guitar idol for the first time AND getting to hear one of the greatest voices ever. It was pure extacy.

Dale Navarre










Hirsch Memorial Coliseum, Shreveport LA, USA - July 22, 1978

Good show short on audience



The 2400-odd souls who attended the R.E.O. Speedwagon-Rainbow-Bliss concert last night looked lost in the expanse of Hirsch Memorial Coliseum. The promoter's man-at-the-show said 3000 were needed to break even, so they lost on this concert. Which is a shame, since all of the acts put on good shows. Even Bliss, an act from Little Wing Productions hometown, Tulsa, came across as a band that needs to go a long way, but has great potential. Ritchie Blackmore's Rainbow, which did six quick songs and left without doing an encore, was a strong act. And R.E.O. Speedwagon did a fast-paced, searing-hot stream of rock roll I thought would pop the eardrums of all the people clustered in front of the stage - almost the whole crowd.

What went wrong? Perhaps the biggest boo-boo was cancelling Friday's show at the Municipal Auditorium and rescheduling the affair for Saturday night. The rescheduling had to take place simply because the Muni's electrical system can't supply the electricity a modern rock and roll performance needs. The upshot was a small crowd in a huge enclosure. It was a pitiful, ironic sight, like a lone man standing in an empty, Olympic-sized swimming pool.

R.E.O. Speedwagon was just tingling its tenth song when I had to leave the show, and it was a tailpipe-smoking, foot-stomping, talking-blues number that almost grabbed me by the throat and told me how I was going to feel. In other words, "157 Riverside Avenue" was a powerful song. The band also did three numbers from their latest album, "You Can Tune A Piano (But You Can't Tuna Fish)" — "Roll With the Changes" and "Unidentified Flying Tuna Trot," which are the "A" and "B" sides of their latest single, and "Say You Love Me Or Say Goodnight."

Guitarist Gary Richrath prepared the audience for the long, talking blues rocker with an interesting guitar solo ending "Unidentified Flying Tuna Trot." He used feedback pretty well, trilled notes often, and gave his wah-wah pedal a work-out. I was reminded of the last notes of Jimi Hendrix's "The Star Spangled Banner" on the "Woodstock" LP. R.E.O. Speedwagon spotlights keyboards player Neal Doughty frequently, in stark contrast to Blackmore's Rainbow, who seem to ignore their keyboards and bass in favor of drums, guitar and voice. Lead singer Ronnie James Dio has a fine rock and roll scream and knows how to use it. Cozy Powell got monotonous with his drumming at times, but Blackmore always managed to come through with a saving guitar lick. The best song of Rainbow's set was its last number, "Still I'm Sad".

Bliss is a Tulsa regional band; this concert was their second appearance before a large concert crowd. It must have been lonely up there for them. They sound like some bands I have heard practising in garages, which isn't a cut — a lot of good bands first got together in someone's garage. They have a good sound, basically, and their two guitarists play well together. They have potential, but they need to work before crowds a few more years. I'd like to see them come back after their first year on the concert circuit.

John Andrew Priome, The Times (Louisiana) - July 23, 1978










Municipal Auditorium, Austin TX, USA - July 23, 1978



How does a headline rock group follow an act whose drummer sits behind a wall of fire to pound out the drum solo of the year, whose bass player plucks like he was in Led Zeppelin, and whose lead guitar player demolishes his Fender Stratocaster after using it to stun the audience with his blazing leads.

It wasn't easy, but REO Speedwagon did it. The first thing they did was close the curtain after the blistering set by Ritchie Blackmore's Rainbow. Let the Municipal Auditorium crowd cool down before taking the stage. Change the set behind closed curtains, then open with the spotlights shooting: off the revolving mirrored ball. Start off with a couple of their own ear-piercing rock 'n roll standards from the past before moving into songs from REO's more mellow "You Can Tune a Piano, But You Can't Tuna Fish," their newest Epic album.

The strategy worked, but only because the REO band members worked really hard at it. By their third number, "Say You Love Me or Say Goodnight," lead singerrhythm guitarist Kevin Cronin was drenched in sweat, looking as if he'd just gone nine innings in the red baseball uniform he wore for Sunday night's Municipal Auditorium concert. The crowd roared for the group's present single, "Roll With the Changes," but really went crazy when REO broke into "Riding the Storm Out," an REO classic rocker known more for the music than who did it.

John Bryant, Austin American-Statesman - July 25, 1978










Richfield Coliseum, Cleveland, Ohio - July 28, 1978



The only time I saw His Shortness get "short" with the audience was in Cleveland Ohio, when some weenies started tossing beach balls around and frisbees. Shorty gave the crowd a warning at least two times to stop throwing because if anyone in the band gets hit, the show is over."

Frisbee shot off towards the moon and then returned down to earth and struck Ritchie straight between the eyes! RJD was right. End of show. Bad part was we had to suffer through Black Oak Arkansaw prior to RB! Then have the set cut short! Bummer!"

Mike Fred










Kennedy Stadium, Bridgeport CT - July 29, 1978



I don't think I have been to any stadium shows. I almost went to Aerosmith and Mahogany Rush at the Meadowlands which would have probably been my only major stadium show. I did see a show in a smaller stadium in Bridgeport, Ct. with Rick Derringer, The J. Geils Band and Blue Oyster Cult which was an excellent show. The Simms Brothers (mostly local) and the Michael Bulloden Band (aka Michael Bolton) were also on the bill and both were good, even the Michael Bulloden Band.

Also, on the bill was Ritchie Blackmore's Rainbow and guess what? They were a no-show. The show was billed as the Great American Rock Show and one explanation I heard from a buddy who was a local musician and who asked Ritchie directly why he didn't show and Ritchie's response was that he wasn't American. I've since read there were other reasons as well, management and money related I believe.

Working Man (on Amazon)










Leroy Concert Theater, Pawtucket RI, USA - August 5, 1978



Since Rainbow has crept in here somehow: I saw them twice in '78. [The 2nd time] A few months later I saw them headlining at the Leroy Concert Theater in Pawtucket RI with Cheap Trick warming up – a band I didn't like then and still don't.

Rainbow was pretty much done (in the Dio configuration) at that point I now know, and it showed: the set was shorter than the warm-up set for Foghat, and when Ritchie started the guitar bash someone jumped up on stage and he just let him take the guitar.

Guess he got offstage quicker that way. Also the LOUDEST concert I ever saw.

Jamie Williamson - Darker Than Blue, February 2012









Calderone Concert Hall, Hempstead NY, USA - August 18, 1978



AC/DC announces that they will be playing in Long Island at the Calderone Concert Hall. We bought tickets at 7.50 . They were playing bottom to Richie Blackmores Rainbow. So Silvio, Stan, Willy and I went to show and brought bras and panties with us to throw onstage for a goof. After they played their set we threw them onstage and Bon Scott picked them up. He said Screw these panties and bras. Where are the girls who were wearing them? Tremendous. I was 17 years old and was amazed how great and loud they were. After they performed Rainbow came out and people were chanting DC DC DC DC. Blackmore left the stage and let AC/DC do another song. Class act.. I will never forget........

Paul Gardella, Staten Island NY - AC/DC Tour History (ac-dc.net)










Palladium, New York City NY, USA - August 24, 1978



Rainbow cut short its set at the Palladium in New York recently when lead guitarist Ritchie Blackmore stormed offstage 15 minutes into the set, claiming there was a hum in the sound system. A makeup date was promised. Rainbow's semi-show followed a blistering performance by AC/DC which took the cordless guitar to new heights, literally performing from the Palladium's balcony.

Billboard Magazine - September 9, 1978










Palladium, New York City NY, USA - August 24, 1978



I was in the audience in New York City in early August of 78. The show as at The Palladium and the opening act was AC/DC. AC/DC completed their set with Bon Scott and went over fairly well with Scott riding piggy back up and down the aisles on the back of Angus Young.

Rainbow finally made it to the stage and were into their 2nd song, 'Mistreated', when during the middle solo section, Blackmore cupped his ears and walked off the stage. It was almost two hours of scrambling stage hands working feverishly on the electronic rainbow to no avail when RJD finally came out to annouce the cancellation of the rest of the show due to an electronic buzzing interference with Ritchies guitar. We did get refunded our money.

Ritchie's Strat










Palladium, New York City NY, USA - August 24, 1978



Another dissappointment was Rainbow again. At the Palladium in NYC, Rainbow opened with Kill the King and then into an incredable Mistreated, Blackmore was tremendous. After Mistreated, Ronnie James Dio apologized and said they couldn't continue and they all left the stage. I believe this was the last time Dio played with Rainbow.

Working Man (on Amazon)










Palladium, New York City NY, USA - August 24, 1978



That was an awful night. There were some severe technical issues between the Rainbow rig and the on stage amps and the PA. Everything was buzzing louder than the instruments. Couldn't be resolved at the time. I know "they" were supposed to issue full refunds.

Colin Hart (on Facebook)










Palladium, New York City NY, USA - August 24, 1978



We came to see Ritchie Blackmore because of the great Rainbow albums but this ass-kickin band came out and blew up the place. Angus got on the roadie's shoulder and he blazed up and down the aisles. We could not believe the energy this band had and the way Mr.Young played and Bon Scott screamed.

When Rainbow finally got on stage they played a couple of songs then they had a loud feedback problem with Blackmore's wireless set-up and they could not fix it. They just gave up after 15 minutes of trying to correct it and the lights came on and the show was over, very strange even for rock and roll. On the way home we argued that AC/DC sabotaged the show or Rainbow knew they could not top the performance of the Australian rockers.

James Damone, Staten Island, NY - AC/DC Tour History (ac-dc.net)










Palladium, New York City NY, USA - August 24, 1978



I went there to see Blackmore's Rainbow for the 3rd time. I remember them only playing 2 songs. Although I had never heard of AC/DC at the time I walked out of the theatre completely drained and satisfied that I had seen something special that night.

Pete Ross, Harrison, NJ - AC/DC Tour History (ac-dc.net)










Palladium, New York City NY, USA - August 24, 1978



This was my 1st concert - as I was 14 years old at the time. I went to see Blackmore's Rainbow and AC/DC was the opening act - who I had not previously heard of. I remember that there was a feeling in the crowd that AC/DC was more of a punk rock band. But, this was probably not based on the music, but more on Angus Young's clothes and guitar-playing style. AC/DC played less than an hour and put on an excellent show.

Rainbow then came on and played a couple of songs (including "Mistreated") and then the lights came on. There was some confusion as to what was happening and then it was announced shortly after - that the concert was being cancelled due to technical problems. I remember walking out deeply disappointed and was hoping the show would be re-scheduled at a future date. It never was.

This was the only - of many concerts - I went to that was ever cancelled in this manner. Given that this was my 1st concert - including seeing AC/DC during their early years at a smaller venue and the events that later unfolded - I will never forget this night.

Frank Colletta, Astoria, NY - AC/DC Tour History (ac-dc.net)










Palladium, New York City NY, USA - August 24, 1978



My best friend from HS, Scott Wernick and I went to go see Rainbow as we were big fans of Richie Blackmore. We had no clue as to whom the opening band was going to be playing that night. AC/DC came on and I remember them being really raucous and full of energy! I mentioned to Scott that Rainbow will have their work cut out for them to top what we just experienced.

Rainbow came out, played two songs, and then a loud burst from the stage during the 3rd song... then shortly the lights went on and some announcement about technical problems. I swear they mentioned something about AC/DC messing up the sound system or something.

As we all left the Palladium confused as to what had happened, riots almost broke out, people were pretty pissed off about Rainbow leaving us all hanging. However, we had AC/DC etched in our brains after this show.

Robert Mullen, Boulder City, NV - AC/DC Tour History (ac-dc.net)










Asbury Park Convention Hall, New Jersey, USA - August 26, 1978



I also had tickets for two nights later in Asbury Park New Jersey when upon arrival, the main doors were closed with the exception of a side stage door through which we could see the crew again working on the rainbow.

It was a sight to just stand there and watch the colors fly by for over an hour until the theatre manager came outside to announce that Rainbow would not be playing but anyone was welcome to stay for a free concert featuring that nights opening act of David Johannsen.

Unfortunately for him he did not go over well. I don't think he would have gone over very well even if Rainbow were set to play. Two months prior to that Rainbow played a shorter set in Passaic New Jersey with opening bands No Dice and Uriah Heep without the rainbow and no encore.

Ritchie's Strat










Asbury Park Convention Hall, New Jersey, USA - August 26, 1978



I was one of the thousands who were waiting around for them to play at Convention Hall when it was announced that the show was cancelled. I remember somebody saying that they had problems at the Palladium a few days before but we all assumed Blackmore was just pulling a "moody" when the show was cancelled.

We were all so disgusted we didn't even bother to stay around for David Johansen's free show. That was it for me. Musically I thought they had gone way downhill after "Rising" so I just lost interest.

John Bella