Rainbow
UK Tour 1977
---
Somewhere under Rainbow ... five shades of Black
Newcastle, City Hall - November 1, 1977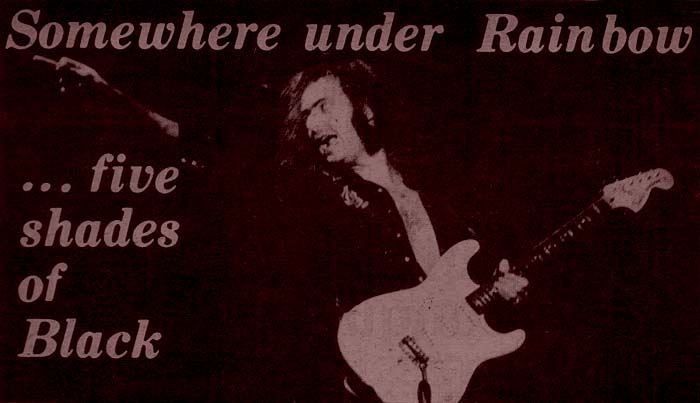 Blackmore is one of the few remaining Guitar Heroes, and it is apparent that his breed of musician is far from being out of favour with the rock audience in general. This alone explains the continuing pre-eminence of Rainbow when so many Heavy Metal bands are in decline right now.

What with sackings and the difficulties finding replacements, Rainbow have recently had their fair share of difficulties leading to the delay in starting their world tour. The nucleus of the band, however, is vocalist Ronnie James Dio and Cozy Powell on drums - along with Blackmore of course. On stage you can basically forget about the new guys, Bob Daisley (bass) and David Stone (keyboards) because their contributions are minimal.

Considering that Dio, a pretty reasonable singer, and Powell, who's a strong player, have difficulty coming anywhere near the standard Blackmore sets in his playing, both Daisley and Stone will need to shape up, fast.

At Newcastle City hall, Blackmore, whopreviouslyy I'd never rated so highly, was brilliant. In rock today there are probably only a couple of guitarists who can match his subtlety, feeling, spirit of adventure and total control over the instrument.

Sadly he was let down by the quality of the material that was invariably ordinary and at its worst ("Long Live Rock'n'Roll", the title track of their next album) dismal. Ironically it was an old Purple number, "Mistreated" which stood on its own and was not merely a vehicle for their elaborate dynamics.

It is certainly Blackmore who will ensure Rainbow's survival, and the only aspect of their act to compete with him was the stage spectacular. Housing 3,000 light bulbs an arc about 30 feet high spanned the stage, and this was (naturally) the visual projection of the band's name.

As Ritchie gradually wound himself into a frenzy, so the effects became correspondingly more dazzling until Powell's drum podium rose high into the air, followed by an almighty explosion. If Blackmore was surrounded by talent as great as his own, then quite possibly he could lead one of this country's greatest bands.

New Musical Express, U.K - November 19, 1977









Newcastle, City Hall - November 1, 1977



Ritchie Blackmore and Rainbow returned to the City Hall in 1977 to promote their upcoming album "Long Live Rock 'n' Roll". The ever changing line-up had evolved into Rainbow Mk4 and was now Ritchie Blackmore (guitar), Ronnie James Dio (vocals), Bob Daisley (bass), David Stone (keyboards) and Cozy Powell (drums). This time demand to see the band was massively high, resulting in two sold out performances at the City Hall. Support came from Kingfish.

Once again, Rainbow put on an amazing show, with guitar pyrotechnics ala Blackmore, soaring vocals from Dio, and an amazing stage and light show. They just don't make rock bands like this any more.

Vintagerock's Weblog









Ritchie's amazing Rainbow dream
Guildhall, Preston - November 3, 1977



A SPECTACULAR Rainbow rose over Preston last night - and caused some amusing scenes of rock music hysteria at the town's Guild Hall. Ritchie Blackmore's Rainbow, one of the best rock'n'roll bands in Britain, appeared beneath a huge rainbow of 3.000 light bulbs, operated by a digital computer.

It wasn't just another rock concert, it was a technicolour dream - visually breathtaking and musically stunning. Nearly 2,000 fans stomped clapped and cheered through a night of pure rock 'n' roll magic. Blackmore, former Deep Purple lead guitarist, led his band through the spectrum of rook matta - The 80-minute set included numbers from Rainbow's three albums, including "Catch The Rainbow", "Long Live Rock 'n' Roll" and also a superb rendition of the old Deep Purple standard "Mistreated."

Much of the eredit was due to the vocal aerobatics of lead singer Ronnie James Dio and the powerhouse drumming of Cozy Powell. Hard rock fans have been complaining long enough about the absence of top bands in Preston. One must wonder why the hall wasn't full.

Philip Welsh, UK Press




Guildhall, Preston - November 3, 1977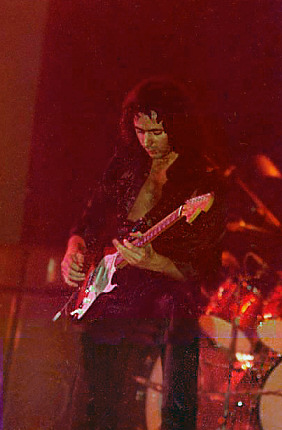 A small crowd gather round the stage - the security men move them back. "No, you can't sit in the isles, get to your seats". I asked one how long they were planning to hold them back "As long as we can". Two minutes was about all they managed. The stage goes dark. Judy Garland entertains, Ritchie checks his amps then the tape machine, and they're into Kill The King - with the crowd on their feet and mobbing the stage. I dive in and try to enjoy the music.

Mistreated comes next; tbe crowd go mad, but Ritchie doesn't seem to be trying. Maybe it's because no one wants to stand still and listen. 16 Century Greensleeves follows, with the inevitable green rainbow. The intro takes on a very jolly feel, it doesn't seem right, but then Ritchie stands still, and lets himself go at last.I decided that I'd rather move back and stand on a chair where I can enjoy the subtle bits as well as the power chords. Ritchie puts in a lovely classical progression, no one seems to care - he looks pissed off with the crowds reaction and takes the piss out of them.

Ronnie sings on regardless, I think he'd work as hard for an audience of two. He introduces group member number six...the rainbow, and Ritchie puts in some of his best playing of the night as he stands and lets his feelings pour into his fingers for Catch The Rainbow. He really does put heart and soul into it. Down comes the Rising backdrop as Ronnie introduces Long Live Rock'n Roll.

It's got a good riff, can't wait for the album. Ronnie wants us all to clap and sing along. I remember Ritchie saying he didn't like this sort of thing, so I wasn't surprised when he disappeared behind his stacks. Man On The Silver Mountain with the false Lazy intro followed, the blues was very short with David Stone putting in a bit of solo work at last, but it wasn't as exciting as it could have been.

Still I'm Sad came last, with Ritchie following his power chords by crouching down and throwing his fist in the air, but it looked false, done out of habit rather than anything else. Stone's solo got a bit lost somewhere - he didn't look at all happy, and it seems a case of "when will he go?" rather than "will he go?".

I think Daisley will be around for a while though. Ritchie put in a very strange classical solo, accompanying himself on his foot pedals. Cozy bashed his way through his solo (in fact he didn't stop bashing all night long; the subtlety of a drunken prize fighter) though it was very effective visually, with the kit rising up to the 1812, and the strobes.

Then it was all over. Simon said Ritchie looked very pissed off as he left the stage, needless to say there was no encore. All in all the gig was poor by Rainbow standards. They didn't spur each other on to make it all it could, and should, have been. Even at their worst Rainbow gave the best concert I've ever seen. Until the next time then: Long Live Rock'n Roll!

Peter Judd
Photo: Alan David Perry










Guildhall, Preston - November 3, 1977



It was the worst Rainbow gig we'd ever seen. Partly my own fault, expecting too much maybe. The hall was lousy, a vast open area with the stage in the middle, and people were wandering about continually. There was no point in wandering down to the front, 'cos the stage was so low you couldn't see anything, Ritchie couldn't do anything apart from dance around.

The few quiet bits he tried were lost on most people. There was more attention given to the tour managers too numerous excursions across the stage to haul out yet more crushed fans. It was interesting to watch Ritchie off stage behind his stacks, trying to compose himself, but, the look on his face as he stormed off, chucking his guitar to a roadie, showed that it was not just me who had got very upset that night.

Simon Robinson





Empire Theatre, Liverpool - November 4 & 5, 1977


Liverpool on the 4th was little better. The solo's were not getting through to me at all like they should've. I'd always told myself that I'd quit the fan club business once Ritchie stopped sending shivers down my spine with his playing - but I never seriously considered that ever happening, until then. The third night was a little better thank god. Ritchie straightened himself out and quit the dance routines for a little concentration. The magic returned, albeit briefly. There was a spectacular demolision job when Ritchie disappeared off the stage and reappeared in the "royal box" almost on a level with the balcony. After strumming around with his legs dangling over the edge, he proceeded to belt the instrument to bits over the edge, teasing the crowd by swinging the remains on the lead just above their heads.I got it all on film once I can get the negs printed!

Yet despite that there seemed something wrong. The impending London season seemed certain to be worse - I mean, Ritchie hates it down there, how could it be good? I don't know. But it was even better compared with the previous three gigs. The feeling and emotion was back, and his playing just took me apart. Every night, for four consecutive shows. Each night he approached the various little solo tunes differently, and took things easy. For once, thinking about what he was going to try. In a way I suppose it could be likened to Beck's approach to live gigs. He takes a gamble and some nights it works, others it doesn't.

With hindsight, this is much how the Rainbow concerts went. But whereas the actual guitar solo's have improved, the numbers inbetween seem to have become just a little routine. It's a pity they couldn't have got more new stuff rehearsed - or at least Light In The Black and Temple Of The King. Of the four nights I got the most out of the first and second nights, but everyone seems to have their own favourite.

Simon Robinson
Photos: Alan David Perry










Rainbow raze the Rainbow
Apollo, Glasgow - November 9, 1977



I was desperate to see this, not only because 'Rising' was one of my favourite albums, but also because it would be my first sighting of Cozy Powell! Cozy was his usual brilliant self - his solo, played along to the 1812 Overture, whilst the drums rose up over the audience, was splendid and Blackmore played a blinder, until he refused to do an encore. Now, refusing a Glaswegian crowd an encore demands a certain decorum and Blackmore didn't have it. I thought the Apollo was going to be dismantled.

Stuart Morrison (My Concert Archive)





Rainbow raze the Rainbow
Rainbow Theatre, London - November 11, 1977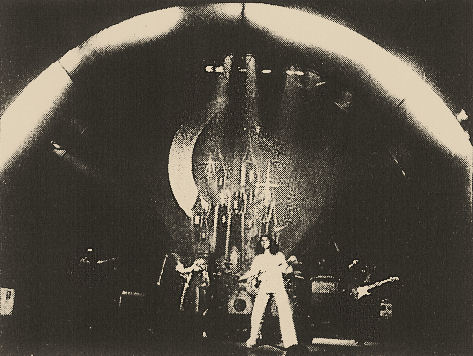 RAINBOW'S RAINBOW at the Rainbow burst with an extra added white light intensity, illuminating the faces of the Packed crowd on this, the first night of the band's four day stint at the venue. And you know what? Those spots, glaring off the stage, failed to pick out one visage that wasn't beaming with happiness, excitement, enthusiasm, sheer joie de vivre. And they picked out quite a few.

Ritchie Blackmore's Rainbow, y'see, were given a hero's welcome, there was no way they could even remotely blow this one. The band now have one of the most fervent, committed collection of fans I think I've ever seen - the name of the game was adulation and, of course, Blackmore specifically was the target.

The great thing was, however, that the guitarist didn't revel in it, managed to maintain a cool, offhand stage manner throughout - even though it's true to say that he was more animated on this occasion than on previous recent visits to the capital. The only time he seemed to acknowledge the presence of the audience was right at the very end of the set, when he nodded politely - and if I didn't know better I'd say shyly - in the right direction.

Truth to tell, this wasn't the greatest gig Rainbow have ever played (disjointed in parts, stop-start in structure) and afterwards the band complained of monitor problems and sundry equipment hassles, promising that at least one night out of the four would be the killer diller. Sunday was the favourite. Were you there?

Set as reported in the Germany feature of a couple of weeks ago and it was good to see the new number 'Long Live Rock 'N' Roll' receiving a fevered reaction - basic and straight ahead, if the song is anything like representative of the forthcoming LP, I reckon the platter'll be a landmark in Rainbow's career, like an 'In Rock' or even a 'Machine Head'.

No encore on Friday by the way, which cheesed off a fair number of the crowd. Me too to a certain extent - but thinking about it more deeply, I reckon that it's good in a way. Rock is in such a state these days that encores are very. seldom deserved, demanded for - rather, they've become more of a perfunctory thing than anything else. It's healthy that Rainbow don't do encores just like that. And when the people really do want one, in a way it's healthier still, because it's a gilt-edged guarantee that the kids are going to return next time around and clamour that much more feverishly for a Stratocaster sacrifice.

Unpredictability: it's something that's been missing from rock 'n' roll for a long time.

Geoff Barton, Sounds - November 19, 1977









Rainbow
Rainbow Theatre, London - November 11, 1977



Ritchie Blackmore's years with Deep Purple have taught him the needs of a heavy rock audience, and Rainbow go all out to satisfy these demands, frequently with gross indulgence and the subtlety that makes Idi Amin such a playful and lovable character.

The band's show at London's Rainbow on Friday night demonstrated the range of skills that Rainbow employ to send their audiences home with ringing ears and tales of guitar-led mayhem for their mates next day.

On a song like "Mistreated," an old favourite from the Purple days, Blackmore puts himself through the wringer, treating the tune as a solo outing with styles that range from early Elizabethan quotations and quiet, reflective passages that fire his eager acolytes, to the dog-eared riffs that bring frantic acclaim.

His only concession to the audience is the occasional clenched-fist punch into the air, a gesture the fans mirror with maniac fervour. To Blackmore's right, under the band's massive lighting arch was singer Ronnie James Dio, whose dwarf-like Tiny Tim looks hide a powerful and commanding rock voice. Ronnie likes punching the air even more than old sourpuss on the guitar. Bass player Bob Daisley went through the right motions, but the result of his efforts was drowned by the massive aural power thud of Cozy Powell's twin bass drums, thundering out like overground A-bomb tests.

As a sop to lovers of musical colour and variety, Rainbow includes a keyboard player, but David Stone's work was left well down in the mix, and a less-devoted audience would have responded to his Gothic-style solo section during "Man On The Silver Mountain" by diving for the bar.

The set held no surprises, the familiar themes of "Catch The Rainbow,""16th Century Greensleeves" and "Kill The King" seemingly sufficient to satisfy such a committed crowd. The only new piece was "Long Live Rock'n'Roll," the title track of their forthcoming album.

Support band Kingfish also found favour, but their happy bounce-along r'n'b/rock mixture seemed bland except for the well-constructed "Hypnotize" and "Goodbye Yer Honour." The band took off only once, when Michael O'Neill's slide guitar sizzled and burned. It was, unfortunately, the band's last number of the night.

John Orme, Melody Maker - November 19, 1977




Well-defined Rainbow
Rainbow Theatre, London - November 11, 1977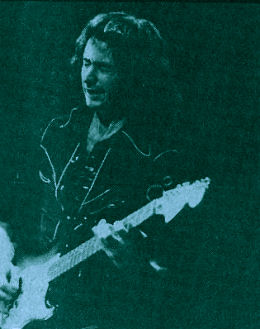 THE TIN MAN, the Scarecrow, the Lion, a geezer with 'Ritchie Is God' embossed on his jacket and some 3000 punters journeyed to London's Rainbow Theatre on Sunday night to pay homage to the Wizard In Black and his cohorts.

This was the band's third consecutive sell-out night at the venue and it clicked. If Ronnie James Dio had been a Scotsman and not a New Yorker he would surely have described the evening as 'magic'.

To start with there's the set, with that vast technicolour rainbow arching over the stage the back - drop of the fairy castle later replaced by a rainbow in a clenched fist. The light show is brilliant - brilliant bright and brilliant technically.

Then the audience, on their feet from the start, shaking heads, shouting. No, it wasn't a heavy metal / hippie time - warp - the majority of the punters were aged 15-18.

And there was the music: loud, powerful rock passages interspersed with more subtle passages from Blackmore's guitar, many of which were missed by the over-enthusiastic audience.

The band struck form from the start with 'Kill The King' through 'Mistreated' and 'Sixteenth Century Greensleeves' to the first high point of the night: 'Catch The Rainbow' - at times melodic, at times menacingly violent.

A vocalist has to have some range and guts to match Blackmore and Powell, or rather to front them and Ronnie James Dio does it with supreme confidence. He has developed into an excellent frontman.

The high was maintained for 'Long Live Rock 'N' Roll' - a number to be on their next album out sometime in the year - spot lights dancing on the audience, clap along time... 'Man On The Silver Mountain' and the frantic head - basher next to me bows low in worship... 'Still I'm Sad'...

Cozy Powell's drum solo sets the place alight as his drum raiser rises high above the stage and ends in a blinding flash of white light.

They return for an encore and Ritchie delights the kids once again by systematically demolishing his guitar and squeezing from it all manner of weird and wonderful sounds...

Suddenly it's all over, the houselights go on and Judy Garland sings 'Somewhere Over The Rainbow' and the kids depart, contented. As live shows go, Rainbow take a lot of beating.

Jim Evans, Record Mirror - November 19, 1977










Rainbow Theatre, London - November 13, 1977



Rainbow at the Rainbow 1977. We were right down at the front for this! Ritchie Blackmore decided to smash up a guitar - a '70s Fender Strat - and I got the Headstock inc' the Machine Heads!

I still have it, but the machines went to a young guy - I repaired his St**t in about 1986.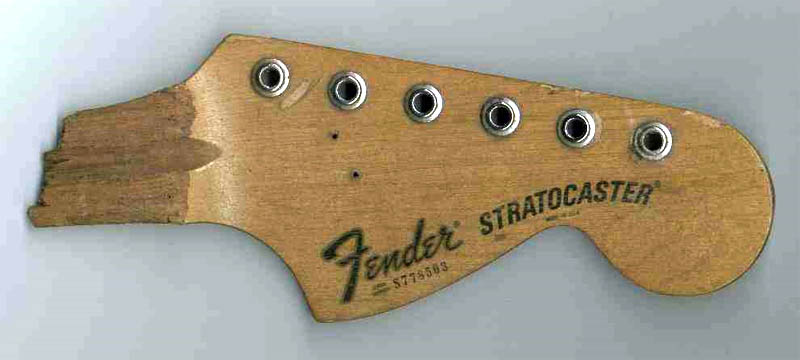 Ex..... Ritchie Blackmore
.....from a Rainbow gig - at the Rainbow Theatre, London - 13th November 1977.
Kevin Chilcott






Rainbow in town

Granby Halls, Leicester - November 17, 1977



Last week I went to Leicester for two hours heavy metal ecstasy from Ritchie Blackmore's Rainbow featuring Ronnie James Dio and drummer Cozy Powell. Following recent personnel upheavals Rainbow have a new bassist Bob Daisley and a new keyboards player David Stone. Neither made a great contribution (Daisley's subservient role did provide a good solid rhythm) but Stone's solitary solo during "Still I'm Sad" was very tedious.

Ex-Purple guitarist Blackmore and Ronnie Dio exuded enthusiasm as they led the band though "Kill the King" (Barely audible above the noise of the infant element in the audience) into the slower Deep Purple classic "Mistreated," an early controlled display of their power, during which the spectacular 30-foot 3000 bulb rainbow was first used.

The band proceeded to play their own greatest hits "16th Century Greensleeves," "Catch the Rainbow," "Long Live Rock & Roll" and the magnificent "Man on the Silver Mountain," with Blackmore thrilling the audience with his expert guitar work.

The final climax was "Still I'm Sad," an old Yardbirds number featuring long solos from Stone, Blackmore and Cozy Powell. Powell's solo was accompanied by theatrics: the drum podium rose 15 feet into the air and was followed by a brilliant magnesium flash, with Powell continually thrashing and juggling his sticks.

The obligatory encore was "Do You Close Your Eyes?", a superb heavy metal encore, followed by the Blackmore ritual, throwing his guitar out at the audience and retrieving it with its lead, finally suspending it on the wines of the electronic rainbow. Introduce "Somewhere over the Rainbow" on tape, and its all over, a far better concert than the Deep Purple one I saw 2 or 3 years ago.

P.S. The latest generation of heavy metal fans have, short hair and don't shake their heads around. BORING.

Wally, The Warwick Boar - November 23, 1977










Bingley Hall, Stafford - November 18, 1977



Anyone waiting in the queue for a gig at the Bingley Hall must feel like cattle going on auction. Thousands of kids trying to get through four doors each big enough for just one person. After frisking (what fun!) we were into the cavern itself. The money must have been rolling into Rainbow's coffers that night as it was crowded out (not full - it will hold 20,000 then). My girlfriend snuggled my camera in by a rather blatant flaunting of the upper regions.

Kingfish were crap - third rate doobies. After an overlong delay we finally saw Rainbow. It was great to see Ritchie again, though he wasn't exactly pulling the stops out. Three numbers into the set and I finally heard Stone - and wished I hadn't! Long Live Roek'N Roll bored me, though Simon promised me it would grow on me (it did!). Ritchie pulled out a strat to break at the end, but without much enthusiasm. 7 out of a possible 10.

Nick Robinson










Apollo, Manchester - November 20 & 21, 1977



The gig on Sunday had all the makings of a goodshow. The hall was great, and I shoved my way right to the front to take pics, but though this gave me a first rate view of Ritchies technique (tell us another!), the concert itself was a flop. Ritchie had problems with his white strat trying to tune it, and the band were all over the place with their timimg. It didn't merit an encore, and it didn't get one. (4 out of 10).

The next night was to make up for it, and was the best Rainbow gig I've ever seen (out of ten on this tour and last). The group were entertaining - even Stone, who actually waved after his solo. Ronnie was in fine form, and Cozy was playing well too (i.e. about a tenth as good as Paice!). Daisley was all right, determined to enjoy himself - he might as well, it'll probably be his last tour; Ritchie's playing was utterly beyond belief. He played every trick, style, (and speed) better than live ever seen him do before.

Tour manager Bobby had promised us it would be better than the previous night, and Ritchie made sure it was. He was actually enjoying himself - even smiling, though not for the Kodak enthusiast at the front shouting "smile ya bugger"! Most important, he was getting into the music. It was a 'music for listeners' night, and everything he tried worked. Words fail me at times like that.He was faultless. I'm sorry for all those who just saw the first night, 'cos it wasn't the same band. His destruction was halfhearted, but so what - the evening had been won by then, and even the morons had kept relatively quiet. Despite £14's worth of ruined film (faulty lens - weep), and the massed ranks of touts (buying tickets off kids at below cost price to resell), I'd have parted with a lot more just to witness that one night; I'll never forget it. Many thanks to Mike for the Fender chrome twin flanged screw fitment string tensioning bar (d and g strings) off Ritchie's Leicester guitar sacrifice (the night the guitar actually went over the Rainbow into the audience - in one piece, to be followed by a second demolition). And finally a hefty two fingers to the denim clad yob at the station "I like Rainbow, but Deep Purple were a load of crap". The voice of authority?!

Nick Robinson










Apollo, Manchester - November 21, 1977



I don't really want to try and take any particular concert apart, others can do it better. The undoubted peak of the tour as far as I'm concerned was the second Manchester concert. It wasn't just Ritchie either, the whole band seemed to sense he was happy, and responded by pulling out all the stops. Even Stone's solo wasn't too bad, with some new ideas reminding us of Carey's playing. Daisley was doing well, managing to play on despite Ritchie's karate attacks, and for once the mix made him audible. Ritchie. Well there isn't any way you can describe that sort of playing. It was sad to see so many people leaping about during the loud bits, cnly to turn and read their programmes when it got too quiet. Their loss not mine.

But it does show that Rainbow are treading a dangerous path. Much more quiet stuff and people will start walking out. What the heck, That's his problem. He could solve it tomnorrow with a quiet LP, but it probably wouldn't sell! After a show like that it's possible to forgive them anything. The bum nights, the freezing cold waiting for the doors to open, lousy support bands, the sheer expense of getting to see the group, even On Stage! I can even begin to work up some enthusiasm for the next studio set. Long Live... stop it.

Simon Robinson