Rainbow
UK Tour 1976
---




Bristol Hippodrome 31st August 1976



The group arrived early for a pre-tour rehearsal, and with one ear at the stage door we could hear them going through most of the material, including a full length version of Lazy. Outside people were being ripped off 60p for official badges. We sat through Stretch, the only time I did so during the tour.

The build up inside was nearly unbearable, 2 and a half years waiting was nearly over. The stage goes black, and their into the opening number. Dio's vocals are inaudible but who cares - standing there bathed in red is Blackmore belting away. I don't remember hearing the music at all, just sitting there watching him.

Mistreated came as a welcome surprise, but the guitar intro failed somewhere. Dio sounded to me like Coverdale, forcing his vocals too much. I remember a boring drum solo, we learned later that the backing tape had not worked, but still it was dismal Then suddenly in the encore it happened; he's destroying his guitar, and I'm seeing it for the first time ever.

The stage begins to crumble as the body digs into it, but it won't break. Against the amps to try again, and then into the audience with the pieces, incredible, just think if I'd not made the effort to go the first night, I might never have seen it happen.

Simon Robinson




Bristol Hippodrome 31st August 1976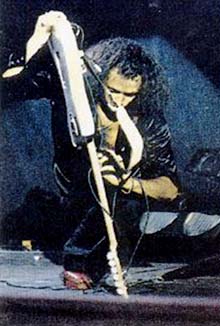 Ritchie Blackmore is back, and nobody sleeps when he's on. There simply aren't words strong enough to describe how loud he and his band are. But in a masochistic way it was quite a gig. It was Rainbow's first concert on British soil, and they systematically blitzed the good citizens of Bristol who crammed into the Hippodrome.

Blackmore's following is quite startling, not all leftovers from the Deep Purple days, either. Fresh-faced kids not yet out of school went as barmy as their older counterparts.

Blackmore, ever-enigmatic and threatening in his all-black outfit, has surrounded himself with like-minded musicians dedicated to the proposal that "heavy makes you happy." Ronnie James Dio, who must have the most muscular tonsils in the world, sang like a giant, but commandeered the centre of the stage like some demented figment of Tolkien's imagination. Tiny, crouching and very evil, he punctuated songs like "Sixteenth Century Greensleeves" and "Man On The Silver Mountain" with the weirdest gestures since Dave Berry discovered itching powder. His line of between-song patter was corny to the point of parody, but it worked like a dream. Consummate performer.

Tony Carey displayed a different persona, that of a backroom wizard, but he was as hunched as Dio, with a creeping slouch and a liquid, sideways slither which moved him from one keyboard to another. It was hard to distinguish most of what he was playing, and his solos failed to flow properly, but he did winningly display an aggressive, high-speed, Wakemanesque style.

Jimmy Bain played bass like a freaked-out lumberjack toting a tree trunk; solid, strong, and dependable; it says a lot for him that he could provide such a sturdy underpinning to Blackmore's guitar. And Cozy Powell is the wickedest drummer around.

The King of the Stage, however, was (naturally) Blackmore himself and he was in spectacular form. Nimble, witty, very composed - he is probably one of the most heroic of guitar heroes.

For unrelenting pressure Rainbow are hard to beat; for professionalism they are the peak. But God knows, I could have used a little subtlety in their performance. Still, they are in business to overwhelm people. I, for one, was overwhelmed."

Brian Harrigan, Melody Maker, September 1976









Leicester De Montfort Hall 1st September 1976



Leicester is a dance hall, not a seat anywhere. So it's out with the cotton wool and wangle your way to the very edge of the stage. The atmosphere was certainly more memorable. The concert is certainly better than Bristol, with first night tension gone. Dio is still inaudible, and Ritchie is still not mixed-up enough, but his solo's really hit home.

Catch the Rainbow was magical. In the middle of the crush it's as if he's still playing for me alone. The guitar build up at the end of the Stargazer solo was atomic - like my head was caving in. When I read the sounds article I knew Makowski had felt just the same. No where else did it quite reach such a peak again. The encore was long in coming, and when I realized that he was destroying his guitar again I wished I wasn't there. In seven years I think that's the only time he's done something I cannot forgive. No longer was the destruction a spontaneous release of emotion, it was a calculated act designed to please the crowd.

I remembered how privileged I'd felt seeing it happen at Bristol, and I felt cheated. The guitar body was last seen heading in a westerly direction with twenty pairs of hands spread around it. It did spoil what was a great concert. Ritchie slipped in a beautiful version of Greensleeves, like the Stargazer bit it was the best of the tour. Cozy got it all together with the 1812 overture, but somehow it was still boring - he didn't even seem to keep time with it!

Simon Robinson









Liverpool Empire Theatre 3rd September 1976



Liverpool made it all better. Ann cheekily asked Ritchie when we could have an interview, & he replied, give me ten minutes, and then we were in the dressing room - very dark, just Ritchie sat there tuning his guitars, and his anonymous girl-friend in the far corner.

Somehow it all seemed very normal, and it wasn't until after we were back outside that it had dawned on me what had happened! After that the concert didn't matter. The audience were wild, & couldn't keep quiet during the solo's. Dio's sound problems were finally sorted out, and we could hear the words as a result.

Ritchie applied the old bottle to the neck very briefly, before discarding it for the remainder of the tour. Though from where we sat the group seemed a bit distant - it's difficult to become part of a concert with crowds in front talking all the time - they obviously incited one section of the audience, cos the stalls at the front were demolished en-masse, to the tune of $2000 according to the tour manager!

Simon Robinson & Ann Warburton









Edinburgh Playhouse 4th September 1976
Who tripped the light fantastic at heavy Rock show?


The heaviest Rock show so far at the Playhouse on Saturday night very clearly didn't go on because, it was claimed, the mobile generator at the back of the theatre was sabotaged.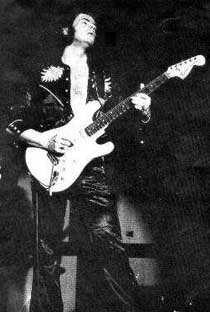 Ritchie Blackmore, whose band had attracted a 3000 sell-out, refused to go on without his light show of over 3000 bulbs powered by the extra generator. But repairs started as soon as the damage was discovered at 5 p.m. and the show went on an hour late.

Mr David Evans, general manager of John Reid Enterprises, who are promoting the Festival of Popular Music said: "Residents had complained earlier in the week about the noise made by the generator, which boosts Queen's lightning. But we smoothed out most of the complaints. It could have been that somebody wasn't satisfied with the compensary arrangements we made - although we've not discovered who exactly knocked out the generator."

Blackmore, who had to be admired on Saturday for their exhibitionism more than their music, don't go on without their gimmick - a 28ft high rainbow of over 3000 light bulbs in red, blue and green with a 40ft span, designed and made in New York at a cost of £ 40,000.

It certainly caught the imagination of the fans, many of whom were on their feet for the entire concert. And there was damage. Most of the seats in the front row of the stalls were broken and, while repairs were being made in the time for this week's concerts, ticket holders for the front row at last night's performance by the New Seekers were placed elsewhere and invited backstage after the show to meet the group. Mr Evans added: "We were apprehensive about Saturday's concert, because the previous night at Liverpool Empire, Blackmore's band was so high powered that there was over £ 1,000 worth of damage. The Edinburgh fans got plenty to shout about but with few exceptions, they behaved remarkably well."

Leadsinger/guitarist Blackmore capped his performance with one of his endearing little tricks - smashing his guitar, reputedly worth £ 350. It seemed the only way to go.

Not nearly so many customers for the New Seekers last night but the newly-formed group of Eve Graham, Kathy Ann Rae, Marty Kristian, Paul Layton and Danny Finn, singing most of the old Seekers (second edition) hits, punched the material over with a drive and conviction that was missing from their predecessors. Eve's strident lead was particularly effective.

Edinburgh Evening News, September 1976









Manchester Free Trade Hall 5th September 1976



We managed to get autographs at last, and a quick word with Bain & Dio. Tour manager Adcock actually speaks to us, but can hardly contain his distrain when we ramble on about the merits of Purple as opposed to Rainbow (oh, it's all our yesterdays, is it?).

The concert however is a beaut, probably one of, if not the best of the whole tour. Ritchie's guitar has been boosted up just enough to make it properly audible throughout. Dio is in great form, fully adjusted at last to a UK audience it seems, and even more vital, the group finally seems a group, rather than a collection of individuals.

Catch the Rainbow was bloody amazing, holding the audience spellbound in it's entirety (not an easy task with a Free Trade Hall). It sent shivers through me. Some people just collapsed into their seats in disbelief. Hell, he IS God at times like this. When he returned for the encore, he was mobbed by a few who'd struggled on stage during the darkness.

Adcock nearly copped a mouthful of steel tube when Ritchie hurled his slide off stage during Stargazer without looking. The sunburst model appeared too while technicians tried to tune his white strat. He was nearly pulled into the audience at one point by an over enthusiastic front row, & fell over trying to escape - nearly landing on his guitar. The crowd had to wait ages for an encore, it looked as if we weren't going to get one at all when the Rainbow sign went out. The guitar body looking positively dangerous as it was being hurled about, and I must admit ducking when it was finally launched into a sea of hands, and for a while nobody was watching the group! In all, a really excellent show.

Simon Robinson & Ann Warburton









Hammersmith Odeon, London 7th September 1976

The Big Noise Storms In...



A myriad of colour from Ritchie Blackmore's Rainbow rained down on the Hammersmith Odeon, London. All the hues of heavy rock blended in an evening of musical triumph for the band during 90 minutes of exhausting sound.

Blackmore, on his first tour of England since he split from Deep Purple last year proved he was right to leave the group.

For his guitar work is now much freer, and, in some parts, quite astounding. At times he treated his instrument like cut glass. His soliloquy on the lengthy and sometimes raucous "Mistreated" was beautiful and the solo on "Catch the Rainbow" at times bordered on classical guitar.

Collectively Rainbow are a fine unified band and individually they are a bunch of fine musicians. But if they had turned down the volume by a few decibels it would have been more endurable.

The "sixth memeber" of the band was a gentle visual relief from the music. A £40.000 mechanical rainbow operated by portable computer flashed the colours of the proverbial rainbow... a pleasant distraction, but not necessary.

© Pauline McLeod, Daily Mirror - September 9, 1976




Hammersmith Odeon, London 7th September 1976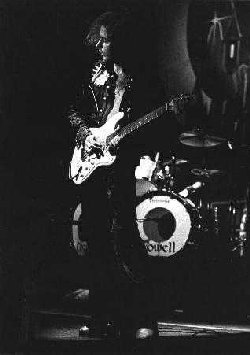 I arrived at Hammersmith Odeon with time to spare, and had to pass the usual touts trying to sell tickets for rather inflated prices. I can remember waiting around the gates to the side driveway, which led up to the Stage door entrance. It was probably about 7pm when Ritchie arrived, speeding past me, huddled down in the back seat of a Ford Granada, with his "minders". I got a distant glimpse of him getting out the car and swiftly going inside...there seemed to be plenty of "hangers-ons".

Once inside the hall, and after finding my seat, we all had to go through the support act which was a band called "Stretch". A rather loud rock'n'roll band and nothing special, they probably lasted 30/40 minutes. People were getting impatient, and after they left the stage with reluctant appreciative applause, the time was ready for the act we had all been waiting to see......Ritchie Blackmore's Rainbow.

How would it be for many of us seeing him live for the first time after leaving Purple, the expectation was high and rightly so, after the release of Rainbow Rising. Well, we seemed to have to wait for what seemed like ages, and the crowd were getting frustrated. I had managed to smuggle in a portable cassette recorder, and rather large microphone with me to record the show, and rather uncomfortably had this hidden under my jacket. So, holding the microphone down at waist height, I was to spend the whole show rather static and motionless, less I knocked the microphone, or make any unwanted rustling sounds! However, a guy to my left tried talking to me... but I was having none of it, so all he got in reply was a sharp YES or No. He eventually gave up.

The show started with a few brief keyboard sounds from Tony Carey who was almost in complete darkness, and a few rumbles from Cozy before the PA blasted into action with Judy Garland's "Over the Rainbow Intro".

At last the crowd had their way, and all of a sudden the lights were up and there was Ritchie blasting away at something, but what was it? The sound was VERY Loud and I could not make out what song it was! Quite rightly, as it later turned out to be "Kill the King" which had yet to be committed to an album. The initial sound was muffled and slightly distorted, and then out came Ronnie Dio to a great applause, and the show was in full gear. The sound balance of the show seemed to improve as the show progressed, which included some real dreamy magical playing from Ritchie during "Catch the Rainbow".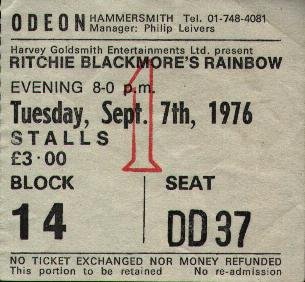 My other memories from the first night at Hammersmith, were that overall the crowd were quite static and unadventurous, happy to applause and cheer, but no madness, different from when I saw Purple play Lewisham Odeon in 1974. And of course the new members of Rainbow were doing their best to emulate Ritchie's peers.

Jimmy Bain was bopping about, and seemed to be enjoying himself, and I remember Tony Carey's solo intro to "Stargazer" to be very enterprising and varied, with an absolute great sound from the PA, his low synth notes penetrating the body!

The guy next to me even commenting (and it's on the tape!) how he has "the touch of Jon Lord about him". I thought that Tony Carey was a very capable player for Rainbow especially handling the solo's, and gave much to that special Rainbow Rising sound. Cozy had a really monumental solo during Still I'm Sad, the PA was by now punishing my ears! A short reprise and it was all over, despite the applause and chants for more, there was to be none.... No encore! People started heading for the exit, and me too, I had to get the last train home! My recordings that night and on the second night, were arguably the best of all the attempted bootlegs I did, and for 24 years the tape has lain in my attic, only recently have I dug it out and performed a sonic "clean-up" and have transferred to CD.

My recording has since been traded, and has recently turned up in traders circles, titled as "Audition Night". If you wish to re-live those heady days, when Rainbow were arguably at their best, then listen to this rather nice, well balanced recording of Ritchie Blackmore's Rainbow, live at Hammersmith Odeon, London. Sit back, close your eyes, and you could almost be there!

Trevor Stewart




Hammersmith Odeon, London 8th September 1976
Snake Charmer Ritchie



"The black snake charmer comes" was the news of the last few weeks in English rock circles. Rumors, what to expect of Ritchie Blackmore's first tour of his group Rainbow in England, oozed slowly to London. "The fans flip out - this is the biggest show of the year", wrote the rock critics.

In no time the three concerts in London's rock castle, the Odeon Hammersmith, were sold out. That didn't happen for a long time....

On the concert day at 21.30 o'clock, while Al Green and the support act pack their instruments, the Odeon is already loaded with more electrifying tension than with the last two Deep Purple concerts. The hall and stage are wrapped into complete darkness, the fans become slowly impatient. "Come on, Ritchie", they demand.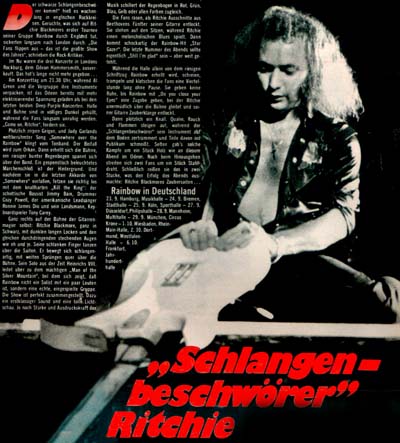 Suddenly violins play, and Judy Garland world-famous song "Somewhere Over The Rainbow" plays from a tape. The applause sounds like a hurricane. Then the stage becomes lighter, a huge multicolored rainbow stretches itself over the band. A ghostly fairy tale castle lits up in the background. And after they play the last chords of "Somewhere", they really get loose with the very heavy "Kill The King": the Scottish bassist Jimmy Bain, drummer Cozy Powell, the American leadsinger Ronnie James Dio and his compatriot, keyboard player Tony Carey.

Completely on the right side of the stage is the guitar wizard himself: Ritchie Blackmore, all dressed in black, with dark long curls and the same penetrating stinging eyes as always. His slim fingers are dancing over the strings. He moves like a snake, and jumps all over the stage. His solo from the times of Henry the VIII leads over to the powerful "Man On The Silver Mountain", and it shows that Rainbow is not a soloist with some people, but a genuine, real group. The show is perfectly arranged. And it comes with a first-class sound and great light show. Upon strength and expression of the music the rainbow colors red, green, blue, yellow or all colors at the same time.

The fans go wilde, when Ritchie draws excerpts from Beethovens fifth out of his guitar. They stand on the seats, while Ritchie plays a melancholic Blues. Then like a shock the Rainbow hit "Stargazer" comes. The last number of the evening should be actually "Still I'm Sad" - however a very long version.

While the hall only lights up from the enormous signature Rainbow, the fans cry, trample and applaud one quarter of an hour long without a break. They do not give up, until Rainbow with "Do You Close Your Eyes" give an encore, with Ritchie who slides his guitar over the edge of the stage and draws magical sounds out of it.

Then suddenly a bang. Smoke and flames ascend, while the "Snake Charmer" his instrument destroys and then he is throwing parts of it in the audience. Not often there were such a fights for a piece of wood as on this evening in the Odeon. Even when they leave the hall two fans argue about a piece of steel wire. Finally they tear it in two pieces, which tells the success of the evening: Ritchie Blackmore magical strings....

Bravo - September 23, 1976









Cardiff Castle, Cardiff Wales 10th September 1976 [cancelled]

Missing Rainbow Delays Blackmore



The British debut of Ritchie Blackmore's Rainbow at Cardiff Castle had to be cancelled when the band's mascot -a $ 100,000 computer-controlled, flashing light, giant rainbow arch- failed to arrive on schedule after its 3000 mile sea and land journey from America. The rainbow, too big to transport by air, is the band's sixth member, and, according to Blackmore, they refuse to perform without it.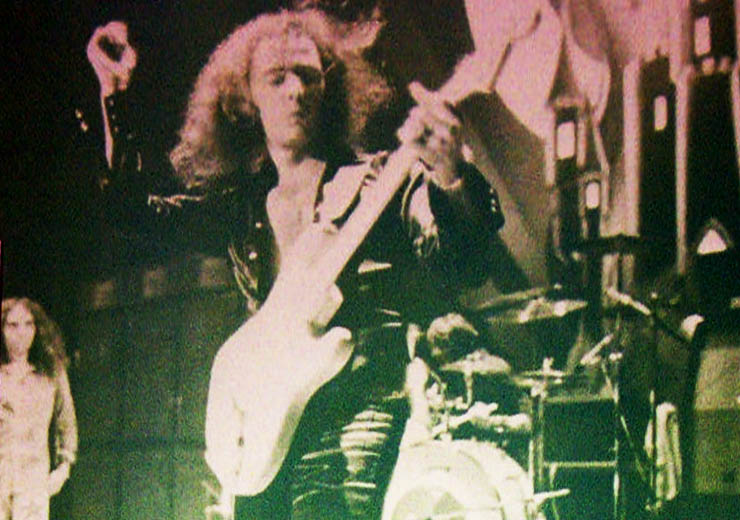 The rainbow did arrive in time for the band's appearance at London's regular rock venue, the Hammersmith Odeon. To the accompaniment of shouts of "Ritchie is God!" from the audience, Blackmore and company archieved something of a "coup de rock & roll." The Wednesday night show managed to get original Deep Purplers Blackmore, Jon Lord and Ian Paice together under the same roof. Also present on Wednesday were Queen, Dave Edmunds and Ian Hunter.

Tuesday night saw Thin Lizzy's Scott Gorham and drummer Jon Hiseman from Colosseum II. Hiseman is something of an elder statesman of the drums. As Cozy Powell said on Wednesday night, "Tonight I didn't play a good performance and was really pissed off with myself. The night before I played really well. Jon Hiseman was in the audience and I knew I had to play well. When you get someone that good it inspires you to play well."

Rainbow has now been on the road for more than ten months, and shows little sign of slowing down. A live album was mixed at Musicland studios in Munich, Germany after the European tour ended. Then, in early November, the group took off again, this time for a month-long tour of the Far East, including dates in Japan and Australia.

A familiar problem confronted Rainbow roadies as the group prepared for their Asian trip: what to do with the 60-foot long, 30-foot high rainbow? The solution arrived at was to place the 2-ton arch on a container ship and set it sailing towards Japoan. Hopefully, it will arrive on time, this time.

Circus Magazine - December 1976









Cardiff Castle, Cardiff Wales 10th September 1976 [cancelled]



First, for those of you with time to read no more than the headlines it rained; Frankie Miller was great; Andy Fair-weather Low and Manfred Mann were competent; Queen were too good: and the polythene sheet sellers made a killing.

Now for the details. It didn't just rain not in the ordinary way of rain. It drizzled a bit at first, but mostly it absolutely poured down. Not a gentle, warm Septembez rain either. It was the sort of driving white bullet rain shooting through the spotlights and seeping through your clothes. It was cold, mean, nasty rain, and not what we soft skinned critics are used to, I'm afraid. The local men in uniform loved it, of course, here's a water shortage down here, you know' they chuckled. Ho-ho, very droll.

What a pity Blackmore didn't play — he would have been more spirited and might have gone down as well, if not better than Queen. Still, that wasn't why he wasn't there. Queen don't worry about competition. Queen don't worry about anything.

Howard Fielding, UK Newspaper









Birmingham Odeon 11th September 1976



Emerging from Birmingham's underground station for the first time is like stepping into a science fiction world. Redeveloped out of existence, it's bloody terrifying, The massive and total security at the hall was a new experience for one who is used to wandering into halls laden with recording & photographic gear.

They were letting nothing through, and a police type body check confirmed this. Paul Keifer was heard to complain aloud... when they wouldn't let him go through the check a second time! New badges about too, with photo of the group live on.

After the group had sorted out the sound problems during Kill the King, they preceded to deliver the most powerful and emotive rendering of Mistreated I have ever witnessed: It went right through me - Ritchie wringing tears from the eyes during the solo. Dio moved me like no vocalist on stage since Gillan, he was superb. Reaching such an early peak, it was difficult for the rest of the set to match up, but they tried hard. Dio seemed at last to have come to terms with our halls, forcing his voice less, allowing a much purer tone to come through. A far cry from the first night at Bristol.

At times Ritchie seemed like a conductor of an orchestra, with his complex system of hand signals, and when at one point Carey failed to stop when Ritchie did, he just yelled "shut up" across at him! Carey was, despite this mistake, much improved overall. Lord often said it had taken him years to successfully integrate keyboards into a rock group, so I guess Carey's doing well after only a year at it! His backing work on mellotron was good, and his two solo's seemed more confident & received some applause too! He managed to knacker his moog by leaning it too far over. Still I'm Sad was electric, with the lights belting across from left to right - I wish they'd omitted the two solo's, & kept it going full tilt, but no way - Cozy was off once again & the blitzkrieg began. Before belting off stage prior to Cozy's bit, Ritchie let slip the Smoke on the Water riff - you'd have thought World War 3 had begun the way the crowd exploded!!

Simon Robinson & Ann Warburton









Birmingham Odeon 11th September 1976

Rainbow - The 'First Heavy Rock' Gig!



It had been a week since the Clapton gig. It was a Saturday morning and the lads were round my (parents) house. "Lads, I've been thinking..."

"Steady," said Blacky. It was as if that quick repost was compulsory. I continued as the lads smirked at each other. "I've been thinking…my favourite music is heavy rock and so far I've seen a suit wearing guitarist, a cape wearing keyboard player, a make up wearing comic book act, a group nobody's heard of and a drugged up (allegedly) blues legend. It's about time I saw a proper heavy rock band."

"Go on," said Huw. "11th Sept, Birmingham Odeon, Rainbow.... I've phoned and there are tickets left and the box office is open today." There was a group silence and then without a word being said, we stood up in perfect synchronisation and headed for the door. We were on our way to buy tickets for our first 'proper' heavy rock concert.

The Gig

There was a real buzz of anticipation in the air. "Are we going for it?" I said. We were still young but we didn't feel like rock concert virgins anymore.

"Absolut....," I didn't hear Huw finish his reply, as just at that moment the lights started to fade and the crowd surged forward like they'd been hypnotically programmed to follow this behavioural pattern when the lights went down. I followed suit and Huw and Stevie-boy followed close behind me. Those in the expensive seats didn't stand a chance as we poured en masse to occupy the open ground between the front row and the stage. We were young, male and we were really up for this gig. It was total darkness and then the sound of Judy Garland's voice told us that she and her friends 'must be over the rainbow, rainbow, rainbow'. My God, we were so primed - then Cozy hit the drums, Richie blasted his guitar, a massive rainbow came alight and then the whole band were lit up on stage – all of us at the front went off big time and that was just the intro to 'Kill the King'.

Outside this environment and away from the comfort zone of the lads, I would be very self-conscious, but at that moment in time if there had been 20 TV cameras pointing at me I wouldn't have cared; I was in a different world.

Cozy brought the opening bars to an abrupt end and the silence on stage was broken by all of us giving a massive cheer and then Bang! The spotlight hit Richie, then Tony, then Cozy and then Jimmy (the bassist). Simultaneously a wall of noise hit us. Its absolute mayhem, my God this is brilliant, I can't believe it, lets gooooooooooooo – we all totally lost control of our inhibitions - what a buzz, I just couldn't hold back my emotions, every sinew felt like it was going to explode, I just had to go mental, but the beat was so fast that very soon the crowd were all over the place: people head banging, people with their hands in the air, people in ecstasy, people jumping on one another, it was total chaos, just like the music, it was BRILLIANT with a capital F! It was sensory overload and boy what a feeling, what an outpouring of connective energy it created. I hadn't had sex yet, but I remember thinking it couldn't possibly be as good as this – clearly the early signs of a worrying devotion to rock!

Huw and I united arms in a show of rock camaraderie that we would never have displayed outside this setting and then Blacky jumped up and down behind us using my shoulders for leverage. We hadn't the time or the energy to talk and even if we had it wouldn't have mattered, because the music was so wonderfully loud. Standing by the bass-bins we got the full force of the volume and we loved it. How as a species we can feel such incredible intensity of emotions when once upon a time we were just random molecules floating in space I will never understand. Everything about the gig was just magical. We all knew this was our coming of age in terms of rock concerts.

On the train back home we were like four old women all talking at the same time - we were so hyped. "Look..." I pulled an imaginary piece of wood from my hair "it's a bloody splinter from Richie's guitar."

We all laughed, the gig had been our first 'equipment smashing concert' and we knew that Richie had honoured us that night with a full on performance. On the train journey to the gig, I had told the lads that Richie had a reputation for being a tad temperamental, and that he could well bugger off stage without bothering to play an encore. It had been documented that one night he could play two or three encores, then the next night Zippo and I had heard through the grapevine that four days earlier (on the 7th Sept 1976) he had deemed the 'London lot' not worthy of an encore and the Hammersmith crowd went home mentally scarred, wondering why he hadn't smashed up a perfectly good guitar. Apparently no one was ever quite sure what his criteria was in making those decisions. But as I said, that night Richie had honoured us with his full repertoire and he left us feeling that life was a magical thing. It had been a raw performance, full of passion and musically we thought they were on another planet. This had been the best yet and now we were helpless rock-concert addicts.

Peter Turvey (aka Rockin Amoeba), The Classic Rock Code









Birmingham Odeon 11th September 1976

C'mon Feel The Noise!



This was music for a generation happy to flirt with the risk of temporary brain damage. Rainbow play heavy, thumping monotonous music excruciatingly loud. Perforated eardrums were always a looming danger. Overall, they are musically limited, though Richie Blackmore is a fast, dexterous guitarist.

The presentation was spectacular, with the back drop depicting a Gothic castle, and a huge arch electronically lit in the colours of the rainbow (in the wrong order). Cozy Powell's drum solo, accompanying a recording of the 1812 Overture, injected wit and a blinding explosion into proceedings. But it wasn't really my cup of decibels, and I got bored.

But Rainbow got a rapturous reception from a young, mostly male, packed house and you can't argue with that.

David Gritten, Birmingham Evening Mail




Birmingham Odeon 11th September 1976

How Robert Plant Signed my Rainbow Program


On September 11th 1976 I went to see Ritchie Blackmore's Rainbow at The Birmingham Odeon. This was the most anticipated gig of the year as Rainbow has just released Rainbow Rising. The support band were Stretch who did an extended version of 'Why Did You Do It'. However it was the man in black that people wanted to see...

Rainbow were brilliant and the highlights were Mistreated and Stargazer / Light in The Black. The gig was so loud some of us almost passed out when Blackmore ran his slide up the neck during the solo!.

It was about half way through the gig that we noticed Robert Plant watching the band from the wings. He was dressed in his stage gear looking like the rock god he was then.

At the end of the gig most of my friends headed straight for the bus home but a couple of us decided to try and go back stage to meet the band. So with many others we all went down the side of the Odeon to wait for the band to appear. We waited and waited. As it got closer to the point when the last bus was due 90% of those waiting vanished. At this point the band appeared got straight into the waiting limos and vanished. After waiting in the cold for that long the last words some of the band might have heard might have been 'Bastards!'

At this point there were two of left and we knew we had an hour to wait for the night service bus to appear. Just then the stage door opened again and out walked Robert Plant.

We just stood and stared for a while before he said what did you think of the show? As we talked about the show he asked how we were getting home, we said the night bus and he offered to walk with us!

So off we walked to the bus stop talking to Robert Plant about the Presence album and the up and coming release of The Song Remains The Same. He waited at the bus top with us until the bus came, signed our Rainbow programs and waved goodbye.

Phil Aston, Now Spinning UK 2017









Newcastle City Hall 14th September 1976



The City Hall is next to the baths, and we speculate as to whether the group will do a Busby Berkley special with fountains & all, It's WET. The hall is small inside, but intimate.

The material as before, only Ritchie seems looser, and in a mood to take chances in his playing. There was a nice "Jam" during the lazy teaser which was promising. If Southampton had been untogether (according to reports - we missed it out), then it was only a one off. His amps (newly recovered for the tour & resprayed) had gained a few holes since Birmingham too.

Dio was in fine control again. Carey put in a bit of aggression into his playing and was all the better for it. When it came to the guitar demolition, Dio handed us over to Ritchie, who promptly took his Sunburst off stage, only to return with the same. Dio was perplexed, & then Ritchie broke it in two - oh no - not his Sunburst trick!. He had obtained a duplicate to wreck up! Crafty.......

Simon Robinson & Ann Warburton









Newcastle City Hall 14th September 1976



Support came from Stretch, a band that was fronted by Elmer Gantry (of Elmer Gantry's Velvet Opera and "Flames" fame). Stretch developed from a band put together in 1974 with (according to them) help from Mick Fleetwood, to perform as Fleetwood Mac on a US tour. In the end Fleetwood dropped out (and denied any involvement) and they toured without him, but punters soon realised that the band contained no members of Fleetwood Mac and the tour collapsed. They subsequently had a hit single in 1975 with "Why Did You Do It?",which was a direct attack on Fleetwood. Stretch were a pretty good rock band, who I saw a couple of times in the mid-70s.

Rainbow concerts were tremendous events. The stage was surrounded by a massive rainbow which consisted of 3,000 coloured lights. And Blackmore was at the height of his powers in both guitar prowess and showmanship excess. He would climb on top of the stacks up and onto the balcony. I remember one show (I think it may have been this one) where he stood on top of a massive stack bashing his Strat against the side of the balcony, until it (the guitar that is) was totally demolished (I think it also left a few dents in the side of the balcony which had to be repaired afterwards). Of course we all cheered him on. Great stuff.

Dio had an unbelievable vocal range, and added lyrics, and an atmosphere, of demons, goblins and mysticism to the proceedings. Their songs were excellent too: "Sixteenth Century Greensleeves", "Man On The Silver Mountain" and "Stargazer" are classics from the time. Blackmore retained "Mistreated" from his days with Purple. In the early days of Rainbow their concerts consisted of a relatively small number of songs, each one becoming an opportunity for epic jamming, particularly by Blackmore. The guy was amazing and his performance simply breathtaking in those days.

Vintagerock's Weblog