Rainbow
European Tour 1976

Munich - September 29,1976
---
PLAY BACH MIT KRACH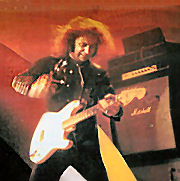 "In this area nobody is of importance, and even if it is, he want not to be disturbed by someone like you. Please take this warning seriously and - PISS OFF. Do not think, that everyone is meant except you. Also put your backstage pass in your arse and piss off outside, where you belong. And do it now!"

The sign hangs on a locked door in the Munich Circus Krone. Behind it, in the darkened area, Richie Blackmore sits with a bottle whisky and takes his guitar. He does not want to let anybody in, also David Coverdale not, who sits next door with Rainbow singer Ronnie Dio and Tony Carey (piano, organ, synthesizer) and Jimmy Bain (bass) together and naturally also would gladly have welcomed his old Purple colleague. After a lot whisky Ritchie himself then nevertheless open the door of his holy place - also for the M.E.

Inside there is a strange peace, and the dressed in black Mister Blackmore with a white guitar in his hand converses in the weak glow of a candle almost whispering with us, while his Chef roadie Ian walks on tiptoes in the dark around him.

"Now I can do what I want, explains Ritchie, "I have earned with Deep Purple enough money. With concerts of Rainbow I use now the opportunity to return it somehow to the people. I would like to thank them for the affection, they brought me with Deep Purple."




Pissing in the wash basin



There is only five minutes left to Ritchie's appearance, but he continues to tell calmly: " Naturally my style suddenly did not change itself, I still play very aggressive hard rock with Rainbow after all these years.



But attentive listeners will recognize therein also certain influences from the baroque music.

As a bid admirer of Johann Sebastian Bach I would not like to copy of his great compositions, I rather try to put his kind of feel and expressing in rock form." Ritchie is pissing in the wash basin. In three minutes he must be on the stage.

"Rainbow has the fire of Deep Purple however at the same time we would like to give the music much more color. It is more than Deep Purple, thus not only purple, but the whole color spectrum - just like a Rainbow. Therefore the large rainbow, we let put up everywhere we play, is also an important component of our show... "




The rainbow is rising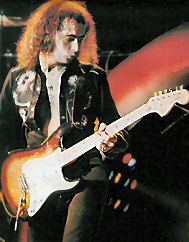 Outside in the hall in the meantime the lights go out. The crowd raves as the colours comes up. Before the backdrop of a medieval castle Ritchie Blackmore and his boys Ronnie Dio, Cozy Powell, Tony Carey and Jimmy Bain immediately get loose. Cozy's hammer drumming, Jimmy's bass and Tony's keyboards are solid and sometimes somewhat inconspicuous foundation, on which Ritchie puts his guitar cascades tricks.

"Give me a red, give me a yellow!" demands Ronnie with his voice - and the rainbow changes its color. "... and now give me a blue!" Rainbow plays Blues. "Mistreated" is the only title, which Ritchie took of Deep Purple. Together with Ronnie he develops from it a "discussion" between electric-guitar and singers voice. Ritchie fastens the tones, and Ronnie answers with long-drawn-out long sounds.

Ritchie's answers becomes ever crazier - however yet does not move enough for Ronnie's vocal acrobatic abilities. And he shows gladly, what he can do. With this "Duet" even Ritchie thaws out, he treats otherwise only the dark look or with closed eyes and expressionless face his guitar. Ritchie, who like to let the "dark" hang out, let as an illustration of his love for black magic a dressed in black figure run over the stage. This creature with a demonic mask and white hair hide himself then behind a (naturally with black velvet covered) speakercabinet.





The classical Blackmore



Ritchie loves surprises. And in such a way he astonish the public with a high-contrast show between extreme loud heavy rock (the crowd cheers!) and sensitive guitar solos.



Occasionally he plays his classical passages like the C major Preludium of Johann Sebastian Bach. (at the Hamburg concert were however ironical interruptions: The fans cheered only when new rock gales broke loose).

... and at the end of the concert Ritchie gave again his completely personal addition. He threw the guitar into air and trampled on it. Tony's organ keys, Jimmy's bass and Cozy's drums had to supply now the howling background, before Ritchie effectively the howling guitar body gave a beating and threw the remaining parts in the crowd...


Dolf Hartmann, Musik Express 1976 [translated from German]