White Noise

In The Hall Of The Mountain King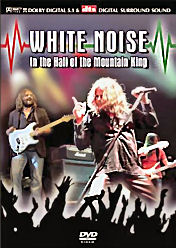 This concerts kicks off with "Tarot Woman" with a great opening by Iain Jennings on synthesizer. Apart from Ronnie James Dio who did this on his 1990 Lock Up The Wolves Tour in short form, this song has never been played live before. And now White Noise proves it's still a killer of a track. The guitar is OK, but just doesn't reach the sound of Ritchie Blackmore gave us on Rainbow Rising.

Same goes for Doogie White, good vocals but not to Ronnie James Dio standards. The drums are not as heavy as we're used from Cozy Powell. Still it's fabulous to hear and see this classic Rainbow track performed live. Bryan Josh his guitar solo is pretty good. And the song finishes with some excellent keyboards of Iain Jennings again. Right after "Tarot Woman" they go on with "Too Late For Tears". This is more the territory of Doogie.

The slide guitar on "Wolf To The Moon" is done by the second guitarist Liam Davison. And he does a fine job. Another fine solo by Bryan Josh, while Andy Smith adds some good bass work. Then it's time for a non-Rainbow song "Question The God", a song of Doogie's forthcoming solo-album. A fine track, which wouldn't have done bad on a Cornerstone album.

"Black Masquerade" is next up. Great song! Then another non-Rainbow song but with the word Rainbow in the title "Never The Rainbow", a Mostly Autumn song. The band who supplied almost all of the members for this project. Good track! In your dreams, in your nightmares, she's real, she's will come to you one day, she's "Ariel". Again another Rainbow classic. Brilliant version with some black & white footage included. The last Rainbow cut is "The Hall Of The Mountain King". And last up is "One Way To Heaven", an old song from Doogie's past when he was in Midnight Blue.

This show was only as a support-act gig for Uriah Heep. The sound is not superb, but not bad either. A modest lightshow but the band is rockin' and kickin' ass. The tour lasted only 7 gigs and this was the last one of that series, recorded in London's Sherperds Bush Empre on November 6, 2004.

Weak points of Classic Rock Productions, the company that released this DVD, are the wrong running order of the songs, naming 4 bonustracks that just does not are on this DVD (big disappointment!) and referring on the cover to 1985's Stranger In Us All album. Yes it was 10 years later the final Rainbow studio album was released! It isn't the first time Classic Rock Productions surprises us with a messy and rushed release. On the other hand we don't have to wait years and years like with the Blackmore's Night DVD. But then again Doogie claims on the inside cover 'there are no overdubs or edits'. So we get a fine show by a unique band that lasts just less than one full hour.