TAZ TAYLOR BAND

LIVE IN PRAGUE - ULTIMATE BOOTLEG
Recorded Live at Retro Musik Hall, Prague Czech Republic - April 18, 2008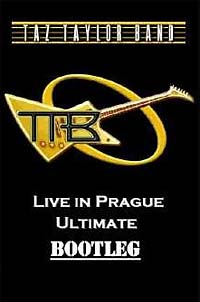 Taz Taylor toured in April with his band featuring ex-Rainbow vocalist Graham Bonnet through Germany, Austria, Switzerland, Budapest and the Czech Republic. The last night of the tour in Prague was filmed. Even though the quality of the camera's wasn't top notch they now have brought out this registration on a DVD. They named it "Live in Prague Ultimate Bootleg". The title should point out that this is kinda bootleg quality and not a super professional recording.

When the DVD starts we see Graham in his typical style in a suit with sunglasses. Lyric sheets are laying in front of him. But the man still has his wellknown powerfull voice. The gig starts just like in his Rainbow days with "Eyes of the World" and Graham tells the audience to "sing as much as you like". Right away it becomes clear that Graham still sings great. Well, you must like his style. Not everyone does. But the people who liked Graham through the years will not be disappointed.

Graham takes his jacket off after the opening song and "Love's No Friend" is the next song. Another great one from Rainbow's "Down To Earth" album. Bassplayer Dirk Krause not only plays his bass but also is responsible for the backing vocals. Ofcourse he don't sings up to Bonnet standards but it fit quite well in the songs. Guitarist Taz Taylor plays quite well, very much in the style of Michael Schenker in his better days.

He stands all the show on the side and moves hardly. He should improve that a bit. The band have with Val Trainor a great powerfull drummer and Eric Ragno, who replaces Bob Miller on this tour, is a good keyboard player.

The tracks they do live from the "Welcome To America" CD sounds pretty good too. There's "Fighter's Fist", "Radio Luxembourg", "Happy Hour", "Wall Of Sound" and the titletrack. You can hear in these songs that Taz is very influenced by Michael Schenker, another person Graham has worked in the past. There are also a handfull of instrumentals including some tracks from Taz his first album Caffeine Racer, a short version of UFO's "Doctor Doctor" and the Ozzy Osbourne double "Goodbye Mr C". The last one unfortunately without vocals unlike on the album.

Graham who became a grandfather that week according to bassplayer Dirk Krause sings by special request "Night Games" before the set ends with some of his best Rainbow hits "All Night Long", "Since You Been Gone" and "Lost in Hollywood. Fine show, good performance! The sound of the DVD is very good, the picture is good. Four camera's have been used to film this concert. Unfortunately one goes sometimes out of focus and has some burn-in spots. Since it's possible the best document of this tour you can get your hands on we recommend this DVD to all Graham Bonnet and Taz Taylor Band fans. It's a fine memory piece for those fans who were lucky to be at one of the shows this tour. If you could not make it for whatever reason it's a nice piece of history of what you've missed.





Here's a trailer of "Live in Prague Ultimate Bootleg"








Taz Taylor Band "Welcome To America"
No Hair Records NHR002



Together with the DVD you also can order the Taz Taylor CD's. The 2nd one "Welcome To America" with Graham Bonnet on vocals even for only 5 US Dollars extra as part of a specially priced package deal together with the DVD. That's a real bargain! This CD has been one of the best releases from the last couple of years with an ex-Rainbow vocalist. The album shows a mix of Rainbow, MSG and Alcatrazz, 80's rock in it's finest form. It's definitely Graham's best effort in years. Taz himself plays like Michael Schenker in his best years.

It's a great album with excellent rockers like 'Fighter's Fist', 'Welcome to America' and 'Happy Hour', the lil' bit commercial "Radio Luxemburg" with some guitarwork that sounds like Yngwie in his Alcatrazz days. There are two instrumentals including Gary Moore's 'Parisienne Walkways' and it ends with the Ozzy double up "Goodbye to Romance" / "Mr Crowley" which is titled 'Goodbye Mr C'. The break between the songs could have been better but Graham shows off and sings brilliant in this one. Much better than Ozzy ever did or likely will do.







You can order this DVD from the Taz Taylor Website Shop. Here's a PDF file with some more info about the DVD.
The DVD will be sold for a limited time for only 10.00 USD + shipping.

Also available in a specially priced fan-pack bundled with their CD "Welcome To America" for 15.00 USD + shipping.
The first CD "Caffeine Racer" can also be ordered on this site.