RAINBOW
LIVE IN MUNICH 1977
VPBR12464 - 2DVD (ASIN: B000BV7SOE)
Audio: 5.0 Dolby Digital Surround Sound, 5.0 DTS Surround Sound, 2.0 Dolby Digital - Subtitles: Japanese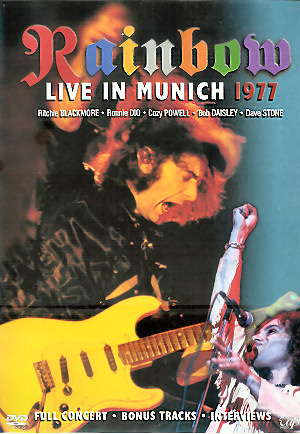 This DVD will be released later this year, latest reports say in June, in Europe. It already was released in Japan on December 21 last year. The European version will be slightly different. This version which was released in Japan comes with Japanese subtitles, a menu with Japanese writing and no commentary track like the European version will have. But for the rest it will be more or less the same.

The first disc is the full live concert filmed by Rockpalast on October 20, 1977 in the Olympia Halle in Munich, Germany. The show was originally scheduled for the 19th, but as Ritchie was arrested the night before in Vienna it was postponed one day.

The show kicked off just before midnight as Ritchie was only released from jail in Austria hours before the show. This concert have been going round in the circuit for years, so we won't see anything new apart from a much better sound and a near mint picture. The are some flaws, interference lines in the pictures at times, not very disturbing but still.....

The show starts with the "Over The Rainbow" intro and then the band kicks off furious with "Kill The King", a splendid version of "Mistreated" follows. "Sixteenth Century Greensleeves" starts with a brilliant sensitive version of "Greensleeves/Für Elise" by Ritchie, just superb! Then "16th" kicks off, great version as well.

The classic "Catch The Rainbow" is next. Ronnie let John show the Rainbow to the audience. And another superb track is played, very touchin' and sensitive guitar by Ritchie here.

"Long Live Rock'n'Roll" which wasn't released at the time and a great rockin' version of "Man On The Silver Mountain" including snippets of "Lazy", "Blues", "Starstruck" and "Night People" follow before the last epic of the set is played, "Still I'm Sad". This one comes with fine solo's of David Stone & the incredible 1812th solo of Cozy Powell. The band returns for the encore "Do You Close Your Eyes".

The band was in great form this show. It was one of those nights the right chemistry was there. Ritchie is incredible good on his sunburst Stratocaster, Cozy kicks the hell out of his drumkit, Ronnie sings superb, and Bob Daisley & David Stone both do a fine job. In the encore Ritchie fools Ronnie to change the song, so we get to see Ronnie returning on stage with a cigaret in his hand and Ritchie giving him the sarcy smile. And at the end of the song Ritchie takes the stage alone to smash a black Strat into pieces. And with "Over The Rainbow" the show ends after almost 2 hours, 113 minutes to be precise.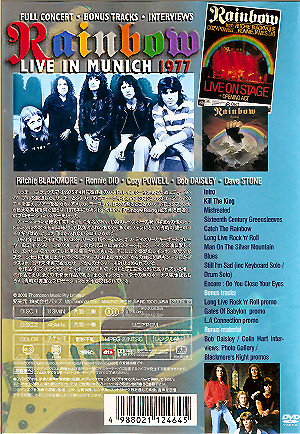 Disc 2 starts off with the 3 clips from the "Long Live Rock 'N' Roll" album. These clips, "Long Live Rock 'N' Roll", "L.A. Connection" and "Gates Of Babylon", are available in various quality in the circuit. But these are different than all those clips that goes around among collectors. These are the full studio clips, so no Rainbow Bar & Grill and other L.A. shots or camels in the desert. These are 100% shot in the studio.

You see sometimes cameramen walking on the background. So these are pretty rare to what's have been available from non-official sources so far. And they're far better quality as well than we've seen before. The vocals are live, the instruments most likely not. Excellent stuff!

There are 2 interviews, recently recorded, on this disc. The first one is with Colin Hart, Rainbow tourmanager from 1975 to 1984, and takes almost 10 minutes. Colin tells how he got involved with Deep Purple in 1971, that it were then the best times for touring. Now it's al about money, business and politics. He was involved with Rainbow right from the start. A move he never regretted.

He tells about hiring new musicians, getting rid off musicians, Ritchie's Vienna arrest and the Rockpalast Munich show. He gives his thoughts about Ritchie, Cozy, Ronnie & Bob. And said about the sucess of Rainbow: It went as far as Ritchie wanted it to go. He could have make it bigger but he choose to not go to some places in the world that could have lead to bigger success. And it got as big as he wanted it to be. He controlled it in that way. He was perfectly happy with where he was at the time. Rainbow was the best time of my life, living in California, the Rainbow Bar & Grill where I spend most of my life and money.

The second interview is with Bob Daisley and takes just over 21 minutes, he talks about his first bands, how he got into Rainbow, about the European Tour in 1977 & the Japanese Tour in 1978. The practical jokes with tour-promoter Eric Thomson in Paris, including the one where they hang him naked under the rainbow. Bob tells his story of the arrest of Ritchie in Vienna. He has some good stories about Cozy. About him starting a new band with Ronnie which never happened. And about a Rainbow reunion in 1997/1998 that didn't happen because Cozy died. And he ends that he always did get on well with Ritchie.

And this disc ends with a photogallery including some rare shots never seen before. Not spectacular but very nice as a bonus. The disc only has 46 minutes of footage, but great stuff indeed!

Conclusion: Every Ritchie Blackmore and/or Rainbow fan should buy this release when it becomes available. You get a full superb concert from the days when Rainbow was at their peak, with a very good, near mint picture and an excellent sound plus some interesting bonusses.


Rating: ***** (5 out of 5)

Rainbow Fanclan Webmaster






RAINBOW

LIVE IN MUNICH 1977
Eagle Rock Entertainment Ltd - 1DVD (ASIN: B000GFLIE6)

Audio: 5.0 Dolby Digital Surround Sound, 5.0 DTS Surround Sound, 2.0 Dolby Digital - Subtitles: None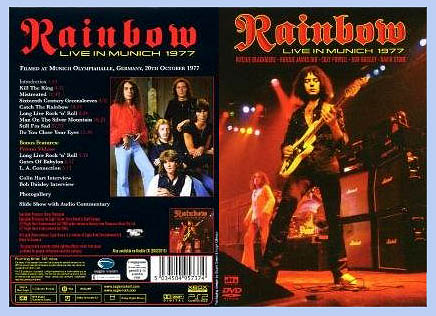 On August 21 at last the Rainbow "Live in Munich 1977" DVD has been released in Europe. The release in the US will be on August 22. The DVD has been put on 1 DVD-9 where the Japanese version, released already last December, was done as a double DVD. Is there less on this DVD? No! There's even a little extra in the form of a commentary track of 40 minutes. This includes a history based mainly on the Dio era told over some screencaptures of the Munich 1977 gig. It's a nice little extra.

For the rest is all the same as the Japanese release as can be read above here. Only the cover is a different one as then pic shows here.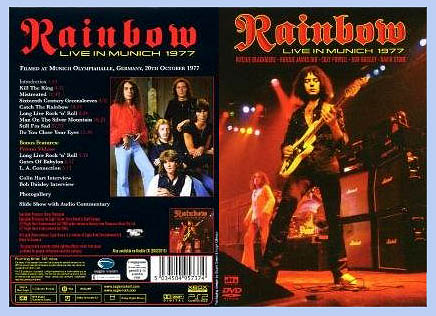 RAINBOW

LIVE IN MUNICH 1977



After the release of the LP Long Live Rock'n'Roll, Rainbow went on tour and ended up in the Olympiahalle in Munich on October 20, 1977. The concert was almost canceled. The concert was scheduled for October 19th, but guitarist Ritchie Blackmore was arrested by the police shortly after the previous concert in Vienna due to a collision with a venue manager (singer Ronnie James Dio makes another comment on this during the concert). Because the band was free on the 20th, the concert has been postponed by one day. They had already made arrangements with Rockpalast to film the concert for German TV. Those recordings are now on this DVD.

When Ritchie Blackmore left Deep Purple in 1975 he started with the members of Elf's his own Ritchie Blackmore's Rainbow. The guitar virtuoso is known as a decent ego tripper and that clashed quite often with the people around him. He changed them more often than a normal person change his socks and by the time of this concert Blackmore was already on his fourth line-up in two years. Only singer Ronnie James Dio has been present since Rainbow began. At the time of this concert, the band consisted of Ritchie Blackmore (guitar), Ronnie James Dio (vocals), Cozy Powell (drums), Bob Daisley (bass) and David Stone (keyboards).

The entire concert is on this DVD. There is no cutting and every moment between the songs the camera is focused on Ritchie Blackmore. But there are also people who consider every movement of Blackmore, even the tuning of his strings, as a virtuosity. Given the current standards, the concert was edited extremely slowly. No flashy shots, skewed cameras or fast zooms. No, these are long shots, where you can watch the musicians at your leisure, with the side note that apparently the band mainly revolves around Blackmore, Dio and to a lesser extent drummer Powell.

Keyboardist David Stone and bassist Bob Daisley are hardly involved in the event by Rockpalast. At the start of Still I'm Sad, David Stone does get a little space in a (short) solo spot. Cozy Powell also gets his (too long) drum solo. He was a great and tight drummer, but a drum solo on a DVD like this really takes off.

Anyone who knows live recordings with Blackmore knows that a song is never played in the studio way. Various improvisation trips to classical music are the order of the day. The well-known Alle Menschen Werden Brüder from Beethoven's 9th symphony is also played (Rainbow would later record it for the Difficult To Cure album), as well as pieces of Bach and fragments of Deep Purple, in addition to the complete song Mistreated (although the song by Dio is not sung with as much drama as David Coverdale can).

The band is in good shape and Powell's pumping drumming sets a solid tone that is sustained throughout the concert. Dio has a good voice and you can even see a smile from Blackmore every now and then. He certainly does not play flawlessly, but that is not surprising if you have just been in a cell for three days and are only present a few minutes before the show. However, it remains a pleasure to watch him. His act with smashing a guitar is also included this evening. The concert ends with a fragment of Somewhere Over The Rainbow from The Wizzard of Oz. End of a legendary and energetic evening.




Image quality


The concert was videotaped by German television. At the time, it had a standard image format of 1.33:1 and that's how the concert is on the DVD. The recordings suffer from interference, especially at the beginning of the concert. This is reflected in horizontal stripes that run through the image. There is also a considerable amount of image noise present. The light show is quite minimal. Spotlights are mainly used for the musicians, so the whole remains quite dark. If bright lights are used, the musicians get a kind of color halo around them because of the flare. The sharpness is also not optimal, partly due to the amount of image noise.

The recordings are 30 years old and given that fact it is still not too bad. But the impression is that little has been tried to improve the image with current techniques. Each song has its own chapter stop, so eight in total. That makes sense, but with songs that last more than 25 minutes (Still I'm Sad) you might have liked a few chapter stops on the various solo spots.




Sound quality


Where the image has not received a facelift, the sound has been done. Everything has been remastered and sounds great. The DVD contains three soundtracks, a Dolby Digital 2.0 (192 kb/s), a Dolby Digital 5.0 (448 kb/s) and a DTS (754 kb/s). The Dolby Digital 2.0 channel is the most authentic, as the original recording was made on two tracks. Two surround tracks have been created for the DVD using current techniques. These tracks give a spatial character to the whole, with the DTS channel sounding a bit more open and full than the Dolby Digital 5.0 channel.

But the same sound is heard in all channels of the surrounds and, except for the spatial effect, does not add anything to the original. The LFE channel is not used, but that is not to be missed as the bass drum and bass guitar layer comes across fine in the other channels. Because of the authenticity and the few addition of the surround channels, the preference is still for the Dolby Digital 2.0 channel.




Extras


The DVD's animated main menu is in 1.33:1 screen format, with a fragment of Long Live Rock 'n Roll in Dolby Digital 2.0 (192 kb/s) as background music. The special features menu has a fragment of Man On The Silver Mountain as background music, while the tracklist menu uses Mistreated. All extras have 1.33:1 screen format.




Promo Videos (15 min)


Three videos were made for the promotion of the LP Long Live Rock 'n Roll. All three were recorded in a small studio, where the band plays three songs. The only difference between the videos is the clothes the band members are wearing. The sound for these videos is mono.



Interviews (31 min)


Two interviews, one with bassist Bob Daisley and one with tour manager Colin Hart. Daisley brings back old memories of the band Rainbow (including the Vienna incident that led to Blackmore's arrest). The second part is an interview with tour manager Colin Hart. He already worked with Ritchie Blackmore during Deep Purple and switched to Rainbow with Blackmore. He talks about the collaboration with Blackmore and the rest of the band, as well as the Vienna incident. Everything is in English and not subtitled.




Photo gallery


25 photos of the Rainbow band members as well as a few pieces of memorabilia.




Slide Show with Audio Commentary (40 min)


A 40 minute story about Rainbow's history. Very comprehensive and very informative! During the commentary you get to see still moments from the Munich concert.




Booklet


A five page booklet with the history of Rainbow written down by Simon Robinson.




Replica Tourbooklet


A replica of the original touring book sold during the 1977 European tour. With profiles of the band members (although Stone and Daisley also don't get that much attention).




Conclusion


On October 20, 1977 Rainbow played an excellent show at the Olympiahalle in Munich. The concert was almost canceled due to an arrest of Ritchie Blackmore in Vienna a few days earlier. The concert started hours later than planned and was filmed by the Rockpalast program for German TV. The band is apparently raised by the incident in Vienna, because the adrenaline radiates from the band members. The concert is an excellent performance.

The image quality is outdated. It doesn't look very good. The sound quality has been beautifully refurbished and remastered. There is a choice of three soundtracks, two of which have surround sound. Still, preference is given to the original stereo sound, whichever sounds the most authentic.

The interesting and informative extras make this DVD a must-have for any rocker. The included tour booklet gives the DVD a little more cachet.

Ludo Keeris, dvd.nl, Holland - November 7, 2006





RAINBOW

LIVE IN MUNICH 1977
Eagle Vision

DVD of the Month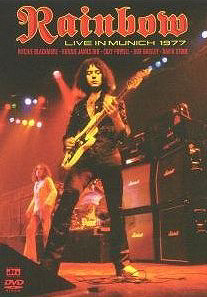 Not only the DVD highlight of the month, but maybe even of the year goes to the account of Eagle Vision, which owns the rights to the legendary Munich RAINBOW concert on October 20, 1977 (known from "Rockpalast") and added great bonus material to the whole thing. The only complete, video-recorded performance by the god trio Blackmore/Dio/Powell includes the 76 tour set, in which only 'Stargazer' has been replaced by 'Long Live Rock'n'Roll'.

RAINBOW got harder and harder from album to album ("Ritchie Blackmore's Rainbow", "Rising", "On Stage", "Long Live Rock'n'Roll") and wrote such immortal, unmatched hard rock classics like 'Kill The King' (according to Diary a song about a game of chess ...), 'Man On The Silver Mountain', 'LA Connection 'or' Gates Of Babylon ', which are all represented here (the last two as very rare bonus clips).

'Still I'm Sad', 'Do You Close Your Eyes', 'Mistreated' and 'Catch The Rainbow' are no less impressive and were expanded into gigantic jam sessions at concerts at the time, with Blackmore improvising, Powell according to his name, sparked an enormous power and Dio shone in majestic splendor. Has there ever been a better, more independent and timeless hard rock band? If so, then I would give my right legg to discover them. This DVD offers additional interviews, three bonus clips, an interestingly commented photo gallery and - great idea! - the original tour program from back then in DVD booklet format.

Götz Kühnemund, RockHard, Germany - October 2006