RAINBOW
IN THEIR OWN WORDS
DVD - Edgehill Publishing RMS2208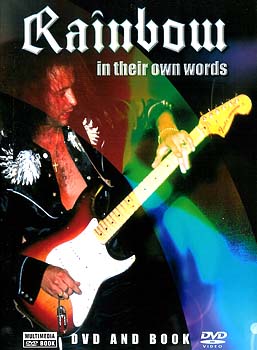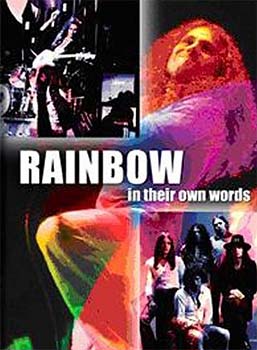 The last couple of years several documentaries about Rainbow have seen the light. A firm called Classic Rock Productions started it. It looks like the firm changed their name as often as Ritchie Blackmore changed musicians in Rainbow. That way, apart from the not too positive reviews of their releases, it got not a very reliable reputation. Often we got the same poor clips and interviews edited slighty different on new releases.

On this dvd we got the same interview with Doogie White as we've seen on Inside Rainbow 1979-1997. But we also get here brand new recent interviews (at least for me) with Graham Bonnet, Bobby Rondinelli and Joe Lynn Turner. And although insiders and die-hard fans will be aware of most of the things they say, it's very refreshing to see this turning up on such a release.




Besides we get some vintage audio interviews with Ritchie Blackmore and Ronnie James Dio. These interviews are accompanied by a running taperecorder and photos on screen. One one of the interviews with Ritchie we hear a Jethro Tull song on the background. There's also a snippet from an interview with his Deep Purple colleagues Jon Lord and David Coverdale. Jon thinks that the Rising line-up should have stayed together, while David tells how he likes the riff of "A Light in the Black" (he calls it "Light in the Dark") but is not impressed by the lyrics. He also blames Ritchie to wanna sound like Foreigner, while according to him Foreigner actually would have sound like Purple.

Later on we hear Ritchie on tape from an interview that has been published in the "More Black Than Purple Interviews" book that was released late last year (we'll have a review shortly of this book too, Ed.). If you don't have read the book or are subscribed to the "More Black Than Purple" fanzine that has published most of it in the past, then you're in for a real treat.




This dvd is quite surprising when you compare them to the "Inside Rainbow" set for example. Still it's a documentary with interviews and some short live and promoclips. So it's not something even the die-hard fans plays over and over again (I think). The dvd comes with a nice 76 page book (not 96 as advertised) that has several photos and printed interviews. A very nice package indeed. Considering this package is sold for less than 3 quid by some shops it's a real bargain (check Amazon's third parties).

For some obscure reason several of these releases have been brought out with two differtent frontcovers. For this release there's one with Ronnie James Dio on the front with smaller corner pictures of Ritchie Blackmore and the very first Rainbow line-up. The other one has Ritchie Blackmore on the front with his left hand upon the neck of this Fender Stratocaster.


Conclusion:

+ interviews with ex-Rainbow members
+ nice set of DVD and 76 page book
+ very cheap to buy

- poor quality short clips of live & promo videos
- not something you watch over and over again