RAINBOW
INSIDE RAINBOW
1975 - 1979
Classic Rock Productions CRL 1602 PAL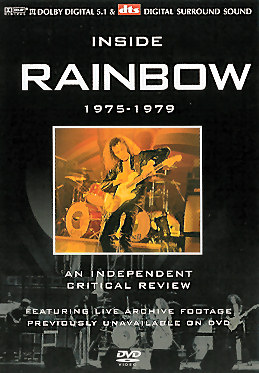 Here it is, the much spoken of and also criticized (even before it's release) Inside Rainbow 1975-1979 DVD. Classic Rock Productions has released several similar DVD's before by bands like Deep Purple, Led Zeppelin, Black Sabbath, Thin Lizzy and many others. And now it's Rainbow's turn.

The criticism of these series seen in reviews before is that it's a lot of journalists and musicians talkin' about the band. And it does not show any of the musicians involved. Most reviews say: "Not really a big deal".

Is it that bad with this DVD too? Yes and no. It's exactly what it said before that you get, a couple of musicians and journalists talkin' about Rainbow in the period 1975 - 1979. Plus some Rainbow footage which will be no big shock to all the die-hard Rainbow fans. You get snippets from the 1977 Rockpalast show filmed by the German WDR in Munich and the Polydor Records videos from the Long Live Rock'n'Roll album, best known from airing in Don Kirschners Rock Concert. No full songs, just some excerpts.

It's not really bad, actually it's nice to watch this. But more than once? No, maybe a die-hard fan will watch it 2 or 3 times. Most people though will sling it in the cupboard after watching it. Maybe to pick it up to watch it again once more after months. This is not a great concert or a bunch of songs you'll play over and over again. It's just a couple of people talkin' about this great band called Rainbow. They're all very positive about the band and Ritchie Blackmore in particular.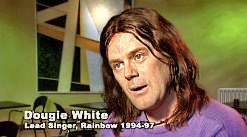 We get to see the following people discussing Rainbow: Neil Murray (ex-bassplayer Whitesnake, Black Sabbath, Brian May), Jerry Ewing (journalist Classic Rock Magazine), Hugh Fielder (journalist Classic Rock Magazine), Bryan Josh (guitarist Mostly Autumn), Heather Findley (vocalist Mostly Autumn), Doogie White (ex-singer Rainbow), Jerry Bloom (editor More Black Than Purple), Bob Carruthers (writer/producer & director CRP), Pip Williams (record producer), Rob Corich (studio producer) and James Gambold (session player).

It's nice to see Doogie White giving his thoughts on the first Rainbow years. His best quote is: "Rainbow Rising was all the forces of the universe coming together at that one time". But it's also Doogie who's giving David Rosenthal credit for the keyboards on "Gates Of Babylon".

The cover has a editorial control that says: This film is totally unauthorized and has not been approved by Ritchie Blackmore or the group Rainbow, nor has it been authorised or approved by past or present management of the band.

You can order the DVD online directly from Classic Rock Productions.

There will be 2nd DVD out shortly in this series covering the rest of the Rainbow years. There will also be a 2 DVD + book with both DVDs called "Inside Rainbow 1975-1997".