RITCHIE BLACKMORE
GUITAR GODS
DVD - Ragnarock Films LTD / Edgehill Publishing CRP2490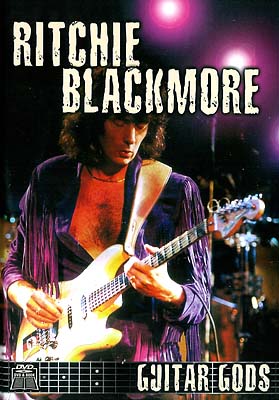 And another one of these documentaries. This time a bit different though. This one looks at the guitarplayer Ritchie Blackmore. Mainly members of Deep Purple and Rainbow give their honest opinion of a man with an ego as undeniable as his god-like talent. We get to see and hear Purple bassplayers Nicky Simper and Glenn Hughes. Don Airey who was in Rainbow from '79 to '81 and is now the Deep Purple keyboardman. And there's also the views of ex-Rainbow members Bob Daisley, Joe Lynn Turner, Bobby Rondinelli and Doogie White.

Besides you can hear from tape Ritchie himself, Ronnie James Dio, Ian Gillan, Ian Paice and Jon Lord. His whole carreer gets a view from his 60's work, thru Deep Purple and Rainbow, to his present stint with Blackmore's Night. Also Malcolm Dome, who was journalist for Record Mirror, Kerrang! and Metal Hammer and the writer of several books on the hardrock/metalscene give his views.




There are small excerpts from concert footage including the Leeds Polytechnic Project in 1974 by Graham Hough, the Granada TV "Doing Their Thing" and Rainbow Rockpalasts shows. Ritchie Blackmore can be heared on tape also from the Leeds Poly Project, a Steve Rosen interview and the 1998 MBTP interview. All sources who also were used on previous documentary dvd's like this one.




The dvd is quite interesting. It's good to hear and see what all his ex-collegues has to say about the man in black. They are all pretty positive over the man's talent as guitarist, but some are less positive about his perfection, moodiness, pranks and stubbornness. All in all this is very interesting, but like with all these kinda documentaries not a thing you keep play over and over again.




The package comes again as a dvd-book with nice pictures, some printed interviews (this time with Ian Gillan, Bob Daisley and Ritchie Blackmore himself) and a Ritchie Blackmore discography. It has 72 pages and looks fine. The dvd disc has also an image gallery but this shows only 10 photos. Still a nice dvd that we can recommend.


Conclusion:

+ interviews with ex-Deep Purple & Rainbow members
+ nice set of DVD and 72 page book

- poor quality short clips of live videos
- not something you watch over and over again