BLACKMORE'S NIGHT

CASTLE AND DREAMS
SPV 556-99157 2DVD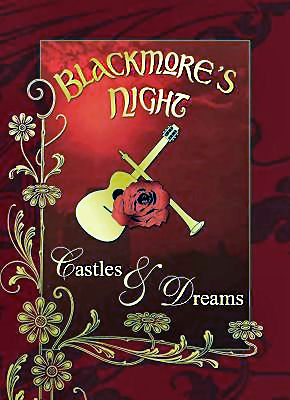 After Blackmore's Night had been filmed in 2002 at Schloss Solingen for a supposed DVD release, also in 2004 a concert was filmed. This last one, shot in Burg Veldenstein finally ended on the DVD that the fans have been waiting for more than two years. From the 2002 concert at Schloss Solingen there was ofcourse the 5 song "foretaste" for this DVD which came along with the "Beyond The Sunset" Compilation CD last year. The most critical notes from fans was that it was taking so much time, because they wanted to re-do the vocals as (quoted on some forums) "Candice sounds live as flat as a pancake". On the bonus 5 tracks DVD there were some moments were the sound was not in sync with Candice singing, but here that's not the case. Even when Ritchie has technical problems in "Past Times With Good Company" it's not edited out. Actually they should have done. Ritchie is playing and fiddling with his instrument and amps with his back to the audience for the largest part of the song. So we get the full show as it was.

Every Blackmore's Night show is different. The setlist is never the same. Certain songs are played (almost) every night, others are done occasional. This concert has a pretty average setlist. Unfortunately I should say. Not that it's bad, but for a DVD release they could have done better. Why not "Sixteenth Century Greensleeves" and "Fires at Midnight" this night? Not to mention a handfull of others. It's one of the first things that comes to mind.

Highlight is definitely "Minstrell Hall", where songs like "Home Again" and "Once in a Million Years" are the weaker ones of the set. "Ghost of a Rose" is Candice her moment. This is the song where she is at her best. She has been certainly growing through the years in fronting the group. The spotlights are pointing on her, while it looks like Ritchie, camera-shy as ever, comes in second. The rest of the band shows us a good bassplayer and backgroundsingers plus some average other musicians. Still they fit good in this group and put on a good show all together.

It's nice to hear some familiar work from the past including "Soldier of Fortune", "Child in Time" (with some spotlights for the excellent Sisters of the Moon) and "Black Night". The last one in the encores when Ritchie finally has picked up his Stratocaster. Still the instrument he plays best. In "Village of the Sand" Ritchie picks up his Strat for the first time. At the end of "The Clock Ticks On" we see The Geyers entering the stage. The encores starts off on electric guitar, firstly a rockin' version of "Loreley", followed by "All For One" (again with The Geyers) and "Black Night" (second verse excellent sung by the bassplayer). The show finishes with the acoustic "Midwinter's Night/Dandelion Wine".

All in all it's a nice show, unfortunately with not too many highlights but also no real bad moments. As a bonus we'll get on the 1st disc a Behind The Scenes Documentary plus a Ritchie Blackmore's Guitar Special. The last one is nothing else than a multi-angle version of "Village On The Sand", where you can switch the picture to a camera that was following only Ritchie during the tracks. Nice, but a bit disappointing when it says Ritchie Blackmore's Guitar Special....

The 2nd disc is packed full of goodies including videoclips, acoustic clips, documentaries, interviews, discography & biography. The running order on the cover is not completely right and if you choose the maze menu you might think there's something wrong with the DVD. Still there's also a textmenu which is a lot easier to use. This 2nd disc is packed with a whole bunch of nice extra stuff. It gives a good look on what's this band all about. There are several videoclips, animation of songs and acoustic songs (which are not on the 1st DVD). Also interviews with all bandmembers as well as manager Carole Stevens ("when Ritchie smiles, the whole world lights up"). There are some German TV appearances, a full discography and biographies of Candice and Ritchie. It all finishes with private movies from Candice including footage of Candice riding an elephant and donkey, Ritchie enjoying the company of a goat and making a ride on the magic roundabout.

If you're a Blackmore's Night fan, then you'd to wait a long time for this double DVD. Still you'll most likely enjoy every minute of it. For the Ritchie Blackmore fans who are following The Man In Black since his Deep Purple or Rainbow days and are not so keen on his last stint, it might be a struggle to get through all this. Mind you, you get 4 hours of a diverse range of material by Blackmore's Night in a very nice DVD box package.





---






SPV Press Report


BLACKMORE'S NIGHT

CASTLE AND DREAMS

STREET DATE: OUT NOW! RELEASED 30 MAY 2005 - FORMAT CD OR CD/DVD

LABEL: STEAMHAMMER/SPV - DISTRIBUTED BY: ROUGH TRADE





OVERVIEW

Not only his virtuoso guitar style, but also his consistent devotion to his own musical ideals has earned Ritchie Blackmore equal respect from his colleagues and the media, which helped the former Deep Purple/Rainbow guitarist to lead the third important group in his life to fame, success and renown, although many critics had initially observed Blackmore's Night with some scepticism. Blackmore's Night has long outgrown its reputation as an oddity, compiling on its first DVD, Castles And Dreams, sounds and images that document the band history to date. The material on the double DVD has 4 hours of running time and comes in 16:9 and 4:3 formats and DTS 96/24, Dolby Digital 5.1 and PCM Stereo sound formats. Not only is Castles And Dreams a fascinating documentation of one of the most exceptional bands of our time, it is also the first and thoroughly comprehensive DVD by Blackmore's Night.

Anybody who has paid attention to Blackmore's musical development will have noticed that the music that he and his partner, Candice Night, have been producing for almost nine years is like a leitmotif that accompanies the life of this exceptionally creative British guitarist. The love of medieval music has always been in Blackmore's heart, but he used to hide these influences in the overall context of his intricate rock music; now it has become an obvious and consistent element of his compositions. "I enjoyed my time with Deep Purple and Rainbow, but whenever we play one of our shows with Blackmore's Night, band, music and audience become one in a unique way", Blackmore tells. "It's impossible to explain the feeling that runs through a musician at times like that. It's absolutely awesome." Castles And Dreams is an impressive document of Blackmore's successful transformation of traditional styles to the present. "This is the music that we want to play, it has no other intention but to make us and other people happy," is Blackmore's philosophy. His straightforward and sincere attitude can be felt every second of this double DVD. DVD 1 features the whole concert at Burg Veldenstein, recorded in summer 2004, where Blackmore's Night performed most of the hits from their previous six albums Shadow Of The Moon (1997), Under A Violet Moon (1999), Fires At Midnight (2001), Past Times With Good Company (2002), Ghost Of A Rose (2003) and Beyond The Sunset - The Romantic Collection (2004), even including two numbers from Blackmore's Deep Purple era in 'Black Knight' & 'Child In Time'. There is also behind-the-scenes bonus material and a guitar special by the master himself.

DVD 2 features acoustic versions of the tracks 'I Think It's Going To Rain Today', 'Christmas Eve', 'Shadow Of The Moon', 'Queen For A Day' and 'Under A Violet Moon', plus the official videos of 'The Times They Are A Changin', 'To Mandalay', 'Once In A Million Years', 'Hanging Tree' and 'Christmas Eve', rounded off by a comprehensive history, interesting cuts from TV appearances, biographies of Blackmore and Night, a discography, interviews with the band members and, as a special bonus, a 'slideshow' and pictures shot by Candice Night.

Blackmore's Night have fascinated their steadily growing fan community since 1997 with wonderful melodies and evocative guitar parts. Their debut album, Shadow Of The Moon, stayed in the German album charts for 17 weeks and went gold in Japan. The band toured churches, opera houses, theatres and castles all over the world with their next release, Under A Violet Moon, out in spring 1999, which went to no. 20 in Germany and to no. 12 in the Japanese billboard charts. Their 2001 release, Fires At Midnight, marked a continuation of their success and went to no. 9 in the German album charts (no. 20 in Japan), impressing fans and media alike. Past Times With Good Company (2002) was the first live album by Blackmore's Night, followed twelve months later by the studio recording Ghost Of A Rose, featuring new material. The 2004 release, Beyond The Sunset - The Romantic Collection, brought together the most beautiful ballads from the early years. Castles And Dreams, the current release by Blackmore's Night, is a DVD that leaves nothing to be desired. Visit the official homepage for more information about Blackmore's Night, their previous albums and the latest tour dates: www.blackmoresnight.com

DISCOGRAPHY

SHADOW OF THE MOON (1997)
UNDER A VIOLET MOON (1999)
FIRES AT MIDNIGHT (2001)
PAST TIMES WITH GOOD COMPANY - LIVE (2002)
GHOST OF A ROSE (2003)
BEYOND THE SUNSET - THE ROMANTIC COLLECTION (2004)
New: CASTLES AND DREAMS (Double-DVD, 2005)