Yngwie Malmsteen

Unleash the Fury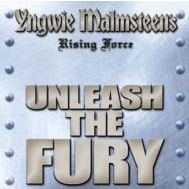 Another Yngwie album with Doogie White on vocals. And yes, it's again another Yngwie album. His playing sounds again the same as all his previous albums. Die-hard Yngwie fans will love it, but if you're not that heavily in Mister Malmsteen it's a hard listen at times. Not that it's bad, it's just that it sounds too much like most of his work in the past. Only with the Odessey album you got the idea the singer, in this case Joe Lynn Turner, had something to say. And that made the Odessey album to Yngwie's best effort to date. This "Unleash The Fury" has 18 tracks over a length of 73 minutes. On that level you definitely get value for money.

Here we have ofcourse Doogie White on vocals, we know him ofcourse for his brilliant work with Rainbow and Cornerstone. With these bands he's fully in the spotlights. Unfortunately not with Yngwie Malmsteen. He's a bit too low in the mix. His vocals are good, but not as good as they sound in the more melodic forementioned bands.

One of the best tracks is "Winds Of War", a midtempo epic with a great neo-classical intro. Yes, finally a song that not faster than the speed of light. Fine keyboards here by Joakim Svalberg and, hey let's face it, Doogie sounds a bit more than we're used of him in Cornerstone. And Yngwie does a solo, yes it's Yngwie style all over but still it adds a bit more than his usual riddle.

"The Bogeyman" starts with a pumpin' bass and the structure of the song sounds not that Yngwie. He even takes the vocals spot in the bluesy Jimi Hendrix-like "Cherokee Warrior". And he's not that bad, in fact it fits the song excellent. Great track this one.

Yngwie plays like he's doing for years. If he didn't impress you before, he won't do now either. He has some nice instrumentals like "Fuguetta" and "Paraphrase", two one minute Bach themes, plus Guardian Angel. And he's not only playing the guitar, there's no bassplayer on this album as Yngwie himself handles the bass on all tracks. The drums are done by Patrick Johansson, who does an excellent job. Great heavy hitting, double bass and all. Joakim Svalberg adds some good keyboard work and Doogie, first class singer but like said before he's just too low in the mix, which doesn't do him unfortunately much justice.