RAINBOW
THE BEST OF RAINBOW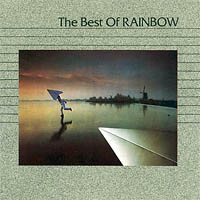 RAINBOW • THE BEST OF RAINBOW (Polydor)
16 TRACKS from '75 to the present, featuring Rainbow's trio of vocalists Ronnie James Dio, Graham Bonnet and new kid in town Joe Lynn Turner.
Much care apparently went into the selection of material for this album and overall it gives a solid representation of Rainbow past and present. From the heavy fringed voice of Dio to the rather more lightweight grimace of Bonnet and Turner (Why did this man sound so limp when I last saw Rainbow on stage?) there's a lot of contrast between the chosen tracks - listen to the immediacy of 'All Night Long' for instance and compare it with the almost vintage hippyness of Stargazer.
Not only that, but the album has the best cover Hipgnosis have turned out in a long time.
Rating: + + + + +
Robin Smith, Record Mirror 1982