Rainbow
Live in Köln 1976 (AMF Records T2CD0105)
Live in Düsseldorf 1976 (AMF Records T2CD0110)
Live in Nürnberg 1976 (AMF Records T2CD0111)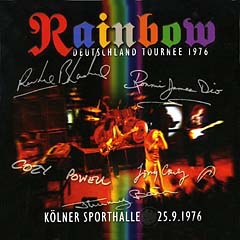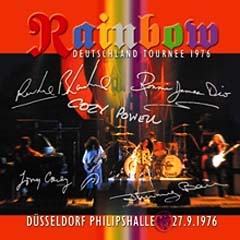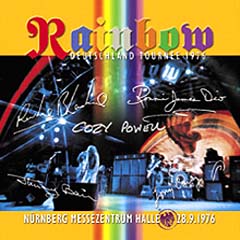 In 1976 Rainbow recorded 8 concerts, in both Germany and Japan 4 each, for a live album. That album was released in July 1977 with the title "On Stage". In March 1990 another album was released from these recordings titled "Live in Germany 1976". It got a re-release with a new title "Live in Europe" in March 1996. But it was not enough. In 2006 came the news that 3 of the 4 recorded German shows were to be released in it's entire to celebrate the 30th anniversary of the 1976 Tour.

Only the 4th show in that row at Munich's Circus Krone was not released in this series. Still there are 4 songs already available on other releases of that show ("Kill The King", "Mistreated" and "Do You Close Your Eyes" on "Live In Germany 1976" and "Sixteenth Century Greensleeves" on "Rock Profile Volume Two").

In Japan these 3 double CD's got released in May 2006 as a 6 CD box titled "Live in Deutschland", in Europe they were released as 3 seperate 2 CD's. Releasedates were July 2006 (Live in Köln 1976), February 2007 (Live in Düsseldorf 1976) and December 2007 (Live in Nürnberg 1976). The tapes were all specially mixed and restored on 24 track digital equipment.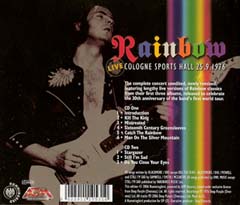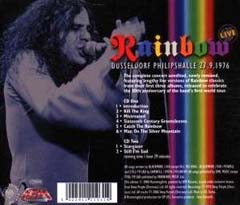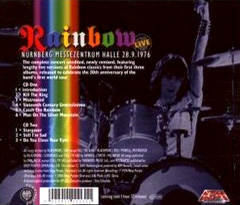 It's pretty obvious what you could expect on these discs. Rainbow in full form, at their very best. A lot of fans have the opinion that this was the very best period in Rainbow's history. You'll get here 3 shows in a row of that fine period. The setlist is, like it was on almost every concert that tour, the same. Only the second show doesn't have an encore. A typical thing out of the Blackmore book. Although the concert have the same songs and so sound quite similar, there are some substantial differences. In fact we can keep them very easily apart.

Live in Köln was recorded on September 25, Cozy Powell's tape with the 1812th Overture didn't wanna start at this show. So you get the unique drumsolo without the orchestral track from tape here.

Live in Düsseldorf was recorded on September 27. The improvisations on this one sounds a little bit more laid back. Typical for Ritchie to refuse to do an encore.

Live in Nürnberg was recorded on September 28. A long time this date was claimed to have been in Mannheim. Fans had heavy discussions about the date. Some claimed they were at the Mannheim show, while others who lived in the area were convinced Rainbow never played Mannheim that tour. Finally the facts came on the table. As an engineer wrote the wrong dates on the master reels it all got mixed up. Posters and tickets finally revealed the right dates: Nürnberg September 28, München the 29th and Mannheim the 30th.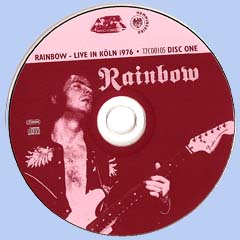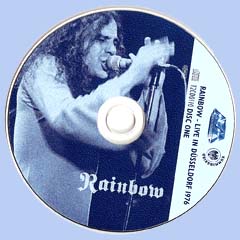 The setlist is wellknown, the band kicks off with the extreme heavy "Kill the King". Deep Purple's "Mistreated", "Sixteenth Century Greensleeves" and "Catch the Rainbow" follow in lengthy versions. "Man on the Silver Mountain" includes the "Blues" and "Starstruck" improvisations. On disc 2 you get more lengthy versions of the excellent "Stargazer" and "Still I'm Sad' with solo spots for Tony Carey and Cozy Powell too. Ritchie Blackmore shows off big time. On the first and third there's the encore "Do You Close Your Eyes".

Unfortunately something went wrong with the pressing of the "Live in Nürnberg" version. It said "some copies of this disc have a mastering error on CD2 which may cause the between song chat at the end of track two - Still I'm Sad - to repeat the last few seconds before moving into the following song. The error has been rectified but some copies may have reached the shops". We never heard from someone who actually had a good version bought in the shops. On the other hand why complain when you got a good disc. Anyway Darker Than Blue (deep-purple.net) took the handling of exchanging the disc for European customers. And they did a fine job on it. The original yellow coloured disc 2 got replaced by a green copy.

All the 3 double CD's are worth listening. If you wanna choose only one it's hard to give the right advice. Do you want one with the encore and Cozy Powell solo in full with orchestra, then you come out on "Live in Nürnberg". Die-hard fans will have bought all 3 double cd's already ofcourse.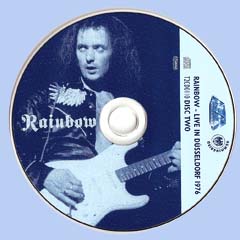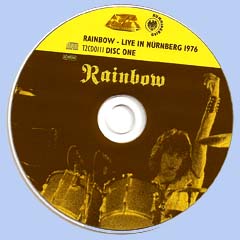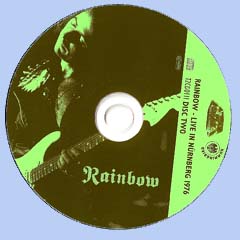 Conclusion:

+ Rainbow in their finest form
+ Full concerts
+ Digital remixed

- Expensive way of releasing
- The Japan 6CD Box is very expensive in Europe and USA