LYRAKA

VOLUME 1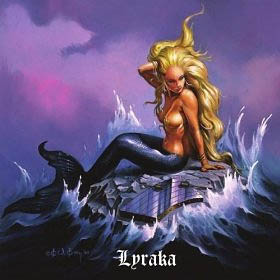 Two years ago Andy DiGelsomina and Jasmine Lyraka contacted us and told: A new fantasy project is emerging from the depths of the sea on a faraway planet called Lyraka. An unforgettable epic of romance, splendor and fortitude unfolds as Neires, our land-boy hero, finds an enchanted electric guitar and sets off on a magical journey to find the mermaid in his dreams. With the help of a friendly dragon, can Neires discover his love? This 3D computer-animated movie attracts attention with magical and bizarre characters and places. The antagonists are Queen Lilliput who rules in her pyramid in the desert and also the demonic creatures that vie for control of Volcano Island. While evil lurks at the bottom of Bioluminescence Abyss, The Empress of Mermaids tries to maintain peace in her world.

Since then we had the privilege of receiving many updates how the work on their project progressed. Jasmine is responsible for the story and screenplay. Andy has set it to music and poetry. Last month the first tangible proof of the project came out. The first album titled "Volume 1" has been released. Andrew Neires DiGelsomina is responsible for this part of the project. He describes it as a Wagnerian metal opera project. Andy is musically influenced by Richard Wagner, Ritchie Blackmore and Black Sabbath. And those influences can be heard very well on this album.

He hired three vocalists for this album that contain six songs. Graham Bonnet is (for us Rainbow fans) ofcourse the most interesting of these three. He sings on 4 of the 6 tracks which leaves one song for Tommy Heart and Veronica Freeman each.

The album starts indeed very Wagnerian. Not that I am all that familiar with the German composer who lived in the 1800's, but I remember that huge Wagner intro Michael Schenker used to start his shows with in the 80's when Cozy Powell was in his band. The opener, "Coronation", start with a short but huge Wagnerian orchestral boost before it develops quickly with a good guitar riff into a rocksong.

It brings back memories of the Rainbow "Down To Earth" and Michael Schenker's "Assault Attack" period. The voice of the singer is responsible for that too. Yes ofcourse, it's good old Graham Bonnet on vocals. Often criticized for his live performances these days but he still excels on studio work. And that's just what he does here.

What we get is a mix of early 80's hardrock with some Euro metal with a more modern sound and some surprising additional instruments. Like the saxophone at the end of the first song with a remarkable solo. Andy is an excellent guitarplayer. He shows that in the second track "Palace Guard" too. Often you hear a Blackmore/Schenker style followed by more speedy metal runs and shredding.

Andy really puts a lot in the songs. Like in this second track. There are many tempo changes and you wonder if it's still the same song or five short tracks. In "Palace Guard" there is some ace guitarwork with great shredding in the Malmsteen/Stump vein. After one of the tempo changes you get into a piano piece accompanied by strings. That goes over in a more Blackmore style laid back guitarpiece and then it's back to some more shredding. And it's still the same track....

"Scatherus" is very heavy, more European power metal. On vocals we hear Veronica Freeman of Benedictum. She has been in the past the singer of Evilution, a Dio tribute band. With Benedictum she recorded two albums. The first Benedictum album had Jimmy Bain guesting on a cover of "Mob Rules", while the 2nd CD had a cover of "Catch the Rainbow".

This 3rd track is different to the first two songs but nontheless an excellent performance. Veronica sings and grunts great. I couldn't see Graham deliver vocals like this. He might be able to do this but this is just not his cup of tea. He did something very heavy with Blackthorne in the mid 90's and later he told he just hated it. So good choice of singer for this track. It's quite different to the first two tracks and you have to like this kinda style of metal but I think it fits very good on this album.

"Errandia" has got some good instrumental passages in the first half. Actually it is all instrumental and sounds like Michael Schenker in his better days. Just when you think it's a complete instrumental Graham shows up. The track then runs already for almost six minutes. It's the longest track on the album and clocks in just under twelve minutes. Again we hear in the second part of this track Blackmore/Schenker like guitarwork combined with fast guitar riffing.

On "Neirres" we hear the third singer, Tommy Heart (Uli Jon Roth, Fair Warning), on vocals. This one is a bit more AOR and Tommy's voice is excellent for it. In the middle there's some classical stuff that sounds a bit out of place but might be very useful for the animation film. After the violin solo the songs speeds up again with some fine shredding and heavy drum work.

The album ends with "Beyond The Palace". Graham Bonnet returns once again for another good rock song. It's once again a wink to some more Rainbow & Schenker early 80's stuff. Graham is definitely on his best with songs like this. It's just a great track to end this album with excellent vocals and Blackmore style solo. The strings in the end are a fine extra touch and bring it all to a high class level.

I must say this is a very fine album. Especially when you love the "Down To Earth" and "Assault Attack" albums this is one for you too. The first time I listened to it I liked it and was surprised but also a bit confused by all the different parts that were pressed into the individual tracks. But after giving the album a handful of spins it started to grow on me and I became very impressed. The album shows that Andy has put quite some time and thought into it.

Andy DiGelsomina is an excellent guitarplayer. Sometimes you hear Blackmore/Schenker style followed by more speedy or heavy runs with reminds me of song structures of old Judas Priest, Iron Maiden and Black Sabbath blockbusters. And they're combined with pretty cool Yngwie Malmsteen/Joe Stump shredding techniques. Graham Bonnet delivers here an excellent job. He proves he still has the pipes. Tommy Heart and Veronica Freeman also sing very well on their tracks. Jeff Pilson (Dio, Dokken, Foreigner) and Tim Luce (Alcatrazz) as well have been involved with additional vocal engineering in the project.

Despite the fact the album only has 6 songs the album clocks in just over 40 minutes. Mind you, Rainbow Rising had also only 6 tracks. And mentioning Rainbow's high rated classic album, fantasy artist Ken Kelly who was responsible for the Rising artwork has also made the front cover of this first Lyraka album. Ken has done an excellent job on this too with the mermaid on the rock art which fits like a glove to this project.


Releasedate: November 27th, 2010

Rating: ****½ (4½ out of 5)






You can buy this album on the

Lyraka website

.

It's also available as digital download from iTunes or Amazon USA.