JOE LYNN TURNER
THE USUAL SUSPECTS
Frontier Records FR CD 230 Promotional Copy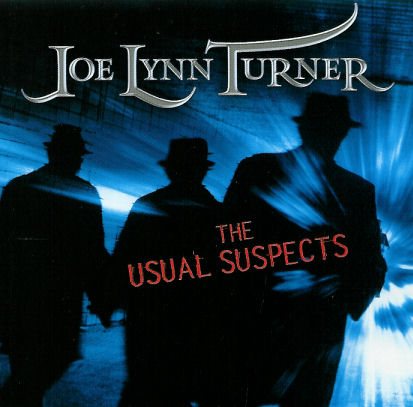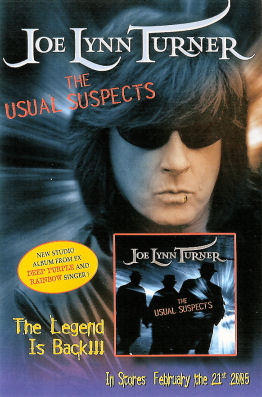 Joe Lynn Turner has another solo-album out. It's called "The Usual Suspects" and is recorded with the following line-up: Karl Cochran (guitar), Al Pitrelli (guitar), David Z (bass), John O'Reilly (drums), Paul Morris (keyboards), Andy Burton (keyboards) & Nancy Bender (background vocals).

This album has 11 great songs that sounds a lot like Rainbow in the 80's when Joe was in the band. It's by far the best solo album of Joe so far, even if he'd some pretty good albums out in the past. The Rainbow element is only reinforced by the presence of ex-Rainbow members John O'Reilly & Paul Morris. It starts with the great rockin' "Power of Love". A very catchy rocker, followed by other good rockers like "Devil's Door" and "Jacknife". Ofcourse there are some excellent AOR ballads. "Really Loved" is the best ballad on this album, it's in the vein of excellent Rainbow hits like "Stone Cold" and "Street of Dreams" with a touch of Foreigner. This song could be a top 10 hit. It should be.... But also the other 2 ballads on this album, "All Alone" and "Live And Love Again", are top songs. Joe certainly know how to handle ballads.

The best songs are "Into The Fire (not a cover of the Deep Purple track) and "Blood Money". These two wouldn't have done bad on a Rainbow album. The guitar solo in "Blood Money" by Karl Cochran just sounds like the Man in Black in his best days. The last track is a bonus track for the European market "Unfinished Bizness". On the Japanese release there's a different bonus track called "What I Can Do"

Unless you refer to JLT as the "Squeely One", just go and buy this album because you won 't get disappointed.

Releasedate: February 21, 2005 in both Europe (Frontiers Records) & Japan (Yamaha Music)

Listen to samples of all the songs:
- European version including bonus track "Unfinished Bizness"
- Japanese version including bonus track "What Can I Do"