Iain Ashley Hersey
The Holy Grail
Lion Music LMC157 - Released: November 11, 2005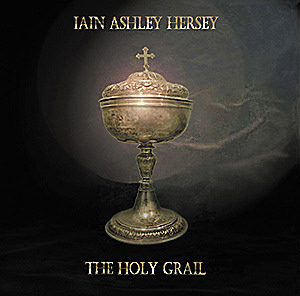 "The Holy Grail" is the second album and debut on Lion Music from American Classic Hard Rock Guitarist/Composer Iain Ashley Hersey and follow up to his worldwide acclaimed debut release "Fallen Angel" (Frontiers) in 1999.

Iain Ashley Hersey is a heavy, bluesy and melodic guitarplayer in the style of guitarists like Ritchie Blackmore, Jeff Beck and Jimi Hendrix and bands like Deep Purple, Rainbow, Led Zeppelin and Bad Company. Check his website and it becomes more than clear what his influences are. In his photo section there are pics of Iain in the company of Ronnie James Dio, Joe Lynn Turner, Graham Bonnet, Glenn Hughes and Stuart Smith. Iain also played on the track "The Road To Melnibone" on Stuart Smith's "Heaven & Earth". An album that also had Joe Lynn Turner and Glenn Hughes as guestmusicians.

Iain got the help of 4 different singers on this album. Most catching name in this quartet is ofcourse Graham Bonnet, the others are David "Swan" Montgomery (Led ZepAgain), Randy Williams and Carsten "Lizard" Schulz. Graham skills are still out of question, he's still a very powerfull singer. You can't go wrong with him. Also David "Swan" Montgomery is a superb singer. A bit in the vein of Doogie White.

The album kicks off with the songs sung by David "Swan" Montgomery. There are 3 songs with a very much Led Zeppelin meets Deep Purple feel; "Blood Kings", "In The Light" and "To The Sea". David is a great singer, known from Led Zeppelin tribute band Led ZepAgain. Other bands he was in are Tilt, Carrera and the Jonas Hansson Band

"Blink Of An Eye" is with Randy Williams on vocals. His voice is more AOR. This track is more commercial than the rest of the album. Still a very good song in the Rainbow 80's vein. Great track.

Carsten "Lizard" Schulz is most known from his vocals in Domain and he's also the singer of Rainbow/Purple/Whitesnake tribute band Mistreated. He did a cover of "Stormbringer" on the Tribute CD 'Blackmore's Castle Volume II'. He sings in the style of Glenn Hughes and Joe Lynn Turner. Fine singer! So it's no surprise that we get to hear some songs that are more in the style of Deep Purple and Rainbow. Great heavy rock with "Empty Planet", "Lost And Foolish" and "Calling For The Moon".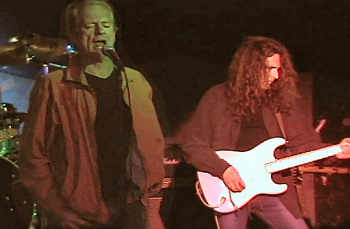 Before it's time for the songs with Graham Bonnet, there's first the instrumental "Toccato in D Minor". A well known classical tune, played with a very rough sound. Not played faster than the Yngwie speed of light method, although that's the first name that springs in mind when you hear this track, but played with much feel with the warm Strat sound. And only the Strat apart from some Hammond organ, nothing else!

"Going down" is the well-known bluesy classic track. It starts off with some very Rory Gallagher sounding Strat work and then there's Graham Bonnet. He can sing everything. Also this blues classic is no problem for him. Very powerfull vocals. And Iain sounds like a perfect cross between Blackmore and Gallagher. Great piano work in the middle as well. "Walking The Talk" is a typical Bonnet song. Great rock song, could have been on Rainbow's "Down To Earth". Last song with vocals is the titletrack "The Holy Grail". Another great song with excellent vocals by Graham and superb guitarwork by Iain.

The CD ends with a sensitive bluesy long instrumental with fusion overtones. It's in the Blackmore vein titled in German language, "Auf Wiedersehen". That means Goodbye. It's like Blackmore meets Gary Moore. And another excellent track to end this superb CD.

A few years ago Stuart Smith surprised the world with his brilliant "Heaven & Earth" album. Now it's time for Iain Ashley Hersey to do just the same. He plays amazingly well on this CD full of really great songs. The production is an excellent job, done by Pat Regan of Deep Purple, Rainbow and Blackmore's Night fame.

Rating: 5 out of 5


Iain Ashley Hersey: www.iainashleyhersey.com
Lion Music: www.lionmusic.com