Empire
Chasing Shadows
Metal Heaven
Promotion Copy - CD Release date is November 23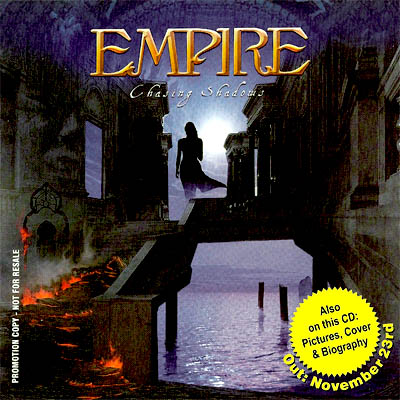 Doogie White keeps surprising us again and again with all the projects he's got involved in. There are ofcourse the more of less steady jobs with Cornerstone and Yngwie Malmsteen. But his name also pops up on other projects very frequently. And here's another one! Some time ago his name was all of a sudden mentioned for the new Empire CD. Empire is the brainchild of German guitarist Rolf Munkes. Neil Murray (ex-Whitesnake, ex-Black Sabbath) is the bass player since the start of Empire. The project released in 2001 it's first CD titled "Hypnotica" with some known names as guests like Mark Boals, Anders Johansson and Don Airey (ex-Rainbow, Deep Purple). In 2003 the 2nd CD "Trading Souls" came out. Tony Martin (ex-Black Sabbath) was by now the singer. Don Airey was again present. "Raven Ride" is the 3rd CD and was released last year. Tony Martin was again the singer on this album.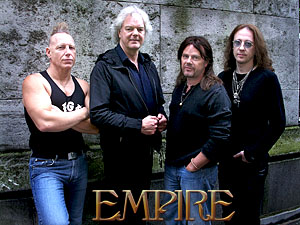 The 4th album "Chasing Shadows" will be out at the end of next month. Tony Martin is no longer the singer on this CD and no one less than Doogie White followed his footsteps. Doogie already told us that he's really happy and excited by this new Empire album: "I think the songs are very strong and personally I felt very creative during the writing. It could be my best vocal performance to date."

Besides Doogie, there's ofcourse Rolf Munkes on guitar. He was with Doogie on tour in April when his other band Razorback supported Cornerstone. Neil Murray is present on bass again and on drums we get Mike Terrana (Masterplan, Axel Rudi Pell), who also played on the Razorback CD but couldn't do the tour as he had other commitments with Masterplan.

The album brings us 10 European power-metal songs. The album starts with the great rockin' titlesong "Chasing Shadows" and keeps rocking till the closing track "The Rulers Of The World". On the way you'll find some great rockers like "Mother Father Holy Ghost" and "Angel And The Gambler". Overall there are no real highlights, but there are also no weak songs. You just get 10 great solid rock songs.

Rolf Munkes' heavy guitar sound is in the front of the mix with a powerfull backing by Neil Murray's pumping bass and Mike Terrana's heavy drums. And then there's Doogie White who delivers again a superb vocal performance. It's just as easy as that! Fine hardrock/european metal in the style of Rainbow's "Stranger in Us All" and Cornerstone, just a bit less finesse and somewhat heavier with Doogie White in the spotlights.