Cornerstone

In Concert
Massacre Records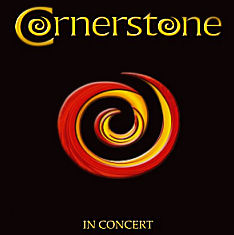 Cornerstone, the band with Doogie White on vocals, so far had 3 fantastic studio-albums out. After the in 2000 released "Arrival" they really set the record with excellent releases titled "Human Stain" (2002) and "Once Upon Our Yesterdays" (2004). Not that "Arrival" was a bad album, only Cornerstone really caught the attention with the latter two. They really go further where Rainbow's "Stranger In Us All" stopped all the fun for Ritchie Blackmore and Rainbow fans. Doogie also is involved in other projects like with Yngwie Malmsteen's Band. But Cornerstone is the cream on the cake for Rainbow fans. Early this year Cornerstone did about a dozen live gigs. Apart from the occasional live show, it was their first live shows together at all. And now we already have a double live CD of this tour.

So little live-experience as Cornerstone and then right away a live-album... So the questions that pops up right away are; is this not a bit early? Is this album any good? Well, it's just bloody excellent. We get 16 superb songs (plus the intro). There's 7 songs of both the "Human Stain" and "Once Upon Our Yesterdays" albums plus just the one from the "Arrival" debut album and last but not least there's a stunning version of Rainbow's "Black Masquerade". The Rainbow cover fits in perfectly with the Cornerstone songs.

This band really rocks, there's the awesome vocals of Doogie White, we hear the brilliant guitarist Kasper Damgaard, Rune Brink brings in some very good sounding keyboards and Steen Mogensen (bass) and Allan Sorensen (drums) are a very good and tight rhythm section.

The conclusion is obvious, this is an album that is smokin' and I only can recommended it very highly. There are no weak moments, the only disappointing bit is maybe the frontcover which looks pretty dull. There's also a videoclip with footage of the tour included on the 2nd CD.

The new Cornerstone studio album is expected sometime spring 2006. Can't wait!


CD 1
1. Intro
2. Welcome To Forever
3. Wounded Land
4. Future Rising
5. Passion Of Warfare
6. 21st Century Man
7. House Of Nevermore
8. When The Hammer Falls
9. Some People Fly
10. Once Upon Our Yesterdays - Guitar Solo

CD 2
1. Hour Of Doom
2. Singing Alone
3. Black Masquerade
4. Scream
5. Unchosen One
6. I'm Alive
7. Midnight In Tokyo
8. Video Clip (Data Track)






Rating: ***** [5 out of 5]