BLACKMORE'S NIGHT
BEYOND THE SUNSET - THE ROMANTIC COLLECTION
SPV 80000727 Promotional Copy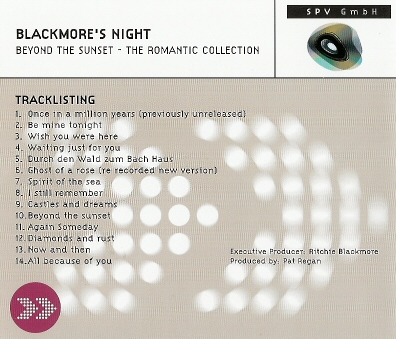 It's not clear why recordcompanies always bring us compilation albums. It could be a way of giving new fans a collection of the best songs to know the band for a low budget price. But in these days of downloading music on the internet, not necessary the illegal way as many online shops and recordcompanies offer mp3 samples, it has become a bit useless to bring out a compilation album. So to make it a bit more attractive you get a bonus in the form of a new song, a multimedia track or even a bonus dvd.

Here we have another Blackmore's Night compilation. We've seen some before, like "Minstrels And Ballads" (Released in Japan only, 2001) and "The Best Of Blackmore's Night" (Edel, 2003). That last one was nothing else than 17 songs from the first two albums put together on a cheap compilation by their former recordcompany Edel. So now we've got this compilation which is called "Beyond The Sunset - The Romantic Collection". As the title indicates it's a collection of their more quiet material. This promotional copy, which don't have the cover artwork yet, starts off with the only new song "Once In A Million Years". It's a very soft ballad. You would think this should fit very well on a Candice Night solo album. But with all of the Blackmore's Night albums in mind it's nothing more than very average at best. It could have been a nice Christmas Single, but the band already have another song recorded for that purpose titled "Christmas Eve". For the rest it's all known material of their 4 studio albums. It says there's a new re-recorded version of "Ghost Of A Rose", but you could have fooled me, this is very very similar to the original. For the rest there's the wellknown tracks like "Durch den Wald zum Bach Haus", "Wish You Were Here", "I Still Remember" & "Diamonds And Rust".





More interesting is ofcourse the Bonus material which only will be added to the (limited) version. There's an audio Bonus CD with 3 Christmas songs which are all very sweet ballads. It starts off with "Emanual", there's some nice acoustic guitarwork from Ritchie here. "We Three Kings" comes closer to the Blackmore's Night sound we knew from their more quiet songs. The last track is "Christmas Eve", a very commercial mellow ballad with jinglebells sounds and all. This could become all of a sudden a hitsingle in a few months time when it's Christmas time. Now when it's still summertime with temperatures of over 25º C (that's about 80º F) it's a bit weird listen. Just like "Once In A Million Years" from the compilation album all these songs wouldn't misfit on a Candice Night solo album. But if this is the new direction Blackmore's Night is going in, it could make them loose more and more fans from Ritchie's past. On the other hand it also might open a market with many new fans.

The most interesting bit of it all is ofcourse the Bonus DVD. It starts of with the audio menu in which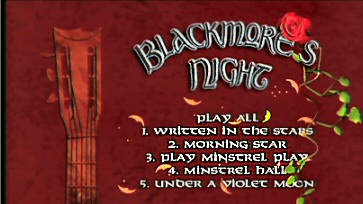 you can choose for PCM Stereo, Dolby Digital 5.1 or DTS. Followed by the song menu in which you can choose to play which one of the 5 tracks or play them all. The DVD tracks are recorded in Schloss Solingen on July 25, 2002. It kicks off with Ritchie on his guitar synth in "Written In The Stars" and Candice singing on the balcony of one of the towers. "Morning Star" is next with a nice violin solo. "Play Minstrel Play" with a nice flute solo and the great instrumental "Minstrel Hall" follows. And then there's already the last song of this Bonus DVD "Under A Violet Moon". There's a fine violin and organ solo in the instrumental part of the song. The picture is quite good, although Ritchie is not that often to be seen. All the other members of the band are shown quite regular with Candice ofcourse most in the spotlights. The sound is pretty good, but you get the impression that they've touched it up quite a bit in the studio. Mind you, this was filmed more than two years ago, there was time enough for it. Anyway all in all it makes this DVD a pretty nice and enjoyable bonus.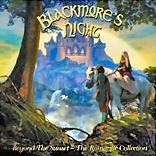 Beyond The Sunset - The Romantic Collection will be released on September 20

1. Once in a million years, 2. Be mine tonight, 3. Wish you were here, 4. Waiting just for you, 5. Durch den Wald zum Bach Haus, 6. Ghost of a rose, 7. Spirit of the sea, 8. I still remember, 9. Castles and dreams, 10. Beyond the sunset, 11. Again Someday, 12. Diamonds and rust, 13. Now and then, 14. All because of you

Bonus DVD:
1. Written in the stars, 2. Morning star, 3. Play minstrel play,
4. Minstrel hall, 5. Under a violet moon

Bonus CD Christmas Songs:
1. Emanuel, 2. We Three Kings, 3. Christmas Eve.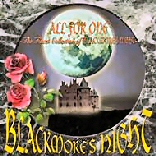 All For One - The Finest Collection will be released on September 1
by Yamaha Music in Japan only.

1. All For One, 2. Written In The Stars, 3. All Because Of You, 4. Writing On The Wall, 5. Under A Violet Moon, 6. Shadow Of The Moon, 7. Gone With The Wind, 8. Way To Mandelay, 9. Spanish Nights, 10. No Second Chance, 11. Rainbow Blues, 12. Waiting Just For You, 13. 16th Century Greensleeves (live), 14. All Because Of You, 15. Once In A Million Years, 16. Way to Mandalay (video bonus track).











---






SPV Press Report


BLACKMORE'S NIGHT

BEYOND THE SUNSET - THE ROMANTIC COLLECTION

STREET DATE: SEPTEMBER 13 - FORMAT CD OR CD/DVD

FILE UNDER: ROMANTIC POP

LABEL: SPV/STEAMHAMMER

DISTRIBUTED BY: ZOMBA DISTRIBUTION




OVERVIEW:

Ritchie Blackmore is respected and admired the world over, not only for his exceptional talent as a guitarist and composer; his consistent approach to his own artistic ideals has also earned him the respect of both his colleagues and the media. In the early Seventies, Blackmore played the toughest rock music of that time with Deep Purple and later went on to devote himself to a more melodious style with Rainbow. Since the end of the Nineties, he has been concentrating on a contemporary form of medieval music that had already been shining through in numerous Rainbow compositions. "For me, that's the most wonderful kind of music. All those fabulous melodies, great arrangements and mythical atmospheres," he says. "I enjoyed my time with Deep Purple and Rainbow, but whenever we play one of our shows with Blackmore's Night, band, music and audience become one in a unique way. It's impossible to explain the feeling that runs through a musician at times like that. It's absolutely awesome." Beyond The Sunset - The Romantic Collection, a compilation of the most beautiful BLACKMORE'S NIGHT ballads to date, is a kind of summary of the first four studio recordings by Blackmore and his partner, Candice Night.

"We call this record our 'wedding album', because friends and fans have told us that they play these songs as background music at weddings," Candice Night explains the idea behind Beyond The Sunset. "Ritchie and I have played these songs ourselves at friends' weddings. They've always told us that the quiet material is perfect for those occasions." The collection features a total of fourteen tracks, among them a re-recorded version of 'Ghost Of A Rose' and emotional numbers like 'Be Mine Tonight', 'Spirit Of The Sea', 'I Still Remember' or 'Diamonds And Rust'. The album is rounded off by a remix of 'All Because Of You' and the brand-new, previously unreleased 'Once In A Million Years', which is special to Blackmore. "I first discovered this wonderful melody years ago, listening to a radio station called Deutsche Welle," Blackmore remembers. "I was fascinated, kept humming the melody for days but couldn't figure out who had written the song. I'd almost given up hope, when I suddenly heard the song during a TV documentary. I recognised it immediately. Reading the credits, I found out that the artist's name was Angelika Milster." Blackmore used the music by Milster, previously a performer in the German version of the stage musical, 'Cats'. He and Candice wrote new lyrics and recorded 'Once In A Million Years' in a style that suits the band's emotional atmosphere perfectly.

Beyond The Sunset comes with an additional bonus DVD featuring five live tracks, recorded at a show in Solingen - a foretaste of the lavish BLACKMORE'S NIGHT DVD due to be released in autumn 2004.

If you want to find out more about BLACKMORE'S NIGHT, their albums to date and their current tour plans, visit their homepage at: www.blackmoresnight.com