RAINBOW
Sensitive to Light - The Rainbow Story
by Martin Popoff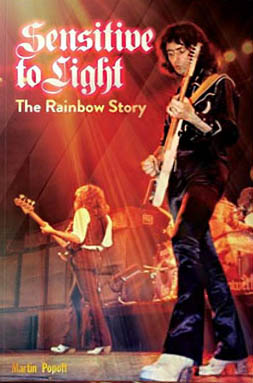 In 2005 Martin Popoff wrote an excellent book titled "English Castle Magic". The book took the Rainbow history in an album by album, song by song form. Martin has written a follow up now. "Sensitive to Light - The Rainbow Story" is a massive overhaul, update and expansion of sold out "English Castle Magic". Although you might find a copy on one of the many stores on the internet or in a second hand shop. For those who already read Martin's first book on Rainbow there will be many known stories by now, still there has been added a lot more stories and comments by many Rainbow members from the past.

So we go again through the Rainbow history in an album by album, song by song form. Every song has it's own story and many ex-Rainbow members let there light shine over them and give away many not known stories behind the songs. Martin has interviewed Ronnie James Dio, Jimmy Bain, Tony Carey, Bob Daisley, Roger Glover, Joe Lynn Turner, Bobby Rondinelli, Doogie White, and also Candice Night. Ritchie's quotes have been taken from various interviews he did through the years like in Circus and Sounds magazine. Most of them can be found in full on this website.

There is a good bit of input by many of the members who were in Rainbow in the past. Many insights on how the songs were written and recorded. A lot of the time they are clarifying, sometimes though some members seems to get carried away a bit, like Joe Lynn Turner who seems to be rambling on sometimes a bit too much. The singer sounds at times like the band was called Joe Lynn Turner's Rainbow.

On one of his stories in the studio Roger Glover replied with "This is news to me, I don't know what he's talking about". In this light it might become a bit more understandable why Ritchie skipped his name as the singer for both the 1995 and 2016 "reunions".

It's a pity that Bent Out of Shape is considered in Martin's opinion as Rainbow's real last studio album. Stranger In Us All, is said "in some respects, it shouldn't be counted" as a 'real' Rainbow album. Just like Ritchie's 2016 return with another version of Rainbow. I'm sure many fans have a different opinion even though the mystery of the 70's/80's version of Rainbow is perhaps lacking now.

That said, this books offers a lot of good stories on Rainbow and every song they recorded. "Sensitive to Light" is a must for all Rainbow fans, even if you have read "English Castle Magic" it's worth to get yourself a copy. The book has two times four pages of photos (by Rich Galbraith and Martin Popoff) and some memorabilia (like posters and adverts).