RAINBOW
Rainbow On Stages

by Shinko Music Entertainment
(1SBN978-4-401-65108-5)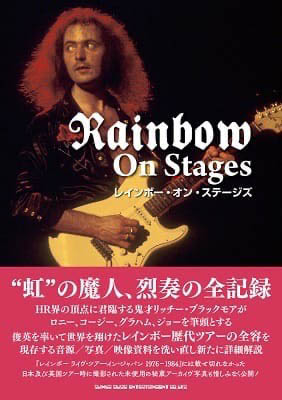 In Japan there has always been above average interest in everything Ritchie Blackmore has ever done. Just like re-releases and bootlegs, numerous books and magazines have been published over the years that have hardly been for sale outside of Japan. Although interesting for Rainbow fans, the language barrier and high import prices will be likely the main reason for this.

Shinko Music Entertainment has released on October 6, 2021 such a new book to celebrate the 45th anniversary from Rainbow's first performance in Japan (1976).

The book in A4 format has 368 pages and has only photos on the first 100 pages. These are not the well known photos that you see so often. These photos -on and off stage- are mainly from Japanese concerts during 1976 to 1984 by professional Japanese photographers Watal Asanuma, Hiroyuki Yoshihama and Koh Hasebe.

These photos probably have been (partly) published in Japanese magazines like Young Guitar and Music Life, but not seen much in Europe and the States or on the internet. There are many photos I haven't seen before at least. There are also some photos of Rainbow's famous show at the first Monsters of Rock Festival at Donington and some of the 2016-2019 European shows have been included.

The second part of the book has a list of all known Rainbow's concert dates with many setlists, as well as a section dedicated to Ritchie's concert equipment on every tour.

Apart from the venues and cities plus the songtitles all text is in Japanese. Also several black & white photos are included on these pages.




The setlists are not complete, only the known ones are listed and by the looks of it they used especially, if not only, bootleg albums for the information. Also the reviews added are put together of listening to bootlegs.

In the foreword the writer tells he never saw Rainbow till 1984 and he got interested in Ritchie Blackmore after seeing him perform with Deep Purple in 1985 in Japan. With the help of other fans and sources this book was put together.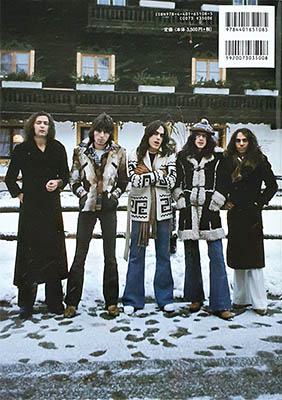 For Rainbow insiders it's obvious bootlegs are used for all the information on the live dates, even though all the text is in Japanese. For example they do not list the encores in Rotterdam 1980. For a fact I know the guy who taped this ran out of tape and was not able to record the encores. That is why he did not recorded Love's No Friend in 1981, only to be sure to have enough tape left for the encores then.

Also the very detailed classical pieces Ritchie played on Japanese shows points to info taken from bootlegs.

So despite it is a very nice list for die-hard fans and completists it does not tell anything new. Still it's nice to have all tour dates plus many setlists published in a book that is pretty much complete as far as possible.

So the conclusion is that this book is not essential but it's still a very nice book for Rainbow fans. And that's only for the photos and tourdates plus setlists unless you understand the Japanese language.

If you take off the book cover sheet you see the front has an off stage photo of Cozy Powell and on the back it's Joe Lynn Turner off stage. Ritchie will have his thoughts about this.....

The book is priced around 25 euros in Japan, but to order it there the price will be likely to get more than doubled by shipping and customs costs for European and American fans. It's also offered on eBay for high prices.


You can order "Rainbow On Stages" at CD Japan or on eBay