A Hart Life

by Colin Hart & Dick Allix
Wymer Publishing ISBN 978-0-9557542-7-2 / Released: November 2011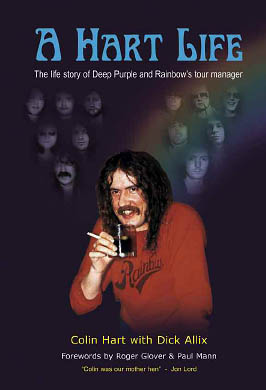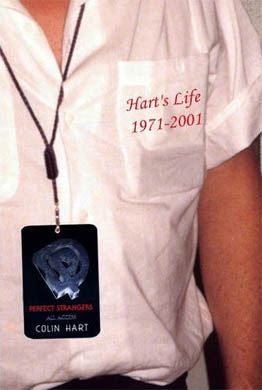 Colin Hart is known as tourmanager of Deep Purple and Rainbow. He was a roadie for Purple in the early 70's during their most successful period. When Blackmore left in 1975 to form Rainbow he followed the guitarplayer and continued as Rainbow's tourmanager. In 1984 when Blackmore disbanded Rainbow for the Deep Purple reunion, Colin resumed his role with these rock giants until 2001.

The book was originally released in Japan in 2008 under the title "Between A Rock & A Hard Place". Now it's finally available in English. This edition is co-authored by Dick Allix with forewords by Roger Glover and (Hart's nephew) Paul Mann. The story is edited by Jerry Bloom of 'More Black Than Purple' fame.

Colin has a very interesting story to tell. We here have a book of someone who was as close to the band as anyone can get. You get the stories out of the first hand and they are good. It gives a great look inside the involvement of setting up tours, transport and other arrangements for a major rockband. You also get all the Blackmore pranks, auditions and other stories including the tantrums of Ritchie and manager Bruce Payne. Colin is at times hard for certain people within the band and organisation, although he speaks highly of them all.

The book has many stories that haven't been told before. And there are a bunch of rare photos from Colin's personal collection. Not all in top quality but they're rare and not seen before. We only can say this is a must read for any Rainbow and Deep Purple fan.

The book comes also in a deluxe slipcase version with a bonus book. The slipcase has a front that shows nice collection of backstage, crew & VIP passes while the back has tickets and concertposters by both Rainbow and Deep Purple. The bonusbook has 80 pages and includes a reproduction of Deep Purple's 1974 Burn tour program (Colin was at the time ELF's tour manager) plus post 1985 photos, memorabilia and other artefacts from Colin's personal collection. Unfortunately much of Colin's personal collection of earlier Deep Purple and Rainbow years got lost in a house flood.