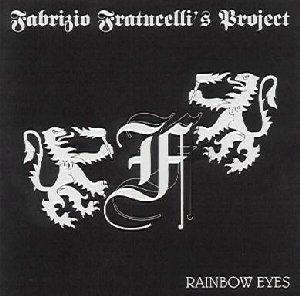 Fabrizio Fratucelli's Project

Rainbow Eyes

FFPCD001

Tracklist

1. Man On The Silver Mountain

2. Sixteenth Century Greensleeves

3. Kill The King

4. Still I'm Sad

5. Stargazer

6. Temple Of The King

7. Long Live Rock'n'Roll

8. Rainbow Eyes

Fabrizio Fratucelli's Project:

Guitar: Fabrizio Fratucelli

Vocals: Piero Leporale

Bass: Riccardo Rosa

Keyboards: Stefano Vacchetta

Drums: Alberto Fratucelli

Recorded and mixed between April 2000 and May 2001

Another Rainbow tribute CD. This one is a homestudio project by a dedicated Ritchie Blackmore fan from Italy. When you listen to this cd it's obvious it wasn't recorded in a major studio. No, this one was made at home on small recording equipment. So it has it's limitations. But is it bad? No, not at all considering the circumstances Fabrizio did a great job. He plays exactly like The Man In Black did it on the original Rainbow albums. The drums sound is ok, but not like they should have sound in a good studio. It's not annoying though. The weakest point are the vocals, but trying to step in the shoes of the little man with the huge voice, Ronnie James Dio, is an (almost) impossible job.

Conclusion: this is a nice tribute cd, it doesn't add anything to the originals, no new arrangements, even not a modern today sound, but it's worth to give it a listen. If you're a critical Rainbow fan that doesn't wanna know anything about the other tribute cds (Catch the Rainbow, Niji Densetsu) than forget about this one too, you won't like it. However if you're a dedicated fan who likes the other tributes you might enjoy this one.

On the website of Fabrizio Fratucelli, which is in Italian by the way, there are five MP3 Samples of the songs on this album. Even it's in Italian you can't miss the samples. So you can check them out yourself. And if you like them you can order the CD straight from the man himself. It's not for sale in any recordshop as far as I know.





To find out a bit more about this tribute CD we asked Fabrizio some questions about it

You only did songs from the Dio era. Why? Don't you like the songs with the other singers. Or is it because you like to play these songs best?

This CD is a tribute to the greatest rock guitarist of all times, RITCHIE BLACKMORE, and to the group which has represented him in the best way, the RAINBOW. In my opinion, the period with Dio as a singer, in particular, is the best one as far as compositions are concerned; nevertheless during my concerts I perform Rainbow songs of all periods and from all the LPs.

According to the inlay you recorded and mixed the cd between April 2000 and May 2001, that's more than a year. How come it took you that long?

It took me such a long time to record this CD because I was not in a hurry, seeing that it's my own production. Moreover, the other musicians who played with me in this CD have also other bands, so it's hard to find some time for the recordings.

Did you recorded the cd in one or more studios, or do you own yourself a studio or what?

I used my small home recording (as you can see very vintage means!)... I'd no money for a big production, anyway the final result echoes the acoustics of the seventies.

How was the response so far on the this cd?

I'm really pleased about the fact that many Ritchie Blackmore fans in Italy have appreciated my work, so my CD has been welcome and I hope other Ritchie Blackmore and Rainbow fans outside Italy will like it!

You thanked Doogie White on your "thanks to" section. Why?

I've thanked Doogie through e-mail. I've told him about my CD and he's asked me to let him listen to it.

Do you have contact with Ritchie or any of the other Rainbow members?

Unfortunately, I've contacted neither Ritchie Blackmore nor the other Rainbow members yet but I hope I will manage to do it in the future.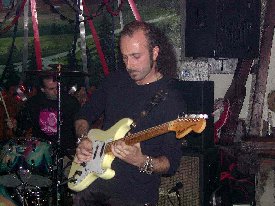 Do you have any more plans to cover and release some more Rainbow or Blackmore material in the future?

I'd like to realize another CD live as a tribute to Rainbow but it's only an idea, so nothing imminent.

Do you play live concerts a lot? If so, only in Italy or also other countries?

Yes, I play live concerts a lot, even because, besides my project band, I play with another band tribute to Deep Purple (60/70 Rock Band). With this band I've also had the chance to play with Ian Paice, Deep Purple's drummer. Unfortunately, I play only in Italy, even if I'd like to perform in other countries but excessive expenses do not allow us to travel so far.

How started your musical career? In which bands you have been and what are you doing these days?

My musical career started when I was 15, after having listened to Deep Purple's Made in Japan …….. a real shock !!!!! From that moment on, playing guitar and rock music is my goal. The first band where I played was called PURPLE ANGELS, both we covered and wrote our songs. We recorded a CD, too, but then we split because of musical differences. In these days I'm preparing a Project's tour.

What is/are your favorite Rainbow song(s)?

There are lots of Rainbow songs that I like but if I have to choose I'll say GATES OF BABYLON, the central guitar solo is a real master work!

To me, the band that represents Rainbow in the best way is the one of RISING …….. Great musicians and great mood !!!!

I guess people might want to get there hands on a copy of your CD. How can they order it?

In order to have my CD, people can contact me through my e-mail address: fabryf68@libero.it