Barnabas Sky
What Comes To Light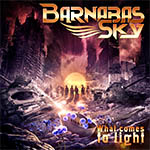 Tracks:

01. What Comes To Light
02. We are electric
03. Till My Dying days
04. Circus Of Delight
05. Take a ride
06 A Dying Song
07 Isolation
08. Grant Me A Wish From Heaven
09. One Or The Other
10. Seven Wonders
11. No Tomorrow

Line up:

Markus Pfeffer - Guitar
Danny Vaughn - Vocals
Lee Small - Vocals
Roy Cathey - Vocals
Dan Reed - Vocals
Carsten 'Lizard' Schulz - Vocals
Deibys Artigas Venegas - Vocals
Jesse Damon - Vocals
Alan Tecchio - Vocals
Dirk Kennedy - Vocals
Doogie White - Vocals (track 4)

Record Label / Year of Release:

Pride & Joy Music 2022

Notes:

After the first album of Markus Pfeffer's Barnabas Sky called "Inspirations" in 2021, now the second Barnabas Sky-album "What Comes To Light" is mastered by Rolf Munkes at Empire Studios, with a planned release date on January 20th, 2023.