Alcatrazz
Take No Prisoners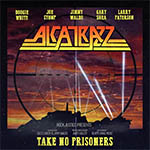 Tracks:

1. Little Viper
2. Don't Get Mad…Get Even (feat. Girlschool)
3. Battlelines
4. Strangers
5. Gates of Destiny
6. Alcatrazz
7. Holy Roller (Love's Temple)
8. Power in Numbers
9. Salute the Colours
10. Bring on the Rawk

Line up:

Doogie White - Vocals
Joe Stump - Guitars
Gary Shea - Bass
Jimmy Waldo - Keyboards
Mark Benquchea - Drums

Record Label / Year of Release:

Silver Lining Music 2023

Notes:

Alcatrazz are determined to make up for lost time, roaring forwards at warp factor 10 to deliver Take No Prisoners, their sixth studio album and the third in three years. Comprising of ten cracking, charismatic tracks, with each containing the unique fusion of classic American rock with the full grain hard-rocking attitude of British metal, Take No Prisoners sees Alcatrazz energetically soaring and exploring melodic progression with road-warrior riffs.

Comprised of Doogie White (vocals), Joe Stump (guitars), Jimmy Waldo (keyboards), Gary Shea (bass) and Larry Paterson(drums), and with Giles Lavery and Waldo producing, Take No Prisoners is a loudly, and proudly classic rock album which draws on the Alcatrazz traditions of technically excellent screaming guitars, thunderous rhythm and the sort of vocals and overall aura that evoke prime Dio and Rainbow.