Mark Zyk
In Blues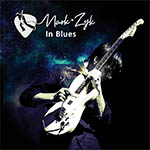 Tracks:

1. Warming Memories
2. Run Through The Fire
3. Late In The Evening
4. Ain`t Got No Money
5. Ritchie's Blues
6. Evening Sun Flooded Landscape
7. Black Tea
8. Sounds Of Guitars

Download only bonus tracks:

1. Warming Memories (Instrumental Version)
2. Black Tea (Alternative Drums And Only Guitar)
3. Slow Down
4. Rainy Days
5. Fly To The Moon

Line up:

Mark Zyk - guitar, bass, piano, hammond organ
Uwe Pattberg - bass

guests:

Doogie White - vocals (track 1, 4)
Florian Pritsch - organ, keyboards (track 7)
Maik Keller - bass (track 2)

Record Label / Year of Release:

Self Release 2021

Notes:

After the first, recommendable album "Syncretism" (2020), which is more of a calm instrumental album with a lot of acoustic but also electric guitar, Mark Zyk has put away the acoustic with his second CD "In Blues" and is devoting himself to his Stratocasters (Plural!) and the blues in many forms.

Needless to say, he doesn't deny his fondness for Ritchie Blackmore on this album either. Not only stylistically, but above all in the sound, one hears the "Man in Black" sound very often. But he does not copy Blackmore, but skilfully quotes Ritchie's play in many places. The guitar is incredibly varied and versatile, both in rhythm and in solo, but also pleasantly individual. Many breaks and tempo changes make the sometimes quite long songs as varied as they are entertaining.

In addition to the electric guitar, Mark also plays the piano and Hammond. He also arranged the drums and some strings. Uwe Pattberg plays bass and his former Demon's Eye colleagues Maik Keller and Florian Pritsch are guests on two songs. As a further highlight, Doogie White (from Rainbow, Michael Schenker, Demon's Eye) sings the two great vocal songs. All other tracks are instrumental.

Although a massive Hammond supports many of the songs in the harmonies, it is clearly a guitar album. With all the echoes of Blackmore, Uli Jon Roth, B. B. King, Gary Moore, Eric Clapton, Rory Gallagher, Jimmy Page and Jimi Hendrix - Mark Zyk shows that despite all its versatility, his style has its own character.