Alcatrazz
V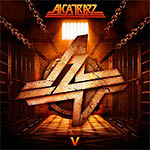 Tracks:

1. Guardian Angel
2. Nightwatch
3. Sword Of Deliverance
4. Turn Of The Wheel
5. Blackheart
6. Grace Of God
7. Return To Nevermore
8. Target
9. Maybe Tomorrow
10. House Of Lies
11. Alice's Eyes
12. Dark Day For My Soul

Line up:

Doogie White - Vocals
Joe Stump - Guitars
Gary Shea - Bass
Jimmy Waldo - Keyboards
Mark Benquchea - Drums

Record Label / Year of Release:

Silver Lining Music 2021

Notes:

Mighty Los Angeles-born, guitar-driven, heavy metal icons, Alcatrazz, have announce the release of their fifth studio album, aptly titled "V", which is set for release via Silver Lining Music on October 15th, 2021.

In advance of the release of "V", Alcatrazz unveils a new single/video, "Sword Of Deliverance," on July 23 and as far as lead statements go, it's one hell of a reminder that when Alcatrazz is firing on all cylinders with all guns blazing, they are a vital part of any metalhead's day. And there is little doubt that Alcatrazz 2021, featuring Doogie White on vocals, founding members Jimmy Waldo and Gary Shea on keyboards and bass respectively, Mark Benquechea on drums, and Joe Stump on guitar, are the chemistry causing the musical fire.

And just in case you're wondering what "V" stands for: Alcatrazz's fifth studio album, of course... but it also stands just as resolutely for victory; the victory that sees Alcatrazz 2021 stronger than ever despite all the odds.