Tank
Re-Ignition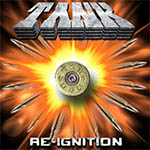 Tracks:

1. Walking Barefoot Over Glass
2. Power Of The Hunter
3. Just Like Something From Hell
4. (He Fell in Love With A) Stormtrooper
5. This Means War
6. Shellshock
7. W.M.L.A. W.M.L.A.
8. Honour And Blood
9. Blood, Guts And Beer
10. Echoes Of A Distant Battle
11. The War Drags Ever On
12. Valley Of Tears (with Doogie White on Vocals)
13. Shell Shock (with Jimmy D on Guitar)

Line up:

David Readman - vocals
Mick Tucker - guitars
Cliff Evans - guitars
Randy van der Elsen - bass
Bobby Stokesky - drums

guests:

Dani Filth - vocals
Tom Angelripper - vocals
Doogie White - vocals
Jimmy D - Guitar

Record Label / Year of Release:

Rubicon Music Japan 2019

Notes:

Bonus track " Valley Of Tears" with Doogie White on Japan version - British metallers TANK released their new album, "Re-Ignition", on April 26 via Cleopatra Records (Rubicon Music in Japan).

The LP is a tribute to the early days of TANK and features 11 classic TANK songs chosen from the first four albums which were originally released in the early '80s: "Filth Hounds Of Hades", "Power Of The Hunter", "This Means War" and "Honour And Blood"