Star One
Revel In Time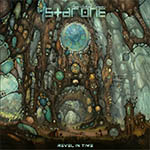 Tracks:

1. Fate of Man
2. 28 Days (Till the End of Time)
3. Prescient
4. Back from the Past
5. Revel in Time
6. The Year of '41
7. Bridge of Life
8. Today Is Yesterday
9. A Hand on the Clock
10. Beyond the Edge of It All
11. Lost Children of the Universe

Line-Up:

Arjan Lucassen - guitars, bass, keyboards, vocals
Ed Warby - drums
Peter Vink - bass
Erik van Ittersum - solina strings
Steve Vai - guitar
Michael Romeo - guitar
Timo Somers - guitar
Ron Bumblefoot Thal - guitar
Adrian Vandenberg - guitar
Joel Hoekstra - guitar
Marcel Singor - guitar
Gary "Garyeon" Wehrkamp - guitar
Jens Johansson - synthesizer (track 6)
Lisa Bella Donna - synthesizer
Alessandro Del Vecchio - vocals, synthesizer
Joost van den Broek - hammond solo
Lisa Bella Donna - synthesizer
Brittney Slayes - vocals
Marcela Bovio - vocals
Floor Jansen - vocals
Joe Lynn Turner - vocals (track 6)
Roy Khan - vocals
Tony Martin - vocals
Damian Wilson - vocals
Russell Allen - vocals
Michael Mills - vocals
Ross Jennings - vocals
Jeff Scott Soto - vocals
Brandon Yeagley - vocals
Dan Swanö - vocals
Will Shaw - vocals
Wilmer Waarbroek - vocals
Mike Andersson - vocals
John Jaycee Cuijpers - vocals
Irene Jansen - vocals, backing vocals
Macela Bovio - vocals, backing vocals

Record Label / Year of Release:

InsideOutMusic 2022

Notes:

Arjen Lucassen (Ayreon) is back with a new Star One album titled Revel In Time. The new album comes more than 10 years since the previous release and is due out on February 18, 2022 on InsideOutMusic.

Revel In Time will be available for pre-order on December 17th and it will come as Ltd. 2CD Digipak, Ltd. Deluxe 3CD+Blu-Ray Artbook (incl. a poster of the cover artwork), and as 180g Gatefold 2LP (incl. the album on CD & an LP-Booklet).

CD 2 features alternate versions of the same songs as CD 1, but with different vocalists. Also available will be a 5.1 mix, a high-res audio version, and an exclusive, hour-long Behind the Scenes video, on the Blu-ray included in the Artbook.