Joe Lynn Turner
Belly Of The Beast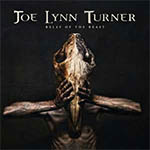 Tracks:

1. Belly of the beast
2. Black sun
3. Tortured soul
4. Rise up
5. Dark night of the soul
6. Tears of blood
7. Desire
8. Don't fear the dark
9. Fallen world
10. Living the dream
11. Requiem

Line up:

Joe Lynn Turner - vocals

Record Label / Year of Release:

Music Theories Recordings 2022

Notes:

Legendary hard rock singer Joe Lynn Turner and Music Theories Recordings / Mascot Label Group have announced the global release of his new album, "Belly Of The Beast", on October 28.

The wildest times call for the freest of voices. After selling millions of records, playing to countless fans, and fronting some of the most influential rock bands in history, award-winning songwriter and vocal dynamo Joe Lynn Turner speaks his mind as loudly as possible on his eleventh full-length offering and Mascot Label Group debut, "Belly Of The Beast". Joining forces with producer Peter Tägtgren,the New Jersey-born powerhouse conjures up the kind of heavy metal that not only makes you throw your fist in the air, but also makes you think.

"'Belly Of The Beast' is a phrase we've heard over and over again in history," he observes. "You can trace the cults and corruption all over the world back to prophecies in the Bible. It feels like it's coming to fruition these days. When you look at the book of Revelation, there it is. I've always dipped into esoteric knowledge, hermeticism, occultism, Bible research, eclectic philosophy. I've been fascinated with discovery of hidden mysteries. We are in a true spiritual war right now. It's good versus evil. We've all got an angel on one shoulder and a devil on the other. We're in the belly of the beast, trapped in the system, and there's no way out of it. The album addresses this."