Sunstorm
The Road To Hell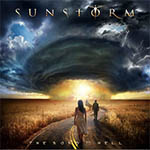 Tracks:

1. Only The Good Will Survive
2. The Road to Hell
3. On the Edge
4. Blind the Sky
5. My Eyes on You
6. Future to Come
7. Everywhere
8. Resurrection
9. Calling
10. State of the Heart
11. Still Fighting

Line up:

Joe Lynn Turner - lead vocals
Alessandro Del Vecchio - Hammond organ, keyboards, backing vocals
Simone Mularoni - guitars
Nik Mazzucconi - bass
Edo Sala - drums

Record Label / Year of Release:

Frontiers Records 2018

Notes:

Any hardcore fan of hard rock will certainly be no stranger to the story of Joe Lynn Turner's career. From his early days with Fandango to his successful stints fronting Rainbow, Deep Purple, and Official Yngwie Malmsteen and through his heralded solo career, the New Jersey-born singer has had his vocal talents on display for decades now.

Joe Lynn Turner says, "The key to a great song is in the writing, performance, melody and lyrics. Anyone who loves melodic hard rock will not be disappointed with the first song! Personally, I love the positive message that it conveys to the listener...and the chorus is extremely memorable...The music is tight and compelling and played brilliantly. Turn it up loud and enjoy a great kick off to a rocking summer!!!"

Years ago, Turner got in touch with Frontiers' President Serafino Perugino and after discussions between the two, the idea of unearthing some classic melodic rock gems to craft the definitive Joe Lynn Turner AOR album came about. This brought about the release of the first Sunstorm album in 2006, and then came "House of Dreams" in 2009, "Emotional Fire" in 2012, and the definitively more hard rocking "Edge Of Tomorrow" in 2016.

The new album, "Road To Hell", once again featuring production from Hardline's Alessandro Del Vecchio and guitars by prog metaller titans DGM's Simone Mularoni, continues in the same hard rock direction that was started on "Edge Of Tomorrow" and that JLT's vocal talents shine so brightly in when performing this style.