Tony Martin
Thorns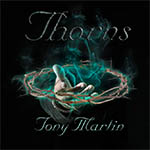 Tracks:

01. As The World Burns
02. Black Widow Angel
03. Book Of Shadows
04. Crying Wolf
05. Damned By You
06. No Shame
07. Nowhere To Fly
08. Passion Killer
09. Run Like The Devil
10. This Is Your Damnation
11. Thorns

Line up:

Tony Martin – Vocals
Scott McClellan – Guitars
Magnus Rosén – Bass
Danny Needham – Drums
Greg Smith – Bass

Record Label / Year of Release:

Battlegod Productions 2022

Notes:

The year 2022 is off to a fantastic start for the world of Heavy Metal, thanks to the upcoming release by ex-Black Sabbath front-man Tony Martin – Thorns on Battlegod Productions. Sabbath fans will debate who was the best singer for Black Sabbath until the end of time, though it should be remembered that Tony Martin held the job for 10 years, second only to Ozzy Osbourne.

The release has been long anticipated after Martin's last solo effort in 2005 titled Scream. Tony Martin has co-written the album with guitarist Scott McClellan, recruiting the formidable talents of Danny Needham (Venom) on the drums, Magnus Rosén (ex-Hammerfall) on bass guitar, and Greg Smith on bass guitar who performed with Alice Cooper, Rainbow, Blue Öyster Cult to name a few.