Renaissance Rock Orchestra
A Song Of Hope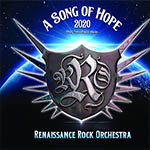 Tracks:

1. In My Lovin' Arms
2. Here We Are Again
3. Circus Life
4. The Universal Dance
5. A Song of Hope

Line up:

Michael James Romeo – Guitar
Toni Aleman – Guitar
Christian Brady – Guitar
Mark Robert Boals - Vocals
Brian Tichy - Drums
Greg Smith - Bass
Gregg Fox - Keyboards

Record Label / Year of Release:

Gregg Fox Music 2021

Notes:

Keyboardist Gregg Fox is the creator, composer and keyboardist for The Renaissance Rock Orchestra.

RRO delivers melodic, technically brilliant, and dynamic music that takes you through time and space for a musical experience beyond mere imagination. With influences from bands such as Yes, Dream Theater, Symphony X and Trans-Siberian Orchestra, RRO has created a powerful symphonic-rock sound, combining elements from the classical, prog and metal elite — forging them into their own shimmering blade of sonic metal.