Tyketto
Strength In Numbers Live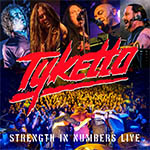 Tracks:

1. Inherit The Wind
2. Meet Me In The Night
3. All Over Me
4. Catch My Fall
5. The End Of The Summer Days
6. Wait Forever
7. Ain't That Love
8. Write Your Name In The Sky
9. Why Do You Cry
10. Rescue Me
11. The Last Sunset
12. Standing Alone
13. Strength In Numbers

Line up:

Danny Vaughn - Vocals, Guitar
Chris Green – Guitar
Ged Rylands – Keyboards
Greg Smith – Bass
Michael Arbeeny - Drums
Record Label / Year of Release:

Frontiers 2019

Notes:

Tyketto will release "Strength In Numbers Live" on November 8, 2019.
More details, pre-orders, and a song release coming in a few weeks.....