Axel Rudi Pell
Ballads VI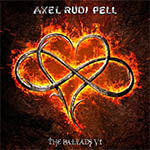 Tracks:

1. Revelations
2. Diamonds And Rust
3. Morning Star
4. Dust In The Wind
5. Hidden Secrets
6. Gone With The Wind
7. She's A Lady
8. Room With A View
9. Fly With Me
10. As Blind As A Fool Can Be
11. I Put A Spell On You
12. Beyond The Light
13. Quarantined 1

Line-Up:

Axel Rudi Pell - Guitars
Johnny Gioeli - Vocals
Ferdy Doernberg - Keyboards
Volker Krawczak - Bass
Bobby Rondinelli – Drums

Record Label / Year of Release:

SPV/Steamhammer 2023

Notes:

Usually we only have 3 new songs on the Ballads compilations, but this time we recorded 5 new tracks (that's track 1-5).

The Ballads VI will be released on April 21st, 2023 worldwide through SPV/Steamhammer as CD DigiPak (incl. poster), 2LP Gatefold (trans orange black vinyl), CD/LP bundle with shirt (only at the Steamhammer Shop), download and stream.