Axel Rudi Pell
Diamonds Unlocked II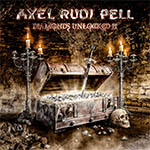 Tracks:

1. Der Schwarze Abt (Intro)
2. There's Only One Way To Rock
3. Lady Of The Lake
4. She's A Lady
5. Black Cat Woman
6. Room With A View
7. Sarah (You Take My Breath Away)
8. Rock N' Roll Queen
9. Paint It Black
10. I Put A Spell On You
11. Eagle

Line-Up:

Axel Rudi Pell - Guitars
Johnny Gioeli - Vocals
Ferdy Doernberg - Keyboards
Volker Krawczak - Bass
Bobby Rondinelli – Drums

Record Label / Year of Release:

SPV/Steamhammer 2021

Notes:

Diamonds Unlocked II will be released on July 30th, 2021 through SPV/Steamhammer in the following configurations: DigiPak incl. poster, 2LP Gatefold, 140 g, black vinyl, printed inner sleeves and Download/Streaming.

The first Diamonds Unlocked album was released in 2007 (when Mike Terrana was the drummer). This second version includes covers by Rainbow, Tony Carey, Abba, Sammy Hagar, Paul Anka, Geordie, Chris Norman, The Subways, Rolling Stones & Screamin' Jay Hawkins.