Axel Rudi Pell
Sign Of The Times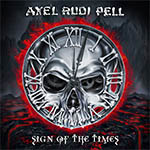 Tracks:

1. The Black Serenade (Intro)
2. Gunfire
3. Bad Reputation
4. Sign Of The Times
5. The End Of The Line
6. As Blind As A Fool Can Be
7. Wings Of The Storm
8. Waiting For Your Call
9. Living In A Dream
10. Into The Fire

Line-Up:

Axel Rudi Pell - Guitars
Johnny Gioeli - Vocals
Ferdy Doernberg - Keyboards
Volker Krawczak - Bass
Bobby Rondinelli – Drums

Record Label / Year of Release:

Steamhammer/SPV 2020

Notes:

The New Album by Axel Rudi Pell is called "Sign Of The Times" and will be out on April 24th, 2020 on Steamhammer/SPV.

Available as Limited DigiPak, Jewel Case Clear Tray Edition, 2LP Gatefold (140 g, red vinyl with black swirls, printed inner sleeves), Download, Streaming & Limited Boxset incl. CD Digi, 2LP with different color, A1 Poster, Magnet, Sticker, A5 Photocard, Button and much more tba (Europe only).