Axel Rudi Pell
Knights Call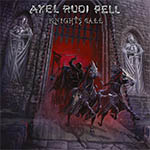 Tracks:

1. The Medieval Overture (Intro)
2. The Wild And The Young
3. Wildest Dreams
4. Long Live Rock
5. The Crusaders Of Doom
6. Truth And Lies
7. Beyond The Light
8. Slaves On The Run
9. Follow The Sun
10. Tower Of Babylon

Line-Up:

Axel Rudi Pell - Guitars
Johnny Gioeli - Vocals
Ferdy Doernberg - Keyboards
Volker Krawczak - Bass
Bobby Rondinelli – Drums

Record Label / Year of Release:

SPV/Steamhammer 2017

Notes:

German guitarist Axel Rudi Pell will release his 17th album, "Knights Call", on March 23, 2018 via SPV/Steamhammer.

"Game Of Sins" from 2016 was a huge success and peaked at No. 11 on the German chart. More than 1.5 million people worldwide have bought Pell's albums. What an impressive number! But there is no reason for the axeman to rest on his laurels. "Why should I retire?" asks the 57-year-old. And answers his own question: "As long as I can do what I like I'm the happiest man in the world."

Basically, Pell is living his very own dream: He has turned his hobby into a profession. But there's also a lot of determination involved. His ongoing passion drives him all the time, he's always on the lookout for a better chorus, a better solo, a better bridge, a better song. "Writing songs is like a lot of things in life: It's my way or the highway!" His confidence in his abilities is enormous, but he also knows that he can rely on his German-American dream team featuring singer Johnny Gioeli and drummer Bobby Rondinelli. And of course, his fans are very important to him. "For me, direct feedback is essential. Playing only in the studio would be boring. Who would sign up for that?"