Ronnie Romero
Too Many Lies, Too Many Masters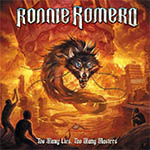 Tracks:

01. Castaway On The Moon
02. Mountain Of Light
03. I've Been Losing You
04. Too Many Lies, Too Many Masters
05. Girl, Don't Listen To The Radio
06. Crossroad
07. Not Just A Nightmare
08. A Distant Shore
09. Chased By Shadows
10. Vengeance

Line up:

Ronnie Romero - Vocals
Andy C. - Drums
Jose Rubio - Guitar
Francisco Gil - Keyboards
Javier Garcia - Guitar

Record Label / Year of Release:

Frontiers Music Srl 2023

Notes:

Ronnie Romero will release his third solo album, "Too Many Lies, Too Many Masters", on September 15 via Frontiers Music Srl. The first single from the album, "Castaway On The Moon", is out on July 5, 2023 with an accompanying music video.

Written by Romero with drummer Andy C. and guitarist Jose Rubio, "Too Many Lies, Too Many Masters" marks the first time that Romero has been involved with 100% of the songwriting on an album he sings on. Romero also co-produced the album with Andy C., marking another first for Romero.

While these "firsts" certainly add to the excitement for the album, it is the songs that truly take center stage. Romero's voice is completely at home on this diverse, hard-rockin' set which is certainly going to please any fan of his vocal style and his work with his other bands.

"Too Many Lies, Too Many Masters" sees Romero delivering a powerful musical statement on the first solo album of his to feature all-new original material.