Steel Bars
A Tribute To Michael Bolton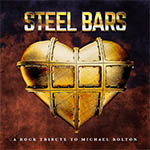 Tracks:

1. Everybody's Crazy (Girish Pradhan)
2. Fools Game (Steve Overland)
3. How Can We Be Lovers (Dave Mikulskis)
4. Steel Bars (Sochan Kikon)
5. Wait On Love (Ana Nikolic & Nevena Brankovic)
6. Can't Turn It Off (Gui Oliver)
7. Save Our Love (Santiago Ramonda)
8. Gina (Robbie Lablanc)
9. Call My Name (Stefan Nykvist)
10. Don't Tell Me It's Over (Ronnie Romero)
11. Desperate Heart (James Robledo)

Line up:

Andrea Seveso - Guitars
Saal Richmond - Keyboards
Mitia Maccaferri - Bass
Nicholas Papapicco - Drums
Alessandro Del Vecchio – Backing Vocals

Record Label / Year of Release:

Frontiers Music Srl 2023

Notes:

Frontiers Music Srl is pleased to present a new compilation of covers paying tribute to famed singer Michael Bolton, "Steel Bars - A Tribute To Michael Bolton" on July 7, 2023. Specifically, this tribute album focuses on Bolton's earlier career, when he was known as a rock singer and features appearances by members of The Big Deal, About Us, Stormwarning, Girish And The Chronicles, Find Me, FM, and more.

The idea for "Steel Bars - A Tribute To Michael Bolton" came about when Serafino Perugino, President & Head of A&R for Frontiers Music Srl, had the idea to pull together a mix of newer vocalists on the label with established singers on the roster and have them pay tribute to an era of Bolton's career that he is particularly fond of.

And so, new names like Girish Pradhan (Girish And The Chronicles), Dave Mikulskis (a rising talent who is working with Jim Peterik), Sochan Kikon (About Us), Ana Nikolic (The Big Deal), Nevena Brankovic (The Big Deal), Santiago Ramonda (Stormwarning), Stefan Nykvist (Sarayasign), and James Robledo (Sinner's Blood) appear alongside Steve Overland (FM), Gui Oliver (Landfall), Robbie LaBlanc (Find Me), and Ronnie Romero (Michael Schenker, Rainbow).

Each vocalist shines with their unique talent and gives their own spin to these classic songs from Bolton's rock era.