Elegant Weapons
Horns For A Halo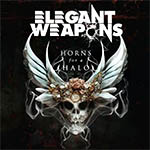 Tracks:

1. Dead Man Walking
2. Do Or Die
3. Blind Leading The Blind
4. Ghost Of You
5. Bitter Pill
6. Lights Out
7. Horns For A Halo
8. Dirty Pig
9. White Horse
10. Downfall Rising

Line up:

Ronnie Romero - vocals
Richie Faulkner - Guitars
Rex Brown - Bass
Scott Travis - Drums

Record Label / Year of Release:

Nuclear Blast 2023

Notes:

Horns For A Halo will be released on May 26 via Nuclear Blast. The LP was recorded with singer Ronnie Romero (Rainbow, MSG), bassist Rex Brown (Pantera, Down) and drummer Scott Travis (Judas Priest) and was helmed by acclaimed British producer Andy Sneap, who has previously worked with Judas Priest, Accept, Exodus and Megadeth among many others.

Elegant Weapons's current touring lineup consists of Faulkner, Romero, Dave Rimmer (Uriah Heep) on bass and Christopher Williams (Accept) on drums.

The over-arching mandate with Elegant Weapons is to perpetuate the rich legacy of the traditional proto-power metal invented by the heavy metal titans of the'70s and '80s, most pertinently Richie's own band, Judas Priest.

"All four of us have got that original DNA in us, as does the new breed of traditional heavy metal fans. And so maybe a band like Elegant Weapons, hopefully we've got the credibility to make those original bands proud, because we were accepted by the members of those bands and by their fans. That's really the idea behind Elegant Weapons—to keep flying the flag for this style of timeless heavy metal."