Michael Schenker Group
Universal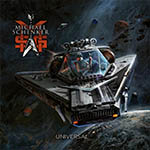 Tracks:

01. Emergency
02. Under Attack
03. Calling Baal
04. A King Has Gone
05. The Universe
06. Long Long Road
07. Wrecking Ball
08. Yesterday Is Dead
09. London Calling
10. Sad Is The Song
11. Au Revoir
12. Turn Off The World (Bonus Track)
13. Fighter (Bonus Track) 4:12

Line up:

Michael Schenker - guitars
Ronnie Romero - vocals
Michael Kiske - vocals
Ralf Scheepers - vocals
Barry Sparks – bass
Bob Daisley – bass
Barend Courbois – bass
Steve Mann - keyboards
Tony Carey - keyboards
Bobby Rondinelli - drums
Bodo Schopf - drums
Simon Phillips - drums
Brian Tichy - drums

Record Label / Year of Release:

Atomic Fire Records 2022

Notes:

Michael Schenker Group announces new studio album, Universal, to be released on May 27th via Atomic Fire Records.

This latest offering will feature all the strengths of this exceptional musician: first-rate songs with anthemic melodies, catchy guitar riffs, and inspiring solos. As we have come to expect from him, Schenker has once again enlisted a number of prestigious fellow musicians for the recording of his new studio production, among them, as main vocalist, Ronnie Romero (Rainbow, Vandenberg), who will also be MSG's frontman on their upcoming tour, Michael Kiske (Helloween), and Ralf Scheepers (Primal Fear), keyboard player Steve Mann (Lionheart), drummers Simon Phillips (Toto, The Who), Brian Tichy (Whitesnake, Foreigner), Bobby Rondinelli (Rainbow), and Bodo Schopf (Eloy), as well as legendary bassists Bob Daisley (Black Sabbath), Barry Sparks (Yngwie Malmsteen, Dokken), and Barend Courbois (Blind Guardian, Zakk Wylde), with Tony Carey as a very special guest.

Like its predecessor Immortal (2021) and the Michael Schenker Fest albums Resurrection (2018) and Revelation (2019), Universal was produced by Michael Schenker and Michael Voss (Lessmann/Voss, Mad Max) at Voss's Kidroom Studio. The spectacular MSG album cover designed by Zsofia Dankova (Powerwolf, among others) features Schenker in a futuristic spaceship, floating high up in orbit. The artwork is based on the guitarist's own visions, "I had the original idea for the album cover a few years ago, but only now does it seem to fit perfectly. So, I sent some older sketches to my label Atomic Fire Records and based on this the final artwork and album title were created."

The rock anthem 'A King Has Gone' and its intro 'Calling Baal' both have a special significance: The track, sung by Helloween frontman Michael Kiske, is a tribute to the immortal Ronnie James Dio, in particular to his performance on the 1976 hard rock classic Rainbow Rising. For this reason, Schenker has brought together an original Rainbow rhythm section consisting of Bobby Rondinelli and Bob Daisley, additionally enlisting keyboardist Tony Carey, who also played on Rainbow Rising, for a terrific Moog synth intro – a direct reference to the iconic intro of the 1976 album opener 'Tarot Woman'. The impressive result 'Calling Baal'/'A King Has Gone' is already considered to be one of the most important and successful songs in Schenker's career to date, both musically and lyrically.