Sunstorm
Still Roaring: The Studio Session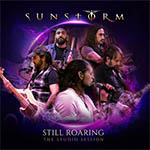 Tracks:

1. Games We Play
2. Brothers In Arms
3. Swan Song
4. Stronger
5. Hold The Night
6. Never Give Up
7. This Is My Heart
8. Road To Hell
9. Edge Of Tomorrow
10. Back My Dreams

Line up:

Ronnie Romero - Vocals
Luca Princiotta - Guitars
Alessandro Del Vecchio - Keyboards, backing vocals
Nik Mazzucconi - Bass
Michele Sanna - Drums

Record Label / Year of Release:

Frontiers Records 2022

Notes:

On the heels of their newest studio album, "Brothers In Arms", Sunstorm have released a special new live release, "Still Roaring: The Studio Session". Includes performances of songs from the band's two most recent releases as well as previous ones.